Höchste Zeit für The Bosshoss – Dos Bros Live und die dazugehörige Tracklist, denn mit dem Release will man natürlich wissen, was einem bei der neuen Live Ausgabe so erwartet. Die VOX-Erfolgssendung "Sing meinen Song" geht auch ohne Gastgeber Xavier Naidoo 2017 in die nächste Runde. Als neuen Host suchte sich der Sender die Jungs von The BossHoss aus. Gratulation an Sascha Vollmer und Alec Völkel!
Doch das ist nicht die einzige gute Nachricht für die Großstadt-Cowboys: Das #1-Album "Dos Bros" ging mittlerweile weit über 200.000 Mal über die Ladentheke und hat damit Platin-Status erreicht. Ein Grund mehr, die Erfolgsplatte neu aufzulegen und sie – zusätzlich bestückt mit sieben Songs aus "Sing meinen Song" – am 18. November in einer speziellen "Platinum Edition" wieder zu veröffentlichen.
Parallel dazu wird es eine "Dos Bros"-Live-CD/DVD geben, welche die Highlights der ausverkauften Tour zusammenfasst. Neben dem Audiomitschnitt gibt es exklusive Live-Videos der Tour mit emotionalen Szenen rund um die Rock'n'Roll-Band aus Berlin, Mississippi.
Als krönender Abschluss der erfolgreichen Tour – oder wohl besser gesagt des überaus erfolgreichen Jahres – wird am 16. Dezember in der Kölner LANXESS Arena noch einmal richtig gefeiert, gerockt und geBROSt.
Im Handel steht The Bosshoss – Dos Bros Live für euch seit dem 18. November 2016 und natürlich auch in diesem Fall, haben wir die Tracklist und das passende Cover für euch am Start. Wenn euch das Album zusagt, heißt es direkt los in den Einzelhandel und die Regale plündern.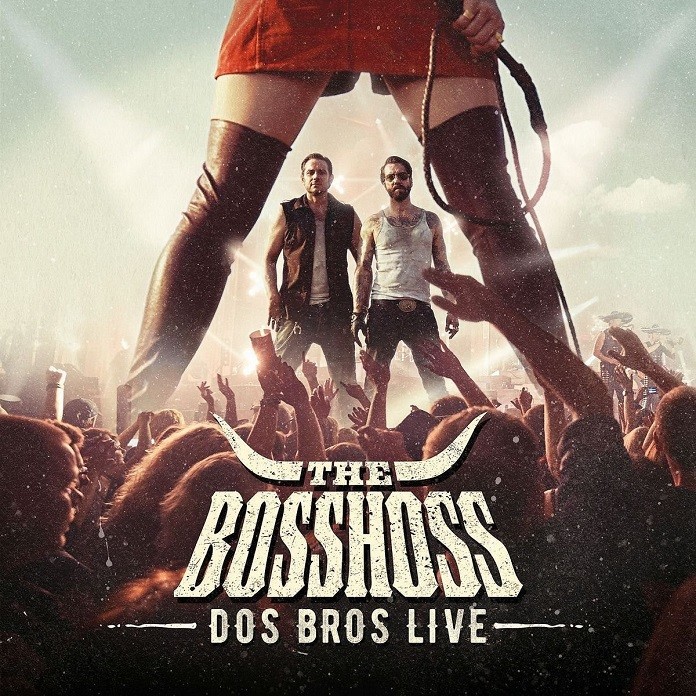 01.The BossHoss – A Cowboys Work Is Never Done (live Aus Leipzig / 2016 / Edit) 2:36
02.The BossHoss – Wait For Me (live Aus Leipzig / 2016 / Edit) 4:57
03.The BossHoss – Do It (live Aus Oberhausen / 2016 / Edit) 3:49
04.The BossHoss – I Like It Like That (live Aus Leipzig / 2016 / Edit) 5:43
05.The BossHoss – She Is A Little B (live Aus Leipzig / 2016 / Edit) 5:13
06.The BossHoss – My Personal Song (live Aus Oberhausen / 2016 / Edit) 5:29
07.The BossHoss – What If (live Aus Leipzig / 2016 / Edit) 3:45
08.The BossHoss – Jolene (live Aus Leipzig / 2016 / Edit) 4:39
09.The BossHoss – Today Tomorrow Too Long Too Late (live Aus Leipzig / 2016 / Edit) 4:24
10.The BossHoss – Dos Bros (live Aus Leipzig / 2016 / Edit) 4:18
11.The BossHoss – Don't Gimme That (live Aus Leipzig / 2016 / Edit) 4:28
12.The BossHoss – Lady Jd (live Aus Leipzig / 2016 / Edit) 5:10
13.The BossHoss -Shake And Shout (live Aus Hamburg / 2016 / Edit) 6:26