Bereit für die Mayday 25 Years – The History Of Rave und ihrere Tracklist ? Für alle Musikliebhaber im Dance Musik und Trance Musik Sektor ist diese CD ein echter Leckerbissen, denn mit ihrer Tracklist, die einer Zeitreise gleicht, weiß sie wirklich zu überzeugen.
Der Name der CD ist natürlich Programm, denn hier wird ausdrücklich 25. Jahre Mayday gefeiert. Die Mayday gehört in den letzten Jahren zu den Festivals in Deutschland, die es nicht mehr ganz so einfach haben ihre Tickets alle rechtzeitig los zu werden, da sich hier doch vieles geändert hat.
Das es auch anders geht zeigt die Nature One, dort musste man sogar zurück Ruder und wieder weniger Tickets verkaufen, da das Festivalgelände und die Zufahrt an ihre Grenzen stieß. Nachdem großen Streit mit Westbam, fielen viele treue Fans weg und wie es schien, rückten in der kurzen Zeit nicht genug neue Fans nach.
So wirkte die Mayday in den letzten Jahren im Livestream als wäre die Halle in Dortmund nur halb voll und das Publikum gelangweilt. Da wir selber jedoch auf der Mayday nicht selber vor Ort waren, können wir es nur vermuten und uns auf Kommentare in den Sozialen Netzwerken berufen.
Auf der CD Mayday 25 Years – The History Of Rave finden sich auf jeden Fall jede Menge Größen wieder, denn mit dabei sind unter anderem Faithless, Moby, DJ Hooligan, Cosmic Gate, Elektrochemie LK, RMB, Future Breeze, Zombie Nation und wie fast zu erwarten war, leider kein Track von Members of Mayday.
Wer die Mayday 25 Years – The History Of Rave nicht als CD oder MP3 Download haben möchte, muss schnell sein, denn sie erscheint auch in einer streng limitierten 4-Vinyl mit 32 ausgewählten Tracks. Von dieser Vinyl Ausgabe wird es nur 500 Stück geben, die sicherlich unheimlich schnell vergriffen sein werden.
Als Geschenk zu Nikolaus eignet sich die Mayday 25 Years – The History Of Rave sicherlich auch gut, denn der Release der CD ist nur wenige Tage vorher. Um genau zu sein, findet diese Compilation am 18. November 2016 ihren Weg in den Handel und wie immer an dieser Stelle nun die Tracklist und das passende Cover.
Wenn euch eben diese Tracklist überzeugen kann, solltet ihr euch das gute Stück bei Amazon oder anderen Shops vorbestellen und gerade im Fall der Vinyl Version müsst ihr schnell sein, denn denkt dran es gibt hier nur 500 Stück davon.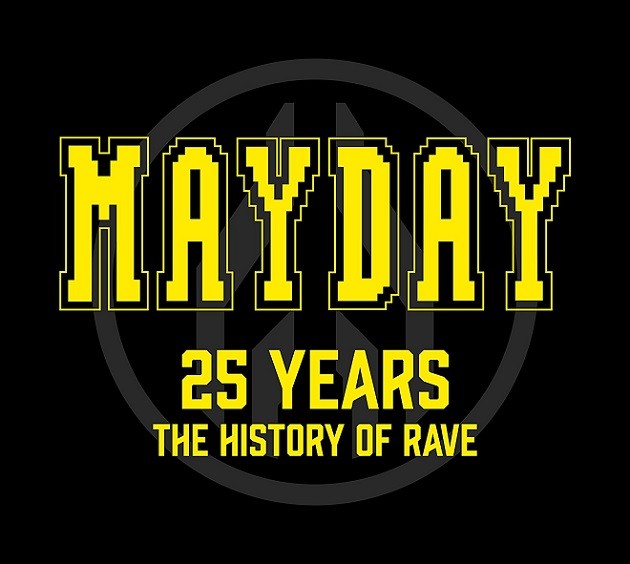 Disk: 1
1. Pete Lazonby – Sacred Cycles
2. Future Breeze – Why Don't You Dance With Me?
3. BBE – Seven Days And One Week
4. Team Deep – Morninglight
5. Energy 52 – Café Del Mar (Kid Paul Mix)
6. Quench – Dreams
7. Nikolai – Ready To Flow
8. AWeX – It's Our Future
9. Marmion – Schöneberg
10. L.S.G. – Hearts
11. Three 'N' One – Reflect (Original 1996 Club Mix)
12. Faithless – Insomnia
13. Emmanuel Top – Turkish Bazar
14. Humate – Love Stimulation (Love Mix)
15. De Donatis – The Sound (Psycho Mix)
16. Paul van Dyk – For An Angel (PVD E – Werk Club Mix)
17. Lambda – Hold On Tight (Nalin & Kane Remix)
18. Elektrochemie LK – Schall (Thomas Schumacher Mix)
19. Drax Ltd. II – Amphetamine
20. Blue Alphabet – Cybertrance
Disk: 2
1. Age Of Love – The Age Of Love (Jam & Spoon "Watch Out For Stella" Mix)
2. Lexy & K – Paul – Love Me Babe
3. Tomcraft – Loneliness (Klub Cut)
4. Zombie Nation – Kernkraft 400
5. Tiesto – Traffic
6. Storm – Storm
7. Armin van Buuren – Communication
8. Cosmic Gate – Fire Wire
9. Push – Universal Nation (The Remastered Original "Real Anthem" Mix)
10. Svenson & Gielen – Twisted
11. Binary Finary – 1998 (Paul van Dyk Remix)
12. Kai Tracid – Your Own Reality
13. Mass in Orbit – Overdrive (Hubble Mix)
14. Jens – Loops & Tings (Fruit Loops Remix)
15. Yves Deruyter – Yvesday (Mayday Mix)
16. Commander Tom – Are Am Eye?
17. Cherrymoon Trax – The House Of House
18. Jones & Stephenson – The First Rebirth
19. Mandala – The Encore
20. NOSTRUM – Brainchild
Disk: 3
1. Space Frog – Lost in Space (Time Slip)
2. Tandu – Acido
3. Sunbeam – Outside World
4. Perplexer – Acid Folk
5. Moby – Feeling So Real (Westbam Remix)
6. Legend B. – Lost in Love (Sysex Style Mix)
7. Phrenetic System – Wayfarer
8. DJ Hooligan – The Mystic Culture
9. Komakino – Outface
10. Genlog – Ceasefire
11. Charly Lownoise & Mental Theo – Wonderful Days (Rotterdam Mix)
12. RMB – Experience (Follow Me)
13. DJ Jo – Space Harmony (Gary D. Remix)
14. Suspicious – Lovewaves (Marusha Remix)
15. Microwave Prince – I Need Your Love
16. E – Train – Cocain (E" Mix)
17. Final Fantasy – Controlling Transmission (Rave Mix)
18. Hardsequencer – Harmony
19. Raver's Nature – Tricky Symphony
20. Meteor Seven – Signs Of Life