Na endlich, die The Dome 80 schickt ihre Tracklist ins Rennen, die wir euch nicht vorenthalten möchten. Ob als Download oder herkömmliche CD, die The Dome Reihe ist weiterhin unheimlich beliebt und das obwohl die gleichnamige Konzertreihe inkl. TV Übertragung, vor mehreren Jahren eingestampft wurde.
Eigentlich ist dies auch kein Wunder, denn grob gesagt, hat die The Dome Reihe das gleiche Konzept wie die erfolgreiche Bravo Hits Reihe, denn hier findet ihr ausschließlich Top Tracks aus den aktuellen Single Charts. Der Release der The Dome 70 könnt nicht besser sein, denn mit dem Release kurz vor Nikolaus, eignet sie sich wunderbar als kleines Geschenk.
Übrigens die erste The Dome Folge kam 1997 im TV und leider im Jahre 2012 auch zum letzten mal. Die einzige Ausnahme war bislang die The Dome Summer 2016, diese bekam in einer stark abgewandelten Form eine Sonderausgabe auf RTL2, welche aber nicht gerade gute Quoten zu verzeichnen hatte.
Freunde der Chart-Musik kommen hier voll auf ihre Kosten, denn mit dabei sind Tracks von Matt Simons, DJ Snake, Calvin Harris, Olly Murs, Sportfreunde Stiller, Tim Bendzko, Max Giesinger, Clueso, Glasperlenspiel, OneRepublic und eine ganze Reihe weiterer Künstler, die derzeit in den deutschen Single Charts vertreten sind.
Bis zum Release der The Dome 80 dauert es noch ein paar Tage, denn bis sie steht ab dem 2. Dezember 2016 für euch im Handel bereit. Wie immer gilt an dieser Stelle natürlich, dass ihr die The Dome 80 gerne schon jetzt bei Amazon oder anderen Shops vorbestellen könnt, damit ihr sie pünktlich zum Release in den Händen halten könnt.
Selbstverständlich haben wir auch im Fall der neuen The Dome Ausgaben die Tracklist und das passende Cover für euch am Start. So könnt ihr euch schon einige Tage vor dem Release der Compilation einen ersten Eindruck von ihr verschaffen.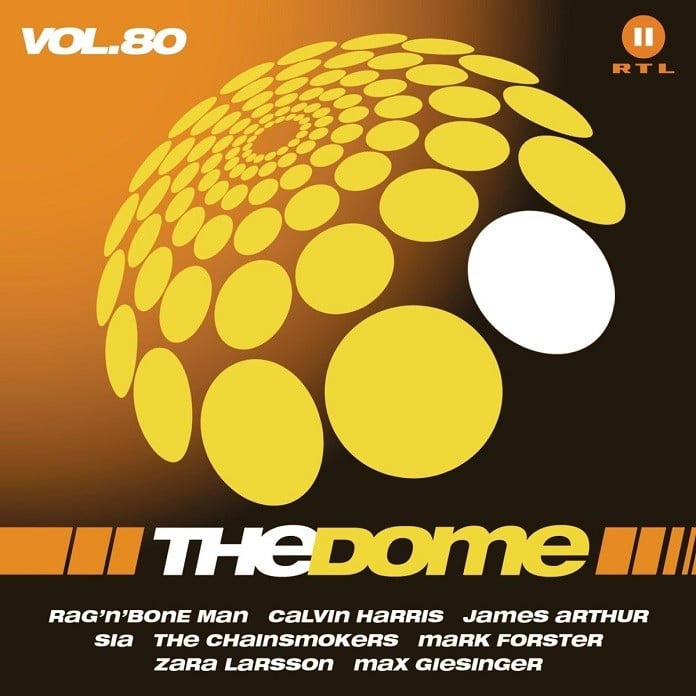 Disk: 1
1. Human – Rag'n'Bone Man / Rag'n'Bone Man
2. Wenn sie tanzt – Giesinger, Max
3. Keine Maschine – Bendzko, Tim
4. Mercy – Mendes, Shawn
5. Alarm – Anne-Marie
6. Prisoner in Paradise – Sunrise Avenue
7. Das Geschenk – Sportfreunde Stiller
8. Kids – OneRepublic
9. Grow Up – Murs, Olly
10. Blended Family (What You Do For Love) – Keys, Alicia feat. A$AP Rocky
11. Sit Still, Look Pretty – Daya
12. Drum – MO / MO
13. As You Wake Up – Single Edit – Jones, Kelvin
14. Ohne mein Team – Bonez MC & RAF Camora feat. Maxwell
15. Send Them Off! – Bastille / Smith, Daniel
16. True Colours – Odell, Tom / Ilan Eshkeri / Odell, Tom
17. Party Like a Russian – Williams, Robbie / Williams, Robbie / Meghreblian, Diran
18. Erkläre mir die Liebe – Poisel, Philipp
19. Neuanfang – Clueso
20. Lost on You – LP
21. Bonnie & Clyde – Connor, Sarah & Henning Wehland
22. Say You Won't Let Go – Arthur, James
23. Hallelujah – Pentatonix
Disk: 2
1. My Way – Calvin Harris
2. The Greatest – Sia
3. Side to Side – Grande, Ariana feat. Nicki Minaj
4. Closer – The Chainsmokers feat. Halsey
5. Chöre – Forster, Mark
6. Let Me Love You – DJ Snake feat. Justin Bieber
7. What Is Love 2016 – Lost Frequencies / Anderson, James
8. Sexual – NEIKED feat. Dyo / Dyo
9. Für immer – Madizin Single Mix – Glasperlenspiel
10. Lose Control – Simons, Matt
11. Bad Ideas – Alle Farben
12. Inside the Lines – Mike Perry feat. Casso
13. I'm in Love with the Coco – Hitimpulse / Perretta, Julian
14. Feel – Radio Edit – Mahmut Orhan feat. Sena Sener
15. Thinking About You – Hardwell & Jay Sean
16. Dye My Hair – Alma
17. Perfect Illusion – Lady Gaga
18. Karma – Perretta, Julian
19. Youth – Judge, Richard
20. See You – Lions Head
21. Shout Out to My Ex – Little Mix / Purcell, Camille
22. Ain't My Fault – Larsson, Zara