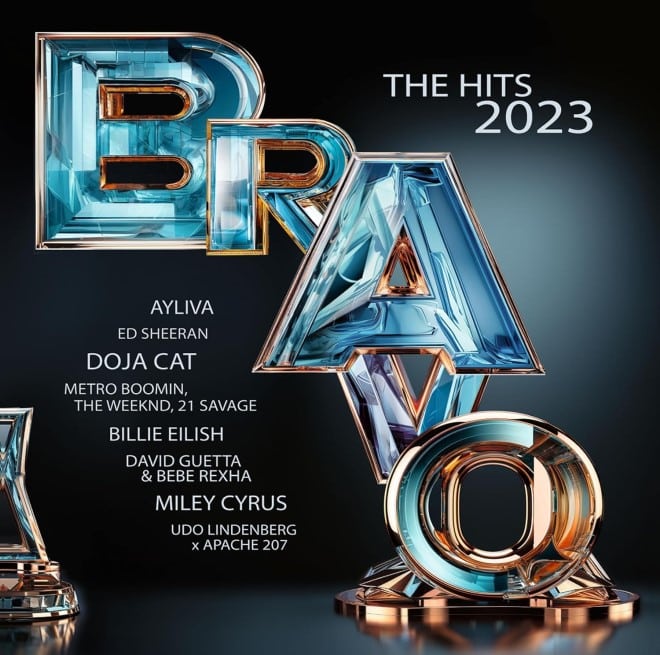 Wenn die Bravo The Hits 2023 mit ihrer umfangreichen Tracklist den Weg in den Handel findet, steht das Ende des Jahres bevor. Die größten Hits des Jahres und die aktuellen Chartstürmer vereint auf einem Album.
Mit über 25 Top-10-Hits – darunter die Nummer 1 des Jahres "Komet" von Udo Lindenberg und Apache 207, der Sommerhit des Jahres "Mädchen auf dem Pferd" sowie Billie Eilish mit "What Was I Made For" aus dem erfolgreichsten Film des Jahres und dem Verursacher der weltweiten Farbknappheit der Farbe Pink "Barbie".
Die gefragtesten Künstler des Jahres wie Miley Cyrus, The Weeknd, SZA, Ed Sheeran, Olivia Rodrigo, Central Cee, David Guetta, twocolors, Peter Fox und Ski Aggu sind ebenfalls auf der Jahresend-Compilation vertreten. Mit den aktuellen Chartstürmern "Paint The Town Red", "Push Up" , "Prada" u.v.m. lässt "BRAVO – The Hits 2023" keine Wünsche übrig – erhältlich ab 10. November 2023 als 2CD und digital!
Damit ihr auch wisst, was euch hier alles erwartet, darf an dieser Stelle natürlich die dazu passende Tracklist und das Cover nicht fehlen.
Disk 1:
1.Miley Cyrus – Flowers
2.Udo Lindenberg x Apache 207 – Komet
3.Metro Boomin, The Weeknd, 21 Savage – Creepin'
4.Raye, 070 Shake – Escapism.
5.SZA – Kill Bill
6.Peter Fox feat. Inéz – Zukunft Pink
7.Nina Chuba – Mangos mit Chili
8.Cassö x Raye x D-Block Europe – Prada
9.Peddy Gou – (It Goes Like) Nanana – Edit
10.Purple Disco Machine, Kungs feat. Julian Perretta – Substitution
11.Tiesto – Lay Low
12.Twocolors x Safri Duo x Chris de Sarandy – Cynical
13.Loreen – Tattoo
14.David Guetta & Bebe Rexha – I´m Good (Blue)
15.Rubi & Fabe Brown – Only 4 Life – Remix
16.Jonas Blue, Felix Jaehn – Weekends
17.Jax Jones, Calum Scott – Whistle
18.Lost Frequencies, Elley Duhé, X Ambassadors – Back To You
19.Coi Leray – Players
20.The Weeknd, Playboi Carti, Madonna – Popular
21.Timbaland, Nelly Furtado, Justin Timberlake – Keep Going Up
22.Sia – Gimme Love
23.Central Cee – Let Go
24.Ayliva x Mero – Sie weiß
25.Dean Lewis – How Do I Say Goodbye
Disk 2:
1.Doja Cat – Paint The Town Red
2.Ed Sheeran – Eyes Closed
3.Billie Eilish – What Was i Made For?
4.David Kushner – Daylight
5.Olivia Rodrigo – Vampire
6.Linkin Park – Lost
7.P!nk – Trustfall
8.Milky Chance – Living In a Haze
9.Michael Schulte x R3hab – Waterfall
10.Kenya Grace – Strangers
11.Post Malone – Chemical
12.Lune x Céline – Komm in meine Arme
13.Selena Gomez – Single Soon
14.Nico Santos, Fast Boy – Where You Are
15.Calvin Harris, Ellie Goulding – Miracle
16.Kontra K feat. Lana Del Ray – Summertime
17.Robin Schulz x Raf Camora x Montez – Dario Rodriguez – Vorbei
18.Niklas Dee & Old Jim feat. Enny-Mae – Not Fair
19.Bennett – Vois sur ton chemin – Techno Mix
20.Empire of the Sun, Southstar – We Are The People – southstar Remix
21.Luca-Dante Spadafora x Niklas Dee x Octavian x Peter Plate x Ulf Leo Sommer – Mädchen auf dem Pferd
22.Sira, Bausa, Badchieff – 9 bis 9
23.Badmómzjay x Domiziana – Auf die Party
24.Creed – Push Up – Main Edit
25. Dave x Central Cee – Sprinter