Mit Motörhead – Bad Magic, bringt die legendäre britische Rock Band ihr 22. Studio Album auf den Markt. Die Tracklist umfasst 13 neue Songs, wovon 12 aus der Feder von Motörhead stammen. Darüber hinaus gibt es auch das nahezu epische Cover des Rolling Stone-Klassikers "Sympathy For the Devil".
Auf "Bad Magic" beschreiten Motörhead selbstbewusst bekannte Pfade. Hymnen wie "Thunder And Lightning" und "Choking On Your Screams", das treibende Schlagzeugspiel von Mikkey Dee, die exzellente Gitarrenarbeit von Phil Campbell und die sehr gute stimmliche Verfassung von Lemmy Kilmister beweisen: Motörhead sind auch 2015 genau so stark, böse, laut, unbarmherzig, kompromisslos und heavy wie eh und je.
Das 40. Jubiläum der Bandgeschichte steht an und das wird natürlich mit einer mega Welt-Tournee gefeiert. Darüber hinaus ist die Band natürlich derzeit auf jede Menge Festivals unterwegs, wo sie nicht selten vor mehreren zehntausend Menschen spielen.
Der Release Termin des Albums Motörhead – Bad Magic ist gefühlt noch einige Lichtjahre entfernt, doch am 28. August 2015 ist es dann endlich soweit. Bis dahin könnt ihr euch schon einmal das Cover und die Tracklist zum Album anschauen und euch somit einen ersten Eindruck damit verschaffen.
"Bad Magic" erscheint als Jewel Case CD, Limited Ecolbook Edition, Digital Download, LP im Klappcover (plus CD und Digital Download) sowie als streng limitierte Sammler-Box mit LP, Digipak CD, A1-Poster, großem Back-Patch und Sleeve-Patch.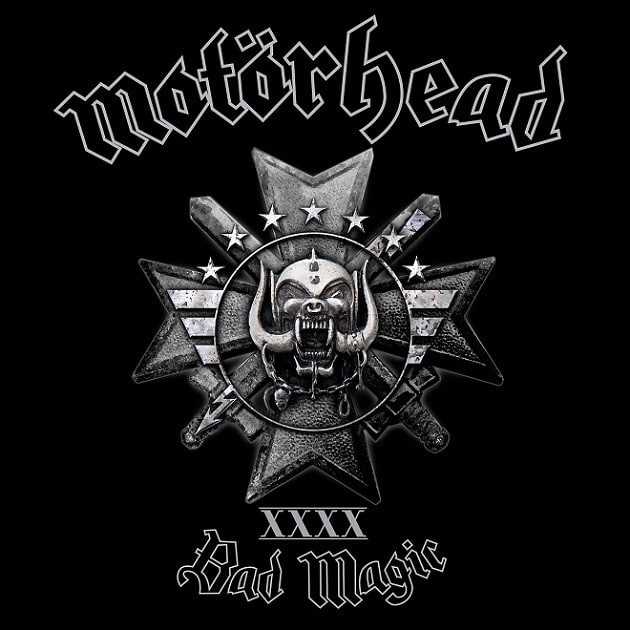 1. Victory Or Die
2. Thunder & Lightning
3. Fire Storm Hotel
4. Shoot Out All Of Your Lights
5. The Devil
6. Electricity
7. Evil Eye
8. Teach Them How To Bleed
9. Till The End
10. Tell Me Who To Kill
11. Choking On Your Screams
12. When The Sky Comes Looking For You
13. Sympathy For The Devil