Der Titel des neuen Albums Beatsteaks – 23 Singles ist für ein Best of Album ungewöhnlich aber man weiß direkt was die Tracklist des Albums zu bieten hat. Hier bekommen die Fans der Beatsteaks nämlich die besten 23 Singles der Bandgeschichte, zusammengefasst auf einer CD.
Natürlich kommt das Album nicht zufällig, denn es gibt was zu Feiern, nämlich 20 Jahre Beatsteaks. Das man dieses Jubiläum feiern musst, steht wohl außer Frage, denn 20 Jahre im Musikgeschäft Erfolg zu haben, schaffen heutzutage eher die wenigsten.
In der Geschichte der Beatsteaks ging es in den letzten 20 Jahren stetig auf und ab, von herausragende Alben, umjubelte Tourneen, besondere Videos, zahllose Preise – aber auch Schicksalsschläge und menschliche Dramen, war alles dabei.
Das die Beatsteaks sich über die Jahre stets Neu erfunden haben, kann man auf diesem Album sehr schön erleben, denn egal ob Punk, Rock, Dub, Pop, Post-Punk oder Polka, hier ist wirklich alles vertreten.
In Sachen Vorbestellungen, können sich die Jungs von Beatsteaks nicht verschweren, denn in den Top 100 der Besteller Charts auf Amazon, schaffen es nur die Erfolgreichsten Album. Man muss natürlich auch im Auge haben, dass das Album Beatsteaks – 23 Singles erst ab dem 18. September 2015 im Handel für euch parat steht.
Wie immer, haben wir natürlich auch in diesem Fall die passende Tracklist und das dazugehörige Cover für euch. So könnt ihr euch vorab zumindest einen kleinen Eindruck vom neuen Best of Album machen.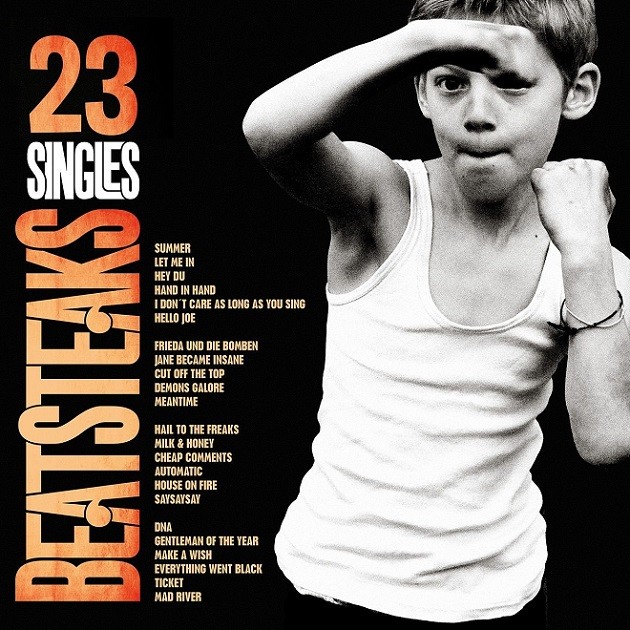 1. SUMMER
2. LET ME IN
3. HEY DU
4. HAND IN HAND
5. I DON'T CARE AS LONG AS YOU SING
6. HELLO JOE
7. FRIEDA UND DIE BOMBEN
8. JANE BECAME INSANE
9. CUT OFF THE TOP
10. DEMONS GALORE
11. MEANTIME
12. HAIL TO THE FREAKS
13. MILK & HONEY
14. CHEAP COMMENTS
15. AUTOMATIC
16. HOUSE ON FIRE
17. SAYSAYSAY
18. DNA
19. GENTLEMAN OF THE YEAR
20. MAKE A WISH
21. EVERYTHING WENT BLACK
22. TICKET (neu)
23. MAD RIVER (neu)