Die neue Compilation Best of 2017 – Sommerhits bringt euch in ihrer grandiosen Tracklist die ersten Sommerhits 2017 nach Hause. Auch wenn es derzeit in Deutschland noch nicht so wirklich nach Sommer aussieht, beginnt bereits der Kampf im Musikgeschäft, um den neuen Sommerhit 2017.
Der Zeitpunkt des Release dieser Compilation sehen wir allerdings etwas unpassend, denn auch die Bravo Hits 97 steht kurz vor ihrem Release und da sich beide Compilations in den aktuellen Charts bedienen, haben die Musik Fans zumindest im Bereich Charts Musik nun die Qual der Wahl, für welche CD sich nun entscheiden.
Auf der Best of 2017 – Sommerhits befinden sich somit top Tracks von Anne-Marie, Gestört aber Geil, Robin Schulz, Stereoact, Axwell /\ Ingrosso, Nico Santos, Shawn Mendes, Jax Jones, Zedd, Alma, Katy Perry, Clean Bandit und eine ganze Reihe weiterer Mega Stars aus den aktuellen Charts.
Bis zum Release der Best of 2017 – Sommerhits ist es noch eine Weile hin, denn erst am 19. Mai 2017 kommt das gute Stück in den Handel. Nutzt also die Zeit bis zum Release und macht euch mit Hilfe der Tracklist und dem passenden Cover schon einmal einen ersten Eindruck.
Wenn euch also die Tracklist überzeugen kann, wovon wir nun einfach einmal ausgehen, dürft ihr die Best of 2017 – Sommerhits natürlich schon jetzt gerne bei Amazon oder anderen Shops vorbestellen, um den Release nicht zu verpassen.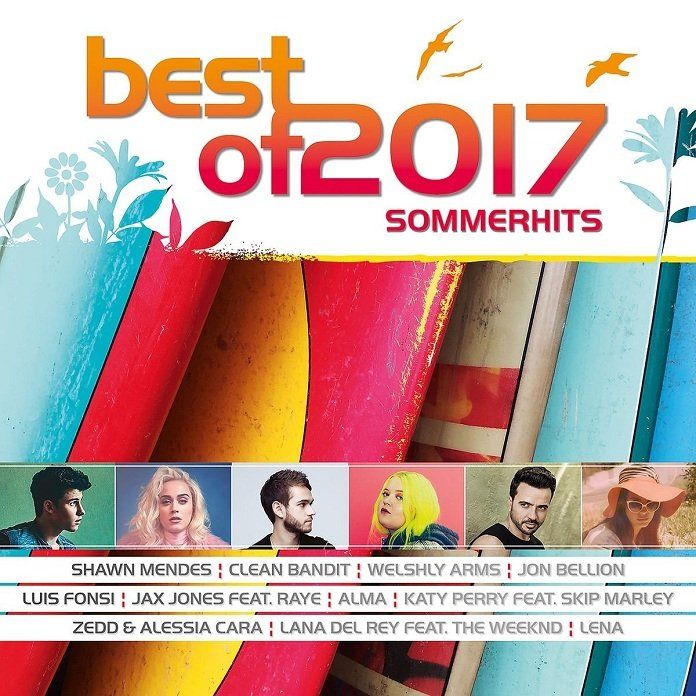 Disk: 1
1. There's Nothing Holdin' Me Back – Mendes, Shawn
2. Tuesday (Radio Edit) – Yeter, Burak
3. You Don't Know Me (Radio Edit) – Jones, Jax
4. Chasing Highs – ALMA
5. Stay – Zedd
6. Chained To The Rhythm – Perry, Katy
7. Ciao Adios – Anne-Marie
8. Millionen Farben – Gestört aber GeiL
9. Be Mine – Ofenbach
10. Shed A Light – Schulz, Robin
11. Two Princes (Radio Mix) – Fake Pictures
12. Rockabye – Clean Bandit
13. Now and Later – Sage The Gemini
14. Nummer 1 – Zuna
15. Denkmal – Stereoact
16. I Love You – Axwell / Ingrosso
17. Show You Love – KATO
18. Goodbye To Love – Santos, Nico
19. Headlong – R.I.O.
20. Burden Down – Micar
21. Done Da Da – Massari
22. Animal – Soler, Alvaro
23. Despacito (Versión Pop) – Fonsi, Luis
Disk: 2
1. Legendary – Welshly Arms
2. All Time Low (New Mix) – Bellion, Jon
3. Ist da jemand – Tawil, Adel
4. Issues – Michaels, Julia
5. Lust For Life – Del Rey, Lana
6. Lost In You – Lena
7. Cold – Maroon 5
8. History – Holt, Olivia
9. Don't Kill My Vibe – Sigrid
10. Another Life (Radio Mix) – Afrojack
11. Sunset Lover – Petit Biscuit
12. Blossom – Milky Chance
13. Shooting Stars – Bag Raiders
14. Alles leuchtet (Single Version) – Denalane, Joy
15. At My Best – Machine Gun Kelly
16. Everyday – Grande, Ariana
17. Kids – Andersen, Fanny
18. Lost In Your Light – Lipa, Dua
19. Nanana – The Kelly Family
20. Unter den Wolken – Die Toten Hosen
21. Wenn du liebst (Radio Edit) – Clueso
22. Roulette – Giesinger, Max
23. Menschen Leben Tanzen Welt – Pandzko, Jim