Das neue Album David Hasselhoff – 30 bringt mit der dazugehörigen Tracklist, jede Menge Songs von "The Hoff" als Original und in neuer Version zu euch nach Hause. Bereits seit den 80er Jahren, gehört Deutschland übrigens zu den Ländern, in denen David Hasselhoff seine größten Erfolge feierte.
In einer Doku sagt er einmal, dass die deutschen Fans besonders treu sei und auch in den Verkäufen seiner Werke der letzten Jahre, spiegelte sich diese Aussage wieder, denn hierzulande konnte David tatsächlich einigermaßen Fußfassen, auch wenn er an die großen Erfolge in den 80er und 90er Jahren nicht mehr anknüpfen konnte.
Ob Crazy for You, Do the Limbo dance oder Looking for Freedom, als Fan von The Hoff bekommt man hier alle großen Hits geboten. Allerdings müssen wir hier eins einmal bemängeln, seine erfolgreichste Single "Looking for Freedom", wird hier schon ziemlich ausgeschlachtet, denn dieser Song ist gleich 3 mal auf dem Album.
Bis zum 20. Oktober 2017 müssen sich die Fans auf das neue Album David Hasselhoff – 30 noch gedulden aber in der Zwischenzeit, kann das Album ja bereits fleißig vorbestellt werden. Einen Song, sucht man hier jedoch vergebens, denn dieser stammt eigentlich nicht von Hasselhoff, den hat er lediglich gesungen, die Rede ist von True Survivor.
Mit diesem Song, schaffte es The Hoff wieder zurück in die Schlagzeilen und konnte auf Youtube über 30 Millionen Views einheimsen. Wir haben euch an dieser Stelle eben dieses Video einmal eingebunden, dass für den Song "Kung Fury" im Stiel der 80er Jahre aufgenommen wurde.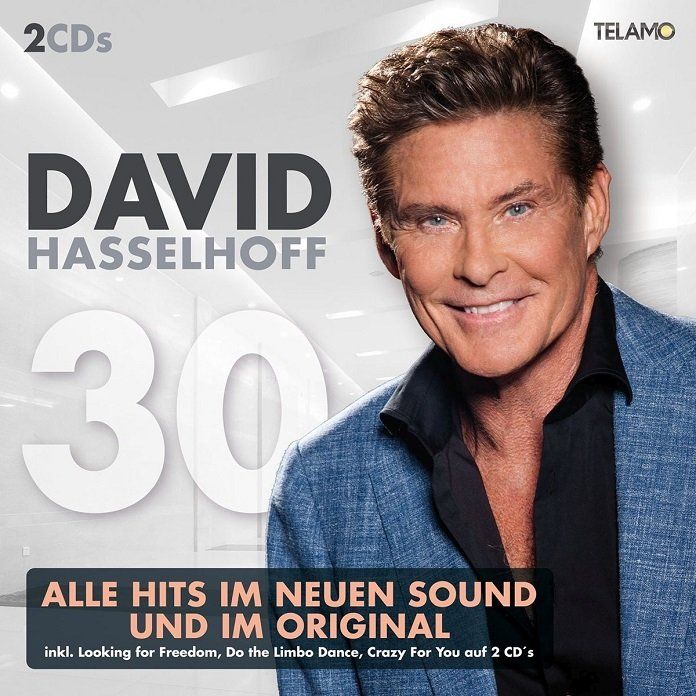 1. Looking For Freedom (New Hit Version)
2. Crazy For You (New Hit Version)
3. Let's Dance Tonight (New Hit Version)
4. Do The Limbo Dance (New Hit Version)
5. Je t'aime Means I Love You (New Hit Version)
6. Voulez vous coucher avec moi (Jonny Nevs Groove Remix)
7. Hands Up For Rock'n Roll (Al Winter FrenchStyle Remix)
8. Amore Amore (De Lancaster 2K17 Mix)
9. Let's Dance Tonight (Fosco's Club Remix Edit)
10. Passion (Jonny Nevs Remix)
11. Do The Limbo Dance (Jonny Nevs Remix)
12. Crazy For You (De Lancaster Mix)
13. Song Of The Night (Fosco's Disco Remix Edit)
14. In Stereo (Al Winter DeepDisco Remix)
15. Looking For Freedom (Fosco's Party Remix Edit)
16. Looking For Freedom
17. Is Everybody Happy (US Remix)
18. I Wanna Move To The Beach Of Your Heart
19. Everybody Sunshine
20. Crazy For You
21. Hands Up For Rock'n Roll (Long Version)
22. Do The Limbo Dance
23. Flying On The Wings Of Tenderness
24. Gipsy Girl
25. Casablanca
26. Torero – Te quiero
27. Amore Amore
28. Song Of The Night (Long Version)
29. Let's Dance Tonight
30. Freedom For The World (Long Version)