Mit dem neuen Album DJ Antoine – The Time Is Now und der für ein Album schon sehr großen Tracklist, meldet sich der Schweizer DeeJay eindrucksvoll zurück. In Deutschland zählt DJ Antoine zwar nicht zu den bekanntesten und größten DeeJays, international ist er allerdings seit Jahren äußerst gefragt.
In den letzten Monaten kamen mit Yallah Habibi, El Paradiso, Ole Ole und Symphony bereits einige Singles aus dem Album auf den Markt. Wer an dieser Stelle jedoch meint, das mit den 4 Singles bereits die Hälfte des Albums veröffentlicht wurde, der irrt, denn alleine auf der CD1 des Album erwarten euch noch 17 weitere Top Songs.
Damit aber nicht genug, denn auf der zweiten CDs bekommt ihr noch zahlreiche Hits von DJ Antoine. So wird das Album DJ Antoine – The Time Is Now ordentlich abgerundet und dürfte für nahezu jeden Fan von DJ Antoine bzw. der elektronischen Tanzmusik etwas sein.
Bis zum Release am 9. November 2018 dauert es nicht mehr ganz so lang, höchste Zeit sich genauer über das Album zu informieren. Selbstverständlich haben wir auch die Tracklist und das dazu passende Cover des Albums DJ Antoine – The Time Is Now für euch rausgesucht.
Darüber hinaus, darf natürlich wie immer bei Alben aus dem Hause Kontor Records, der dazugehörige MiniMix nicht fehlen.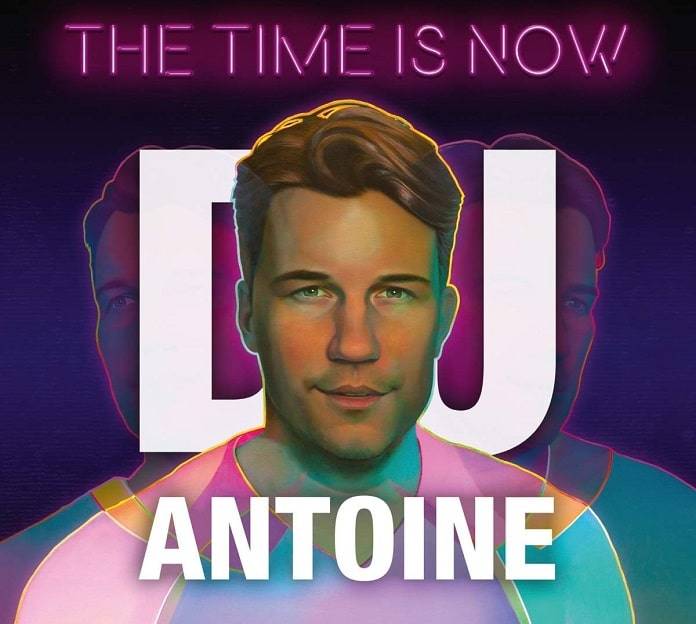 Disk: 1
1. DJ Antoine feat. Eric Zayne & Jimmi The Dealer : Loved Me Once (DJ Antoine vs Mad Mark 2k19 Mix)
2. DJ Antoine vs Mad Mark feat. Jimmi The Dealer : Downfall (DJ Antoine vs Mad Mark 2k19 Mix)
3. DJ Antoine feat. Kidmyn, Armando & Jimmi The Dealer : Symphony (DJ Antoine vs Mad Mark 2k18 Mix)
4. DJ Antoine feat. Joe Killington : Youth Of Tomorrow
5. DJ Antoine feat. Armando & Jimmi The Dealer : El Paradiso (DJ Antoine vs Mad Mark 2k18 Mix)
6. DJ Antoine : La Vie En Rose (DJ Antoine vs Mad Mark 2k17 Mix)
7. DJ Antoine, Paolo Ortelli, Machel Montano & Dago : Party Time (DJ Antoine vs Mad Mark 2k19 Mix)
8. DJ Antoine feat. Karl Wolf & Fito Blanko : Ole Ole (DJ Antoine vs Mad Mark 2k18 Mix)
9. DJ Antoine : Hi Peter
10. DJ Antoine feat. Armando : The Time Is Now (DJ Antoine vs Mad Mark 2k19 Future Mix)
11. DJ Antoine feat. Jimmi The Dealer : 4AM (DJ Antoine vs Mad Mark 2k19 Mix)
12. DJ Antoine, Sido & Moe Phoenix : Yallah Habibi (DJ Antoine vs Mad Mark 2k18 German Mix)
13. DJ Antoine & ASF feat. Pitbull & David Rush : Stuck On U (DJ Antoine vs Mad Mark 2k19 Mix)
14. DJ Antoine feat. Craig Smart & Boe Brady : Win It All (DJ Antoine vs Mad Mark 2k18 Mix)
15. DJ Antoine feat. Kidmyn, Armando & Jimmi The Dealer : Symphony (Kidmyn Remix)
16. DJ Antoine vs Mad Mark : Baby, Let Me Tell You… (DJ Antoine vs Mad Mark 2k19 Mix)
17. DJ Antoine feat. Alisha Pillay & Andrés Gabetta : Come 2 Life (DJ Antoine vs Mad Mark 2k19 Future Mix)
18. DJ Antoine, Chris Willis & Mr. Mike : We Are Fashion [Pump It Up] (DJ Antoine vs Mad Mark 2k19 Mix)
19. DJ Antoine feat. Armando & Jimmi The Dealer : La Cantina (DJ Antoine vs Mad Mark 2k19 Mix)
20. DJ Antoine feat. Armando & Kidmyn : Erase
21. DJ Antoine feat. Jimmi The Dealer : Shine (DJ Antoine vs Mad Mark 2k19 Trapped Mix)
Disk: 2
1. DJ Antoine vs Timati feat. Kalenna : Welcome To St. Tropez (DJ Antoine vs Mad Mark Radio Edit)
2. DJ Antoine feat. The Beat Shakers : Ma Chérie (DJ Antoine vs Mad Mark 2k12 Radio Edit)
3. DJ Antoine : Bella Vita (DJ Antoine vs Mad Mark 2k13 Radio Edit)
4. DJ Antoine vs Mad Mark : Sky Is The Limit (Album Version)
5. DJ Antoine vs Mad Mark feat. B:Case & U:Jean : House Party (Radio Edit)
6. DJ Antoine feat. Akon : Holiday (DJ Antoine vs Mad Mark 2k15 Radio Edit)
7. DJ Antoine & Timati feat. Grigory Leps : London (Stereoact Radio Edit)
8. DJ Antoine : This Time (DJ Antoine vs Mad Mark 2k12 Radio Edit)
9. Timati & P. Diddy, DJ Antoine, Dirty Money : I'm On You (DJ Antoine vs Mad Mark Video Re:Construction)
10. DJ Antoine feat. Jay Sean : Weekend Love (DJ Antoine vs Mad Mark 2k16 Album Version)
11. DJ Antoine & Dizkodude feat. Sibbyl : I Love Your Smile (Dizkodude Original Mix)
12. DJ Antoine vs Mad Mark : Broadway (Radio Edit)
13. DJ Antoine feat. Conor Maynard : Dancing In The Headlights (Radio Edit)
14. Rene Rodrigezz vs DJ Antoine feat. MC Yankoo : Shake 3x (2k12 Radio Edit)
15. DJ Antoine feat. Tom Dice : Sunlight (DJ Antoine vs Mad Mark Radio Edit)
16. DJ Antoine : Light It Up (DJ Antoine vs Mad Mark 2k14 Radio Edit)
17. DJ Antoine vs Mad Mark : Crazy World (Radio Edit)
18. DJ Antoine vs Mad Mark feat. Temara Melek & Euro : Go With Your Heart (Radio Edit)
19. DJ Antoine feat. Storm : Woke Up Like This (DJ Antoine vs Mad Mark 2k15 Radio Edit)
20. DJ Antoine : All We Need (Radio Vocal Mix)
21. DJ Antoine : Thank You (Album Version)
22. DJ Antoine : Megamix