Bereit für die neue Bravo Hits 99 und ihrere Mega Chart geladene Tracklist ? Die Fans der Compilation, sollten sich das gute Stück auf jeden Fall sichern, denn es ist die letzte reguläre Ausgabe der Bravo Hits in diesem Jahr, auf die Bravo Hits 99 folgt nur noch die Best of 2017.
Anfang des Jahres 2018 geht es dann mit der lang erwarteten Bravo Hits 100 weiter und wir sind schon jetzt gespannt, was sich die 3 großen Major Label da alles einfallen lassen, denn sicher ist natürlich, dass man gerade in der heutigen Zeit, unfassbare 100 Ausgaben ordentlich feiern sollte.
Das Cover der Bravo Hits 99 sieht ausnahmsweise mal nicht wirklich gut aus, vor allem passt es thematisch nicht so wirklich zu der kühlen Jahreszeit, da es durch die ganzen Emojis eher aussieht, wie eine Sommerausgabe.
Zum Glück ist das Cover einer CD nicht das wichtigste, denn selbstverständlich geht es hier eher um die Musik. Wenn wir mal einen Blick auf die Tracklist werfen, finden wir jede Menge Top Tracks von z.B. P!NK, Anastascia, Miami Yacine, Calvin Harris, OneRepublic, Felix Jaehn, Avicii und viele weitere aus den Charts.
Wer gerne die Hits aus den Charts hört, wird die Bravo Hits 99 lieben. Ein wenig Geduld müsst ihr jedoch noch aufbringen, denn erst ab dem 6. Oktober 2017 steht das gute Stück für euch im Handel bereit. Wir haben natürlich wie immer die Tracklist und das passende Cover für euch am Start.
Als kleine Preview haben wir euch den Song Anastacia – Caught In The Middle eingebunden, um die Vorfreude auf die neue Bravo Hits 99 zu steigern, viel Spaß damit.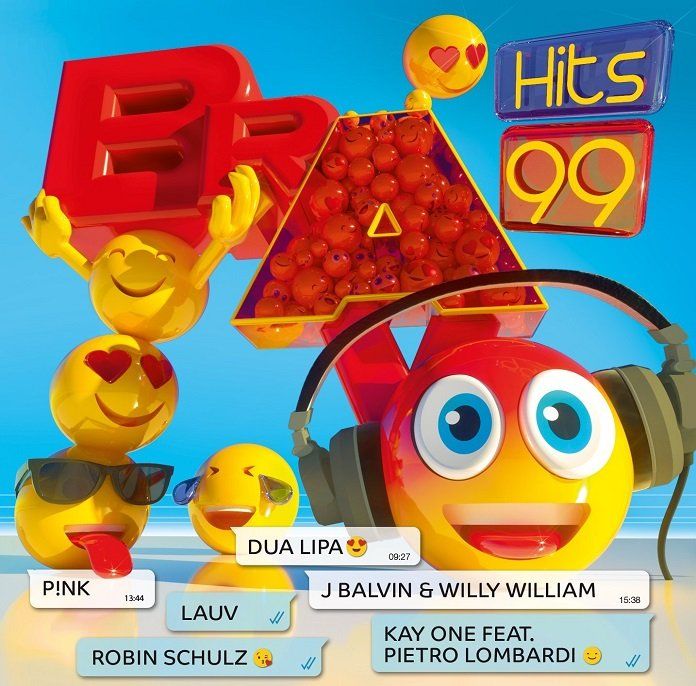 Disk: 1
1. P!NK – What About Us
2. Kay One feat. Pietro Lombardi – Senorita
3. J Balvin & Willy William – Mi Gente
4. Bruno Mars & David Guetta – Versace On The Floor
5. Jason Derulo – If I'm Lucky
6. Dua Lipa – New Rules
7. Robin Schulz & Hugel – I Believe I'm Fine
8. Avicii feat. Sandro Cavazza – Without You
9. Felix Jaehn feat. Mike Williams – Feel Good
10. Calvin Harris feat. Pharrell Williams, Katy Perry & Big Sean – Feels
11. Purple Disco Machine feat. Joe Killington & Duane Harden – Devil In Me
12. Martin Jensen feat. Loote – Wait
13. OneRepublic & Seeb – Rich Love
14. Charlie Puth – Attention
15. Anastacia – Caught In The Middle
16. Danny Ocean – Me Rehúso
17. CNCO & Little Mix – Reggaetón Lento (Remix)
18. Miami Yacine – Bon Voyage
19. Ali As – Von den fernen Bergen
20. Rin – Monica Bellucci
21. Louis Tomlinson feat. Bebe Rexha & Digital Farm Animals – Back To You
22. Maggie Lindemann – Pretty Girl (Cheat Codes x Cade Remix)
23. Rudimental feat. James Arthur – Sun Comes Up
Disk: 2
1. Lauv – I Like Me Better
2. Imagine Dragons – Whatever It Takes
3. Sunrise Avenue – I Help You Hate Me
4. Portugal. The Man – Feel It Still
5. Michael Patrick Kelly feat. Gentleman – iD
6. Miley Cyrus – Younger Now
7. Coldplay & Big Sean – Miracles (Someone Special)
8. Ofenbach & Nick Waterhouse – Katchi (Ofenbach vs. Nick Waterhouse)
9. Marshmello feat. Khalid – Silence
10. Camila Cabello feat. Young Thug – Havana
11. The Script – Rain
12. James Blunt – Don't Give Me Those Eyes
13. Radio Doria – Jeder meiner Fehler
14. Johannes Oerding – Hundert Leben
15. Wincent Weiss – Frische Luft
16. Clueso – Achterbahn
17. Lions Head – True Love
18. ItaloBrothers – Summer Air
19. James Hype feat. Kelli – Leigh
20. Burak Yeter & Ryan Ribeck – Go 2.0
21. Deepend & Graham Candy – Waiting For The Summer
22. Kokab – Got U (Ready Or Not)
23. Chris Meid feat. Tabor & Phyne – Eye Of The Tiger