Ende des Jahres ist es Zeit für die Bravo the Hits 2017 und ihre Mega Tracklist. Bevor es zum großen Jubiläum der Bravo Hits kommt, gibt es erst einmal die besten Hits der letzten Monate. Immer kurz vor der Weihnachtszeit, kommt die Best of CD der Bravo Hits Reihe auf den Markt.
Wenn wir an dieser Stelle mal einen Blick auf die Tracklist werfen, finden wir eine super Auswahl der erfolgreichsten Songs des Jahres 2017. Mit dabei sind natürlich die Superhits von Luis Fonsi, Avicii, Justin Bieber, Katy Perry, Jason Derulo, Robin Schulz, Helene Fischer, Felix Jaehn und viele weitere.
Natürlich darf an dieser Stelle auch nicht der Mega Erfolg "Ed Sheeran – Shape of You" fehlen, denn dieser hat in diesem Jahr die unfassbare Grenze von 2.5 Milliarden Aufrufe auf Youtube geknackt und ist auf dem besten Weg, der erfolgreichste Song auf Youtube zu werden, denn noch immer ist der Zuwachs gigantisch.
Alle Fans der Bravo Hits Reihe sollten sich diese Ausgabe sichern, denn erst 2018 gibt es eine weitere Bravo Hits Ausgabe, dann allerdings die langersehnte Ausgabe 100 und schon jetzt sind wir gespannt, was sich die Labels alles für diese unfassbare Grenze einfallen lassen um dies zu feiern.
Die Bravo the Hits 2017 steht ab dem 10 November 2017 für euch im Handel bereit und wie immer an dieser Stelle, haben wir hier die Tracklist und das passende Cover für euch am Start. Darüber hinaus, haben wir euch die Mega Single "Shape of You" mit eingebunden, denn noch immer hört man diese Single gerne.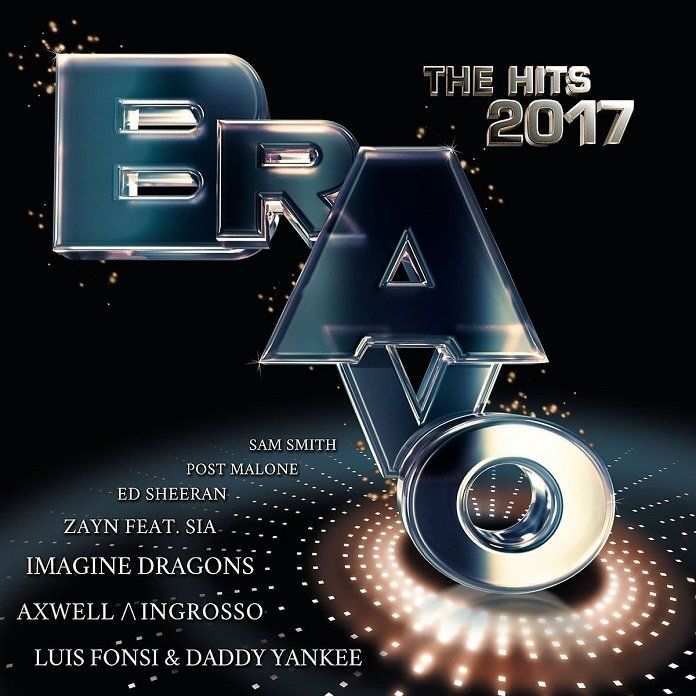 Disc 1
1.Sheeran, Ed – Shape Of You 03:55
2.Fonsi, Luis, Daddy Yankee – Despacito 03:52
3.Post Malone – rockstar 03:39
4.J Balvin, William, Willy – Mi Gente 03:09
5.Cabello, Camila – Havana 03:36
6.Avicii – Lonely Together 03:02
7.Bieber, Justin, BloodPop? – Friends (New Audio) 03:10
8.French Montana – Unforgettable 03:53
9.DJ Khaled – I'm The One 04:49
10.ALMA, French Montana – Phases 03:24
11.Lauv – I Like Me Better 03:17
12.Merton, Alice – No Roots (Single Version) 03:56
13.Mendes, Shawn – There's Nothing Holdin' Me Back 03:22
14.Perry, Katy, Various Artists – Chained To The Rhythm 03:58
15.Blue, Jonas – Mama 03:04
16.Ofenbach – Be Mine 02:41
17.Jones, Jax – You Don't Know Me (Radio Edit) 03:34
18.Derulo, Jason – Swalla 03:36
19.Clean Bandit – Rockabye 04:11
20.Schulz, Robin – OK 03:10
21.Fischer, Helene – Achterbahn 03:40
22.Axwell / Ingrosso – More Than You Know 03:23
23.Jaehn, Felix – Like A Riddle 03:00
Disc 2
1.ZAYN – Dusk Till Dawn 04:27
2.P!nk – What About Us 04:31
3.Smith, Sam – Too Good At Goodbyes 03:35
4.Imagine Dragons – Thunder 03:09
5.Harris, Calvin – Feels 03:43
6.Snake, DJ, Lauv – A Different Way 03:18
7.Kygo, Gomez, Selena – It Ain't Me 03:40
8.Zedd, Cara, Alessia – Stay 03:31
9.Garrix, Martin, Lipa, Dua – Scared To Be Lonely 03:43
10.Guetta, David – 2U (16 bit) 03:14
11.Yeter, Burak – Tuesday (Radio Edit) 03:13
12.Ora, Rita – Your Song 03:01
13.Lipa, Dua – New Rules 03:32
14.Kay One – Senorita 03:59
15.Maroon 5 – What Lovers Do 03:20
16.Thirty Seconds To Mars – Walk On Water 03:08
17.Tawil, Adel – So schön anders 04:08
18.Forster, Mark – Kogong 03:42
19.Kaleo – Way Down We Go 03:40
20.Horan, Niall – Too Much To Ask 03:44
21.Styles, Harry – Sign Of The Times (Radio Edit) 04:07
22.Linkin Park – One More Light (Album Version) 04:15