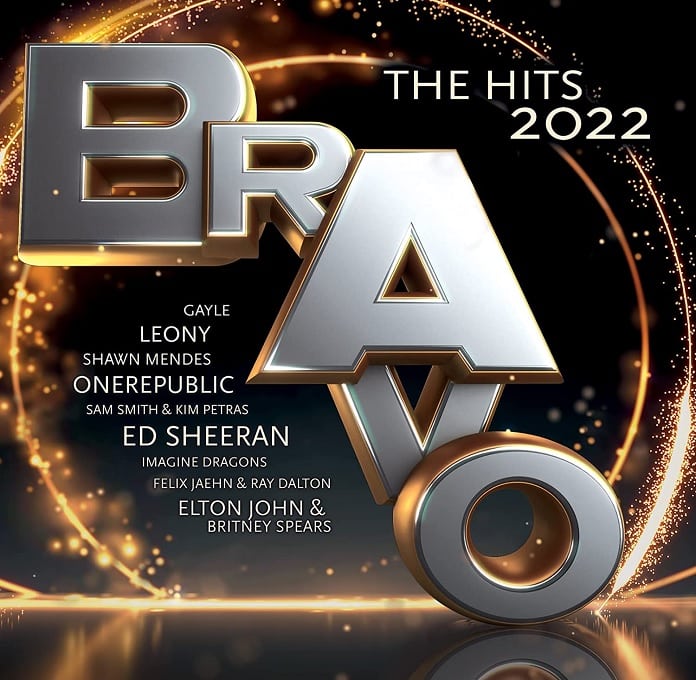 Mit dem Ende des Jahres, steht die Bravo the Hits 2022 mit ihrer grandiosen Tracklist im Handel für euch parat. Nachdem vor kurzem auch das Aus der Future Trance Reihe bekanntgegeben wurde, ist es nur noch eine Frage der Zeit, bis alle großen Compilation in Deutschland Geschichte sind. Genießen wir also die Bravo Hits, so lange sie uns noch erhalten bleibt.
Wer sich das Jahr über keine Chart Compilation gekauft hat, der ist mit der Bravo the Hits 2022 richtig beraten. Hier findet ihr nur die besten Hits der letzten Monate und keine Songs, die in den Charts keine Rolle gespielt haben. Wenn ihr nun einen Blick auf die Tracklist werft, werden ihr sehen was wir hier gemeint haben, eben nur Top Tracks.
Die besagte Tracklist, lässt schon beim reinen durchlesen die ersten Ohrwürmer entstehen. Wer sich die Bravo the Hits 2022 noch nicht gesichert hat, sollte dies langsam tun. Der Release der neuen Best of Ausgabe liegt bereits einige Zeit zurück. So steht das gute Stück bereits seit dem 11. November 2022 für euch im Handel bereit.
Wie immer an dieser Stelle, darf neben der Tracklist die passende Tracklist nicht fehlen, damit ihr vor dem Kauf bereits wisst, was euch hier alles erwartet.
Disk 1:
01.Sam Smith, Kim Petras – Unholy 2:38
02.Britney Spears, Elton John – Hold Me Closer 3:22
03.Leony – Remedy 2:29
04.Ed Sheeran – Shivers 3:27
05.Onerepublic – I Ain't Worried 2:28
06.Purple Disco Machine, Sophie and the Giants – In The Dark 3:07
07.Arcane, Imagine Dragons, Jid, League Of Legends – Enemy (from the series Arcane League of Legends) 2:53
08.Diverse Interpreten – Snap 3:01
09.ClockClock – Sorry 2:58
10.Elley Duhé – Middle Of The Night 3:04
11.Malik Harris – Rockstars (Eurovision 2022 – Germany) 3:03
12.Tbc, Lady Gaga – Hold My Hand 3:45
13.Shawn Mendes – When You're Gone 2:54
14.Tate McRae – she's all i wanna be 3:29
15.Felix Jaehn – Do It Better 2:51
16.Shakira, David Guetta, Black Eyed Peas – Don't You Worry 3:17
17.Kamrad – I Believe 2:30
18.Topic, Alvaro Soler – Solo Para Ti 3:20
19.Glockenbach – Dirty Dancing 2:41
20.T-low, Macloud, Miksu – Sehnsucht 2:32
21.Diverse Interpreten – Paradise (mit Dir) 3:13
22.Sido – Mit Dir 2:50
23.Diverse Interpreten – abcdefu 2:49
24.Chris Brown – Under The Influence 3:05
25.Jack Harlow – First Class 2:54
Disk 2:
01.Ray Dalton, Felix Jaehn – Call It Love (Sing It Back) 2:36
02.Ray Dalton, Felix Jaehn – Call It Love 2:36
03.Selena Gomez, Rema – Calm Down 3:59
04.Diverse Interpreten – Sunroof 2:42
05.Lil Nas X – STAR WALKIN' (League of Legends Worlds Anthem) 3:31
06.Diverse Interpreten – Down Under 2:40
07.Tiësto, Ava Max – The Motto 2:45
08.James Hype, Miggy Dela Rosa – Ferrari 3:07
09.Jax Jones – Where Did You Go? 3:00
10.Paul van Dyk, Topic, Robin Schulz, Nico Santos – In Your Arms (For An Angel) 2:32
11.Justin Timberlake, Pharrell Williams, Calvin Harris, Halsey – Stay With Me 3:51
12.Imanbek, Byor – Belly Dancer 2:32
13.Diverse Interpreten – Mood 2:32
14.southstar – Miss You 3:25
15.Emilio – Ausmacht 2:29
16.Panic! At The Disco – House of Memories 3:27
17.Tbc, Lewis Capaldi – Forget Me 3:23
18.Annenmaykantereit – 3 Tage am Meer 3:19
19.Jaymes Young – Infinity 3:58
20.Civo – Weg von mir 2:18
21.Nicki Minaj – Super Freaky Girl 2:52
22.Nina Chuba – Wildberry Lillet 2:12
23.Domiziana – Ohne Benzin 2:35
24.Sevek, Öwnboss – Move Your Body 2:40
25.Clueso, Sdp – Die schönsten Tage 3:18
26.Schürze, Dj Robin – Layla 3:07