Die Club Sounds – Best of 20 Years steht an, höchste Zeit einen Blick auf die Tracklist zu werfen. Ob als Download oder herkömmliche CD, diese CD sollte in keiner Sammlung fehlen, denn hier erwarten euch die besten Dance & House Tracks der letzten 20 Jahre, das ist gewiss nicht untertrieben.
Auch wenn wir den Compilations von Sony Music immer etwas skeptisch gegenüber stehen, müssen wir zugeben, dass die Club Sounds – Best of 20 Years wirklich durch Qualität zu überzeugen weiß. Mit ihrer Tracklist, lädt sie euch auf eine musikalische Zeitreise der besonderen Art ein.
Für alle älteren Leser dieses Artikels, wird es sicherlich ein Feuerwerk der Erinnerungen werden, denn so ging es uns beim Blick auf die Tracklist. Man hat in all den Jahren in den Clubs doch mit vielen Tracks schöne Erinnerungen verbunden, die man gerne auf diese Art und Weise auffrischt.
Leider haben wir an dieser Stelle noch eine schlechte Nachricht, denn bis zum Release der Club Sounds – Best of 20 Years dauert es noch eine ganze Weile. Um an dieser Stelle mal genauer zu werden, diese Compilation steht erst ab dem 27. Januar 2016 für euch im Einzelhandel bereit.
Natürlich hält das uns nicht davon ab, euch schon jetzt die Tracklist und das passende Cover zu präsentieren, damit ihr wisst was euch hier erwartet. Diejenigen unter euch, die sich auf diese besondere Zeitreise einlassen wollen, können die Club Sounds – Best of 20 Years natürlich bereits vorbestellen.
Euch erwarten Songs von z.B. The Disco Boys, Martin Garrix, Duck Sauce, Martin Solveig, Darude, Sylver, Safri Duo, Groove Coverage, Scooter, Brooklyn Bounce, Starsplash, Culture Beat, Jan Wayne, DJs @ Work und unheimlich viele weitere Songs der letzten 20 Jahre.
Als kleine Visuelle Preview der Club Sounds – Best of 20 Years haben wir euch mit " Jan Wayne – Because the Night " einen ganz großen Songs der HandsUp Zeit eingebunden.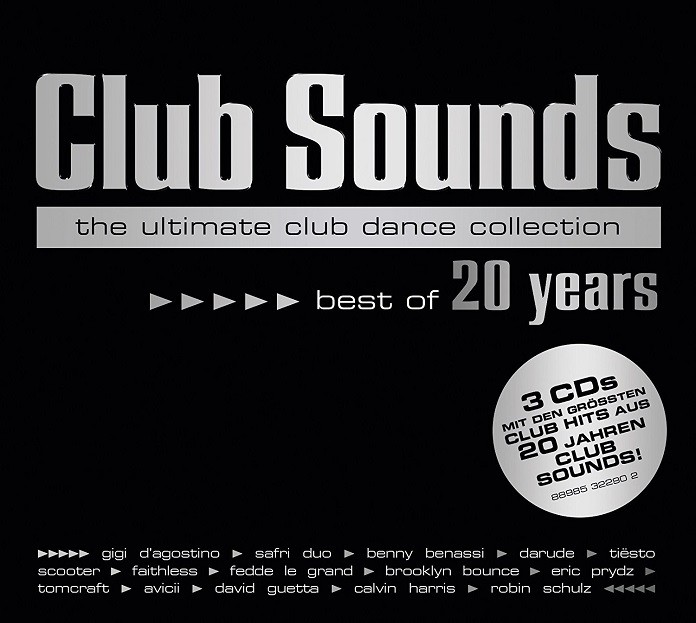 Disk 1:
01.Gigi D'agostino – L'amour Toujours 4:01
02.Safri Duo – Played-a-life (the Bongo Song) 3:17
03.Sylver – Turn The Tide 4:04
04.Lasgo – Something 3:41
05.Atb – 9 P.m. (till I Come) 3:17
06.Faithless – God Is A Dj 3:33
07.Tomcraft – Loneliness 3:45
08.Wamdue Project – King Of My Castle (roy Malone's King Edit) 3:32
09.Benny Benassi, The Biz – Satisfaction (isak Radio Edit) 3:11
10.Darude – Sandstorm 3:45
11.Zombie Nation – Kernkraft 400 3:28
12.Tiësto – Lethal Industrie 2:43
13.Dj Shog – Another World 3:53
14.Djs@work – Someday 3:31
15.Pulsedriver – Cambodia (short Vocal Mix) 3:48
16.Jordan, Baker – Explode (marc Van Linden Video Cut) 3:23
17.Groove Coverage – Poison 3:06
18.Jan Wayne – Because The Night 3:31
19.Cosmic Gate – Exploration Of Space 3:35
20.Culture Beat – Mr. Vain Recall 3:29
21.Starsplash, Mental Theo, Charlie Lownoise – Wonderful Days (2001 Radio Edit) 3:12
22.Brooklyn Bounce – Bass, Beats & Melody 3:40
23.Scooter – Nessaja 3:28
Disk 2:
01.Manfred's Earth Band Mann, The Disco Boys – For You 3:42
02.Eric Prydz – Call On Me 2:49
03.Guru Josh Project – Infinity 2008 (klaas Remix Edit) 3:11
04.Fedde Le Grand, Ida Corr – Let Me Think About It 2:31
05.Alex Gaudino, Crystal Waters – Destination Calabria 3:00
06.Yolanda Be Cool, Dcup – We No Speak Americano 2:28
07.Duck Sauce – Barbra Streisand 3:13
08.Crookers, Kid Cudi – Day 'n' Nite 2:43
09.Fedde Le Grand – Put Your Hands Up For Detroit 2:25
10.Danzel – Pump It Up! 3:45
11.Taio Cruz – Dynamite 3:23
12.Martin Solveig, Dragonette – Hello 4:42
13.Usher, Pitbull – Dj Got Us Fallin' In Love 3:41
14.Vika Jigulina, Edward Maya – Stereo Love 3:03
15.Michael Mind, Manfred's Earth Band Mann – Blinded By The Light 2:46
16.Global Deejays – The Sound Of San Francisco (progressive Short Mix) 3:32
17.Bob Sinclar, Goleo – Love Generation 3:27
18.U2, Lmc – Take Me To The Clouds Above 2:49
19.Lützenkirchen – Drei Tage Wach 3:36
20.Thomas Schumacher – Tainted Schall 2:55
21.Tiësto – Adagio For Strings 3:25
22.Nature One Inc. – The Golden 10 (festival Edit) 3:44
23.Cascada – Everytime We Touch (original Radio Edit) 3:17
Disk 3:
01.Felix Jaehn, Jasmine Thompson – Ain't Nobody (loves Me Better) 4:02
02.Robin Schulz, Francesco Yates – Sugar 3:39
03.Conrad, Kygo – Firestone 4:32
04.Avicii – Wake Me Up (radio Edit) 4:06
05.David Guetta, Sia – Titanium 4:03
06.Calvin Harris, Ellie Goulding – Outside 3:47
07.John Martin, Swedish House Mafia – Don't You Worry Child (radio Edit) 3:32
08.Dj Antoine, The Beat Shakers – Ma Chérie (dj Antoine Vs Mad Mark 2k12 Radio Edit) 3:11
09.Pitbull, Ke$ha – Timber 3:24
10.The Mojos, Asaf Avidan – One Day / Reckoning Song (wankelmut Remix) 3:31
11.Lost Frequencies – Are You With Me 2:18
12.Mr. Probz – Waves (robin Schulz Radio Edit) 3:28
13.The Prick, Lilly Wood – Prayer In C (robin Schulz Remix) 3:10
14.Omi – Cheerleader (felix Jaehn Remix Radio Edit) 3:02
15.Alle Farben, Anna Naklab, Younotus – Supergirl 3:32
16.Bakermat – One Day (vandaag) 3:39
17.Alexandra Stan – Mr. Saxobeat 3:14
18.Martin Tungevaag – Wicked Wonderland 3:38
19.R.i.o., Nicco – Party Shaker 3:27
20.Sak Noel – Loca People (what The F**k!") (radio Edit) 3:37
21.Dvbbs, Borgeous – Tsunami 3:06
22.Martin Garrix – Animals 2:56