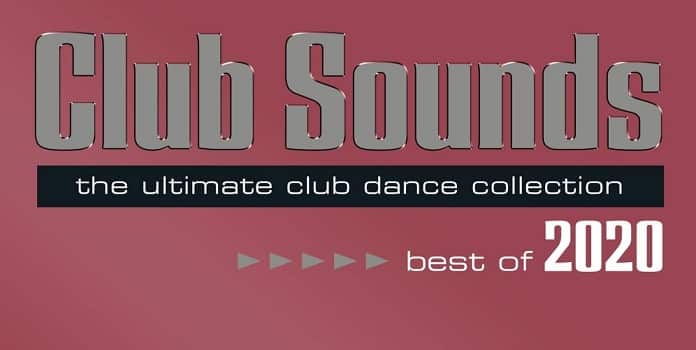 Die Club Sounds – Best Of 2020 Compilation ist da und kann mit ihrer fetten Tracklist durchaus überzeugen. Zugegeben, seit Nitron Media (Sony Music) für die ein oder andere Compilation verantwortlich ist, kriegen wir in unserer Redaktion tatsächlich nicht mehr viel davon mit, so ist auch die Club Sounds – Best Of 2020 voll an uns vorbeigezogen.
Wie bereits eine Käufer in ihren Bewertungen in zahlreichen Shops richtig erkannt haben, sind einige Tracks gerade Brandneu und somit eigentlich falsch auf einer Best of CD. Schaden tut dies allerdings nicht, denn bis auf den einen oder anderen Fehltritt, kann sich die Tracklist der Club Sounds – Best Of 2020 wirklich sehen lassen.
Werfen wir allerdings doch mal einen Blick auf die besagte Tracklist, denn hier finden wir zahlreiche Top Tracks. Gemeint sind Tracks von unter anderem Don Diablo, VIZE, Robin Schulz, Kygo, Bodybangers, Sean Finn, Sam Feldt, Paul Kalkbrenner, EDX, Jerome und viele weitere.
Der Release der neuen Club Sounds – Best Of 2020 war bereits am 20. November 2020 und wie immer an dieser Stelle, darf die Tracklist und das dazugehörige Cover nicht fehlen, damit ihr wisst was euch hier erwartet.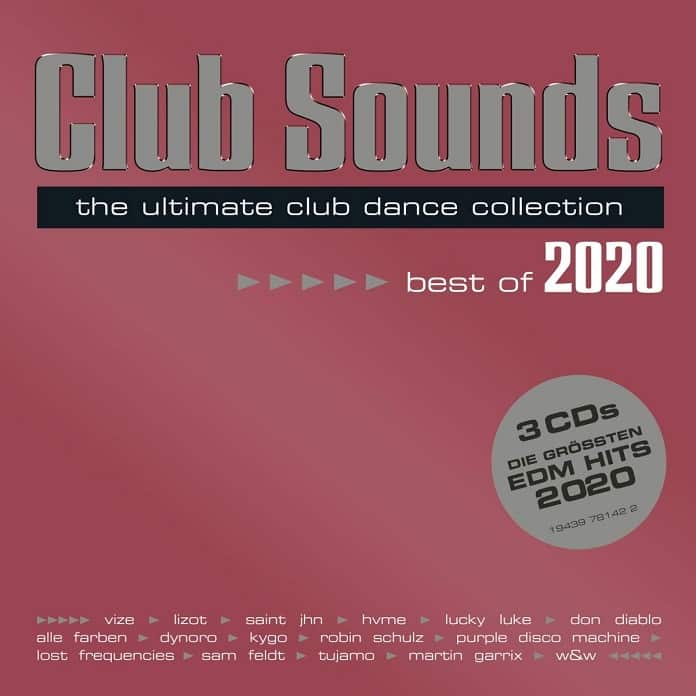 Disk 1:
01.VIZE & Tom Gregory – Never Let Me Down 2:33
02.SAINt JHN – Roses – Imanbek Remix 2:56
03.Twocolors – Lovefool 3:10
04.Hvme – Goosebumps 2:43
05.Lucky Luke – Cooler Than Me 3:00
06.LIZOT & Holy Molly – Menage A Trois 2:48
07.Don Diablo & Imanbek feat. Trevor Daniel – Kill Me Better 3:14
08.Alok & Dynoro – On & On 2:25
09.Chico Rose x 71 Digits – Somebody's Watching Me – Radio Edit 2:56
10.StaySolidRocky & VIZE – Party Girl – VIZE Remix 2:27
11.Galwaro X LIZOT X Gabry Ponte – Like A Prayer 2:44
12.Graham Candy, VIZE, Graham Candy Alle Farben – Kids 3:04
13.Raye, Regard & RAYE – Secrets 2:56
14.Ilkay Sencan & Faruk Sabanci – All The Things She Said 2:49
15.Dynoro & Fumaratto – Me Provocas 2:27
16.Sean Finn x Bodybangers x Luxe 54 feat. Robin S – Show Me Love 2:23
17.Imanbek feat. Tory Lanez – Blackout 2:43
18.Bodybangers – You're Not Alone 2:43
19.CRISPIE feat. ILIRA – Ladida (My Heart Goes Boom) 2:53
20.Joker Bra & Leony VIZE – Paradise 2:36
Disk 2:
01.Tina Turner feat. Kygo – What's Love Got to Do with It 3:28
02.Robin Schulz & Wes – Alane 2:55
03.Becky Hill & Goodboys Meduza – Lose Control 2:48
04.Purple Disco Machine & Sophie and the Giants – Hypnotized 3:16
05.Nea – Some Say – Felix Jaehn Remix 3:07
06.Kelvin Jones, Zonderling & Kelvin Jones Lost Frequencies – Love to Go 2:49
07.Lutricia Mcneal, Charming Horses & Lutricia McNeal – Ain't That Just The Way 2:55
08.Gamper & Dadoni – Gimme! Gimme! Gimme! 3:07
09.James Arthur, Sigala & James Arthur – Lasting Lover 3:38
10.Sam Feldt & VIZE feat. Leonie – Far Away From Home – Radio Edit 2:43
11.Julian Perretta, YouNotUs & Julian Perretta – Your Favourite Song – YouNotUs Club Mix 2:46
12.Max + Johann – Perfekte Welle 2:23
13.Holy Molly – Alcohol 2:34
14.Anstandslos & Durchgeknallt & ela. – Irgendwann – Dance Mix 2:52
15.Gia Koka, Sam Feldt & Sigma feat. Gia Koka – 2 Hearts 3:06
16.Drenchill feat. Indiiana – Forever Summer 2:36
17.Freischwimmer – Just for now 2:47
18.Alex Parker – Goodbye 2:57
19.EDX feat. Jess Ball – I Found You (Neptune) 2:39
20.Paul Kalkbrenner – Parachute 3:51
Disk 3:
01.Lizot – Weekend 2:12
02.VIZE, MAJAN Tujamo – Lonely 2:48
03.Jerome – Take My Hand 2:43
04.LUM!X x MOKABY & D.T.E x Gabry Ponte – The Passenger (LaLaLa) 2:39
05.Le Shuuk – Sandmann 3:25
06.W&W x Lucas & Steve – Do It For You 3:11
07.Timmy Trumpet x Vengaboys – Up & Down 1:59
08.DubDogz & Bhaskar – Infinity – DubDogz & Bhaskar Edit 2:43
09.N3WPORT, Lunis Besomorph – Zombie – Zombic & Felix Schorn Remix 2:40
10.Twisted Harmonies & Fabian Farell – Against the Rest 2:46
11.Eastblock Bitches vs. Ostblockschlampen – Virus 2:22
12.Tony Igy – Astronomia (Never Go Home) 2:37
13.Emi Flemming – Don't Worry – Harris & Ford Remix 3:00
14.Klaas feat. Emmie Lee – In My Head 2:44
15.Lizot – Candlelight 2:30
16.The Underdog Project – Summer Jam – Jerome Remix 2:45
17.PAST PRESENT & Alex Heimann – Dancing In The Moonlight 3:03
18.AAfrAA X Up&Down – The Logical Song 3:41
19.Vion feat. Bryar Konger – Lions In The Sky 2:40
20.Clinton Kane, Alle Farben Martin Garrix – Drown (feat. Clinton Kane) – Alle Farben Remix 2:49