Kurz vor dem Weihnachtsgeschäft, kommt die Future Trance 82 mit gewaltiger Tracklist um die Ecke. Wieder einmal heißt es Kontor Top of the Club oder Future Trance, denn beide CDs überzeugen mit einer großartigen Trackauswahl.
Während man im Hause Kontor Records eher auf Exklusivität mit unveröffentlichten Remixen geht, hält man im Hause Polystar (Universal Music) mit einer sehr kommerziellen Ausrichtung sehr erfolgreich dagegen. So ist es nicht verwunderlich das beide Compilations sich laufend an die Spitze der Compilation Charts setzen.
Wie man es bereits gewöhnt ist, kommt natürlich auch die Future Trance 82 als 3er CD-Box auf den Markt, welche sich vom Genre her alle drei etwas unterscheiden. Das Ihr in der Tracklist der neuen Future Trance 82 nur die besten Tracks aus dem aktuellen Charts findet, dürfte euch ja längst bekannt sein.
Bis zum Release der 82. Ausgabe dauert es allerdings noch ein wenig, denn erst ab dem 24. November 2017 und somit kurz vor der Vorweihnachtszeit, steht die neue Future Trance für euch im Handel bereit.
Wie immer an dieser Stelle, haben wir natürlich auch hier, die Tracklist und das passende Cover für euch am Start, damit ihr euch schon einige Tage vor dem Release einen ersten Eindruck verschaffen könnt.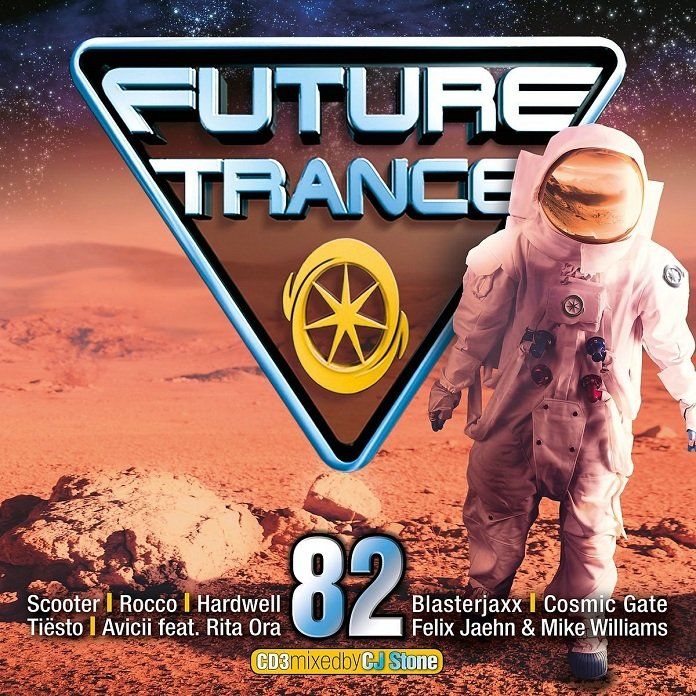 Disk 1:
01.Avicii – Lonely Together 3:02
02.Felix Jaehn – Like A Riddle 3:00
03.Alan Walker – The Spectre 3:13
04.Jonas Blue, Mark Villa – In Your Arms Tonight 2:44
05.Sick Individuals – Never Say Never (Radio Edit) 4:06
06.Tom Swoon, Blasterjaxx – All I Ever Wanted 2:36
07.Martin Garrix – Pizza 4:15
08.Fatman Scoop, Nils Van Zandt – Destination Paradise (Radio Edit) 2:45
09.Sound Of Legend – Push The Feeling On (Festival Mix) 3:45
10.Mazza – Matrix (Klaas Edit) 2:47
11.Avicii – Without You 3:02
12.Klaas – Cintura 2:46
13.Hardwell, Jonathan Mendelsohn, Kaaze – We Are Legends (Radio Edit) 3:20
14.Dubvision – Paradise 3:14
15.Mike Williams, Felix Jaehn – Feel Good 2:45
16.Foggy – Come Into My Dream (Klaas Edit) 3:30
17.Sam Feldt – YES (Club Radio Mix) 2:57
18.Freischwimmer – All That She Wants (King Arthur Remix) 4:21
19.Perfect Pitch – Feel Good (Radio Edit) 3:09
20.Ravevegas – My House (Calvo Edit) 3:15
21.Lizot – Here for You Love (Club Edit) 3:13
22.Giorgio Gee – Hah! (Radio Edit 2:44
23.Martin Jensen – Wait 2:45
Disk 2:
01.Scooter, Jebroer – My Gabber 2:54
02.Armin Van Buuren, Vini Vici – Great Spirit (Wildstylez Remix) 3:56
03.Rocco – One, Two, Three (Dancecore Psy Edit) 3:48
04.Ti-mo – Hit The Dancefloor (Edit) 3:28
05.Blaikz – So Alive (Ti-Mo Remix Edit) 3:09
06.Stereolizza – Wonderland (Mr. G! & Critical Strikez Remix Edit) 3:21
07.Special D. – Hardcore Doodle (Radio Edit) 2:59
08.Surilla – Lost 3:12
09.Paffendorf – Lalala Girl 2K17 (Edit) 2:43
10.Dj Mikesh – Take Me Away (Radio Edit) 2:59
11.Giorno – Moskva (G! Mix Edit) 2:57
12.Marc Kiss, James Stefano – Jessie (Basslouder Remix Edit) 3:53
13.Alex Cortez – Vienna (RainDropz! Remix Edit) 3:19
14.René De La Moné, Dj Iq-talo – Wrong (Alex Megane Newdance Edit) 3:43
15.Recneps – On My Way (Danceboy Remix Edit) 4:20
16.Marlon White, B-Way – Take Me Away (Xelerator Remix Edit) 3:41
17.Steve 80 – Meteorite (Future Core Edit) 2:56
18.Deejay A.n.d.y. – Too Shy 2017 (Danceboy Remix Edit) 4:33
19.Pinball – To The Top (Pulsedriver Remix Edit) 2:43
20.Brooklyn Bounce- Back2Bass (Single Edit) 3:51
21.Justin Corza, Phillerz – Believe (Konstruktor & JacQ Remix Edit) 3:32
22.Dj Gollum – Paradise (Radio Edit) 3:16
23.Vrbt – Hunt 4:39
Disk 3:
01.CJ Stone – Future Trance 82 Intro (FT 82 Edit) 1:48
02.CJ Stone – Be Loved (Heart of Stone Uplifting Mix / FT 82 Edit) 4:18
03.Gaia – Saint Vitus (Extended Mix / FT 82 Edit) 4:40
04.Armin Van Buuren – This Is A Test (Shinovi Extended Remix / FT 82 Edit) 5:13
05.Khomha – Other Side Of Me (Extended Mix / FT 82 Edit) 3:38
06.Cosmic Gate, Arnej – No Strings Attached (Extended Mix / FT 82 Edit) 2:54
07.Dennis Sheperd – Copenhagen (Extended Mix / FT 82 Edit) 2:53
08.Tiësto – In The Dark (First State Extended Remix / FT 82 Edit) 4:06
09.Ferry Corsten – Waiting (Extended Mix / FT 82 Edit) 3:26
10.Van Der Karsten – Rebellion (Club Mix / FT 82 Edit) 2:59
11.Avancada, Darius & Finlay – Xplode (Grahham Bell & Yoel Lewis Extended Remix / FT 82 Edit) 2:41
12.Mark Sixma – Destiny (Extended Mix / FT 82 Edit) 3:10
13.Protoculture, Attila Syah- Colosseum (Extended Mix / FT 82 Edit) 3:10
14.W&w, Vini Vici – Chakra (Extended Mix / FT 82 Edit) 4:13
15.Marlo – The Launch (Extended Mix / FT 82 Edit) 2:41
16.Dj Dean, Dj T.h. – It's A New Dream (Megara vs DJ Lee Remix / FT 82 Edit) 2:36
17.Neelix – Waterfall (FT 82 Edit) 3:15
18.Mario Lopez, Victor Dinaire – The Sound of Nature (Chris SX Psynature Remix / FT 82 Edit) 3:49
19.Holmes & Watson – Sonic Empire 2017 (Extended Mix / FT 82 Edit) 2:20
20.Giuseppe Ottaviani – Lumina (Extended Mix / FT 82 Edit) 3:49
21.Paul van Dyk- I Am Alive (Extended / FT 82 Edit) 2:47
22.Talla 2xlc, Hypetraxx, Indecent Noise – The Darkside (Extended Mix / FT 82 Edit) 4:26
23.Semitoo – Shadows (Van der Karsten Remix / FT 82 Edit) 3:01