Die Hed Kandi 2017 ist da und wir schauen gleich einmal auf die Tracklist. Das aktuelle Jahr ist noch längst nicht zu Ende und schon kommen die ersten Sampler auf den Markt, die einen ersten Eindruck auf die Hits von 2017 werfen, in diesem Fall sind es übrigens die Club Hits 2017.
Im House Music Sektor, gilt die Hed Kandi Reihe des gleichnamigen Labels zu den erfolgreichsten House Compilations weltweit. Ähnlich wie bei Ministry of Sound, bewegt man sich mit den zahlreichen Ausgaben immer wieder auf neuem Boden, wenn auch bei Hed Kandi fast ausschließlich im Club Hits Sektor.
Mit dabei sin dieses mal Hits von Inklusive Tracks und Remixes von Craig David & Sigala, Kungs vs Crookin On 3 Burners, Bob Sinclair, Matt Simons, Sam Feldt x Lucas Steve feat. Wulf, Freischwimmer, ATFC Feat. Hannah Williams, The Mighty Dub Katz, Boris Dlugosch und viele weitere.
Bis zum Release gibt es keine Wartezeit mehr, denn bereits seit dem 28. Oktober 2016 ist das gute Stück im Handel für euch erhältlich. Wie immer an dieser Stelle, haben wir natürlich auch jetzt die Tracklist und das passende Cover für euch am Start, damit ihr wisst was euch erwartet.
Wenn euch die Tracklist also überzeugt, heißt es direkt einmal, ab in den Online Shop und die Hed Kandi 2017 bestellen, damit ihr euch musikalisch schon jetzt auf das neue Jahr einstimmen könnt.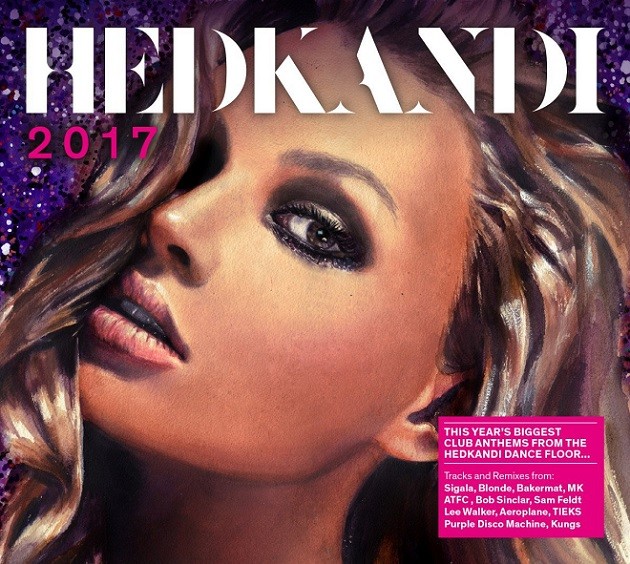 Disk: 1
1. Craig David & Sigala – Ain't Giving Up – Ain't Giving Up
2. Kungs vs Cookin On 3 Burners – This Girl Fabich remix – This Girl (Fabich remix)
3. Bob Sinclar – Someone Who Needs Me – Someone Who Needs Me
4. Tieks – Sunshine Zac Samuel Remix – Sunshine (Zac Samuel Remix)
5. MK & Becky Hill – Piece of Me Riva Starr "Adventures in TR-909" Remix – Piece of Me (Riva Starr "Adventures in TR
6. Dua Lipa – Hotter Than Hell Jack Wins Remix – Hotter Than Hell (Jack Wins Remix)
7. Anton Powers – Love You Better – Love You Better
8. Ryan Blyth X After 6 feat. The Flirtations – Trust Me – Trust Me
9. Apexape feat. Josh Barry – Joy & Pain – Joy & Pain
10. Ben Delay feat. Alexandra Prince – The Boy Is Mine Mark Lower Vocal Mix – The Boy Is Mine (Mark Lower Vocal Mix) 11. Mark Knight
11. Mark Knight – Yebisah
12. Ayah Marar & Tom Bull – Mind Controller – Mind Controller
13. Weiss – You're Sunshine – You're Sunshine
14. The Golden Boy – Good To You – Good To You
15. Disco Fries – Born Ready Halogen Radio Edit – Born Ready (Halogen Radio Edit)
Disk: 2
1. Matoma & Becky Hill – False Alarm – False Alarm
2. Matt Simons – Catch & Release Deepend Remix – Catch & Release (Deepend Remix)
3. Zhu – Generation Why – Generation Why
4. The Him – Feels Like Home – Feels Like Home
5. Sam Feldt x Lucas Steve feat. Wulf – Summer On You – Summer On You
6. Bakermat feat. Alex Clare – Living – Living
7. Freischwimmer – California Dreaming – California Dreaming
8. Kaskade & Felix Cartal – Faking It – Faking It
9. Bingo Players – Cry (Just A Little) A-Trak and Phantoms Remix – Cry (Just A Little) (A
10. EDX – My Friend – My Friend
11. Redondo & Boris Way – Sunday – Sunday
12. Tobtok – Aber – Aber
13. Mr Sanka – Flight Mode Jengi Beats Remix – Flight Mode (Jengi Beats Remix)
14. Rene & Alex Hook – Show Me Your Love – Show Me Your Love
15. Blonde & Craig David – Nothing Like This Get To Know Remix – Nothing Like This (Get To Know Remix)
Disk: 3
1. Lee Walker vs DJ Deeon feat. Katy B & MNEK – Freak Like Me Disco Demolition Remix – Freak Like Me (Disco Demolition Remix)
2. Aeroplane & Purple Disco Machine – Sambal – Sambal
3. Oliver Nelson feat. River – Changes Simon Hardy Remix – Changes (Simon Hardy Remix)
4. ATFC feat. Hannah Williams – No Victim Song – No Victim Song
5. The Mighty Dub Katz – Just Another Groove Boris Dlugosch Remix – Just Another Groove (Boris Dlugosch Remix)
6. Julyan Dubson – Make A Thing – Make A Thing
7. KORT& Elementary feat. Jessie Matthews – Warning J Paul Ghetto Remix – Warning (J Paul Ghetto Remix)
8. Shuyo Okino feat. Navasha Daya – Still In Love Alaia & Gallo Remix – Still In Love (Alaia & Gallo Remix)
9. Illyus & Barrientos – Strings – Strings
10. Afro Medusa – Pasilda Erick Morillo Extended Remix – Pasilda (Erick Morillo Extended Remix)
11. Luca Debonaire – Keep This Party Rockin – Keep This Party Rockin
12. Shorty – Vazilando Kryder & Eddie Thoneick Remix – Vazilando (Kryder & Eddie Thoneick Remix)
13. Games Chasers feat. Vicky Jackson – King For A Day – King For A Day
14. Simon Hardy – Samba – Samba
15. CID – Together – Together