Mit der neuen Hed Kandi Dusk Till Disco startet das Label eine neue Compilation Reihe. In der Tracklist dürfen natürlich nur die besten Tracks der laufenden Saison Platz finden, denn dafür ist Hed Kandi bereits seit Jahren bekannt.
Zuvor feierte das Label mit der " Twisted Disco " Reihe große Erfolge, da war es nahe liegend, dass ein Nachfolger her musste. Anders als anderen Labels werden Themen bei der Hed Kandi nicht bis ins Unendliche weiter fortgesetzt, sondern durch neue Reihen ersetzt.
Das man bei der Hed Kandi keine großen Komerz Tracks findet, stimmt derzeit nicht mehr, was eben am großen Deep House Trend liegt. War das Genre vor einigen Monaten noch eher Nischenprodukt der House Szene, kommt man in diesem Jahr daran so gut wie nicht mehr vorbei.
Auf zwei CDs bietet "Hed Kandi Dusk Till Disco" die heißesten Tracks der Stunde, darunter Oliver Nelsons Remix von "All Cried Out", Route 94 feat. Jess Glyne, Felix Jaehn, Tensnake, Nile Rodgers, Roisin Murphy, u.v.a.! So glam up and let us lead you from Dusk to the Dancefloor, with Hed Kandi Dusk Till Disco!
Alle House Fans da draußen, müssen sich nun noch etwas gedulden, denn die Hed Kandi Dusk Till Disco steht ab dem 21. August 2015 für euch im Handel bereit. Damit ihr wisst was euch hier erwartet, bieten wir euch schon einmal die Tracklist und das passender Cover dazu, viel Spaß damit.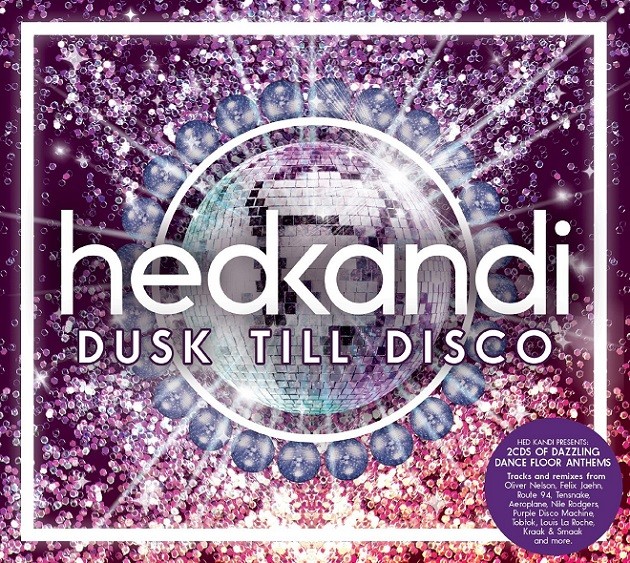 Disk: 1
1. Blonde Feat. Alex Newell – All Cried Out Oliver Nelson Remix
2. Route 94 Feat. Jess Glynne – My Love Oliver Nelson Remix
3. Tensnake – Keep On Talking
4. Felix Jaehn – I Do
5. Aeroplane Feat. Benjamin Diamond – Let's Get Slow
6. Andhim – Boy Boy Boy Panda Remix
7. Ben Macklin – The First
8. Random Soul Feat. Chloe West – Catch Me
9. Jeff Daniels & Ollie Ple' Feat. Twyla – Next To Me Soledrifter Remix
10. Mocki – Weekend Cesare Remix
11. Purple Disco Machine – Where We Belong
12. Nile Rodgers – Do What You Wanna Do The Reflex Greatest Disco Dancer Remix
13. Opolopo – Get On Up
14. Souxsoul Feat. Sybille – Warning You Jumentinhos Nu Disco Mix
15. Nytron – Never Give Up
Disk: 2
1. Touch Sensitive – Pizza Guy
2. Tom & Hills Feat. Troi – Lighters TJH87 Remix
3. Kerri Watt – You Oliver Nelson Remix
4. Loui & Scibi – Don t Lie Satin Jackets Remix
5. The Wombats – Greek Tragedy Oliver Nelson Remix
6. Muddyloop – Sentimental Joeblack Remix
7. Iain O'Hare – Words of Wisdom MAM Remix
8. Matt Hughes – Rodeo Warrior
9. Tobtok Feat. River – Savanna Keljet Remix
10. Aaron Ross – Music Gets Me High
11. Roisin Murphy – Exploitation Falco Benz Remix
12. Jam Xpress Feat. DD – Gotcha Feelin Lifelike Remix
13. Chela – Romanticise Cesare Remix
14. Kraak & Smaak Feat. Keyhole – All I Want Is You
15. Louis La Roche – Just Like You