Die Kontor Festival Sounds 2016 – The Closing läutet mir ihrer Tracklist das Ende der Festival Saison ein. Die Frage die man da sich natürlich stellen kann ist, ob es überhaupt noch ein Ende der Festival Saison gibt, denn immerhin gibt es auch hier Events wie Rave On Snow oder ähnliche.
Auf der Kontor Festival Sounds 2016 – The Closing dominieren dieses mal eindeutig die Festival Smasher, die allerdings, so finden wir manchmal sehr gewöhnungsbedürftig waren. Einigen Festivals ging es in diesem Jahr aufgrund des vielen schlechten Wetters nicht so gut wie die Jahre zuvor.
Da fragt man sich natürlich zurecht, ist der Gipfel des Festival-Hype erreicht oder folgen noch weitere ? Wir sind gespannt und halten euch in den kommenden Monaten natürlich weiter auf dem Laufenden. Übrigens, falls ihr es noch nicht wisst, hier auf Tracklist.Club findet ihr auch einen eigenen Festival Bereich.
Falls euch das Thema Festivals Mega interessiert, könnt ihr uns gerne auf unserer House Music Facebook Fanpage eine private Nachricht hinterlassen, denn wir suchen stets ehrenamtliche Redakteure, die genau wie wir, Lust an der Materie haben und so das ein oder andere kostenlose Presseticket ergattern wollen.
Kommen wir aber zurück zur Kontor Festival Sounds 2016 – The Closing, hier findet ihr Tracks von DBSTF, Juicy M, W&W, Armin van Buuren, Zatox, Martin Garrix, Le Shuuk, Bassjackers, Galantis und unheimlich viele mehr, denn auch in diesem Jahr kommt sie als 3er CD Box auf den Markt.
Bis zum Release ist es allerdings noch einige Tage hin, denn erst ab dem 16. September 2016 steht die Kontor Festival Sounds 2016 – The Closing für euch im Handel bereit. Bis dahin könnt ihr euch mit Hilfe der Tracklist und dem passenden Cover einen ersten Eindruck der Compilation verschaffen.
Sicherlich wird Kontor Records auch einen MiniMix zu dieser Ausgabe bereit stellen, diesen reichen wir euch in den kommenden Tagen nach.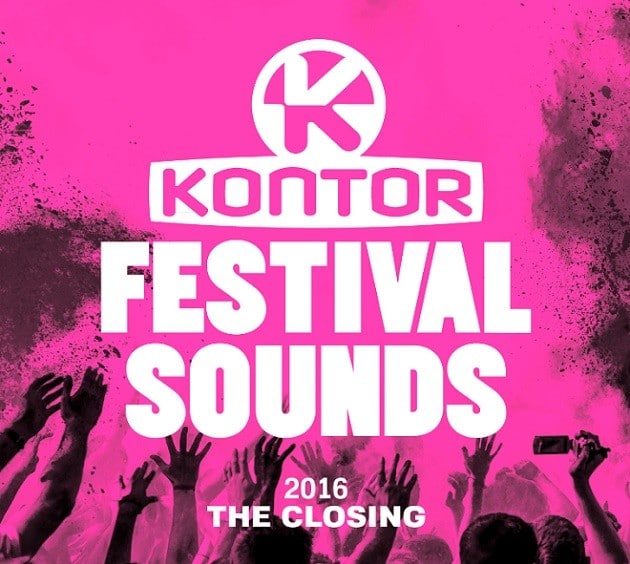 Disk 1:
01. ARMIN VAN BUUREN & HUMAN RESOURCE – DOMINATOR
02. DIMITRI VEGAS & LIKE MIKE – STAY A WHILE (FIREBEATZ REMIX)
03. W&W & HARDWELL & LIL JON – LIVE THE NIGHT
04. DJ SNAKE – PROPAGANDA (TJR & NOM DE STRIP REMIX)
05. RAVITEZ & AFROJACK 
FEAT. MC AMBUSH – SYSTEM
06. NICKY ROMERO – READY 2 RUMBLE
07. WOLFPACK & DIEGO MIRANDA – NASHVILLE
08. DVBBS & MOTI – SWITCH
09. R3HAB – SAKURA
10. MATTN VS 2 FACED FUNKS – HOW WE ROLL
11. LE SCORPION – STAGEDIVE
12. ARTY – BLOODFIRE
13. DBSTF – EVERYTHING CHANGED
14. SANDRO SILVA – SPARTAN
15. FUTURISTIC POLAR BEARS & QULINEZ – KALI
16. TWIIG – ABOUT U
17. JUICY M & LUKA CARO FEAT. ENRIQUE DRAGON – OBEY
18. MAURICE WEST – DOJO
19. OLLY JAMES & R3SPAWN – ALARM
20. DAVE TILL & REGI VS RUDY ZENSKY – HEY
Disk 2:
01. GALANTIS – NO MONEY (MOTI REMIX)
02. SEBASTIAN INGROSSO – DARK RIVER (FESTIVAL VERSION)
03. MARTIN GARRIX & THIRD PARTY – LIONS IN THE WILD
04. TIËSTO – LETHAL INDUSTRY (KEVU FESTIVAL REMIX)
05. LE SHUUK FEAT. JENNY MARSALA – GOOD LIFE
06. GARMIANI – BOMB A DROP
07. HEADHUNTERZ & KSHMR – DHARMA
08. BASSJACKERS & JAY HARDWAY – EL MARIACHI
09. HARDWELL & THOMAS NEWSON – 8FIFTY
10. ARMIN VAN BUUREN – OLD SKOOL (VIGEL EXTENDED REMIX)
11. WOLFPACK & AVANCADA – GO! (DIMITRI VEGAS & LIKE MIKE REMIX)
12. TWOLOUD – MY REMEDY (OFFICIAL UNTOLD FESTIVAL ANTHEM)
13. MOBY – GO (HARDWELL REMIX)
14. DASH BERLIN & DBSTF FEAT. JAKE REESE, WAKA FLOCKA & DJ WHOO KID – GOLD
15. QULINEZ – HOLD ME NOW
16. VIDA – WHITE FLAGS
17. DUBVISION – MAGNUM
18. REEZ – ARENA
19. PITCHBACK – COSMIC DARK
20. SETH HILLS – RAISE YOUR HANDS
Disk 3:
01. THE CHAINSMOKERS FEAT. DAYA – DON'T LET ME DOWN (W&W REMIX)
02. LOST FREQUENCIES FEAT. SANDRO CAVAZZA – BEAUTIFUL LIFE (ANGEMI REMIX)
03. NEPTUNICA – POSEIDON
04. OTTO KNOWS FEAT. AVICII – BACK WHERE I BELONG
05. OLIVER HELDENS & CHOCOLATE PUMA – SPACE SHEEP
06. DON DIABLO FEAT. JUNGLE BROTHERS – I'LL HOUSE YOU (VIP MIX)
07. BORGEOUS, RVSSIAN & M.R.I. FEAT. SEAN PAUL – RIDE IT (7 SKIES & SISSA REMIX)
08. GLOBAL DEEJAYS & DANNY MARQUEZ FEAT. PUPPAH NAS-T & DENISE – WORK (NARI & MILANI REMIX)
09. SWANKY TUNES & GOING DEEPER – DROWNIN'
10. DER HOUSEKASPER – STREAK
11. SWITCH OFF & JUICYTRAX – RABBIT
12. DAVE202 – GUFA
13. JUSTIN PRIME & WE ARE LOUD – DROWNING
14. SAGI ABITBUL & GUY HALIVA – STANGA
15. MICHAEL WOODS – TAKE MY LOVE
16. RIC & RIXX – ICELAND UUH (STEREOACT REMIX)
17. MIKE CANDYS & EVELYN – SUMMER DREAM (GINO G REMIX)
18. ZATOX – SUNLIGHT
19. DIMITRI VEGAS, LIKE MIKE & STEVE AOKI VS UMMET OZCAN – MELODY (COONE REMIX)
20. PARIS BLOHM FEAT. BLONDFIRE – SOMETHING ABOUT YOU (CONRO'S ULTRA MIAMI 2016 REMIX)