Auch in diesem Jahr läutet Kontor Records mit der Kontor Festival Sounds 2018 – The Beginning und ihrer Mega Tracklist die neue Festival Saison ein. Zwar dürften mitten im Winter die wenigstens wirklich an Festival denken aber beschäftigen sollte man sich mit diesem Thema schon jetzt, denn viele Ticketverkäufe laufen bereits auf Hochtouren.
Inoffiziell gilt das Ultra Music Festival hierzulande als Start in die neue Festival Saison und das obwohl das UMF mehrere tausend Kilometer entfernt in Miami stattfindet. Bis dahin ist noch ein wenig Zeit, denn das UMF Miami findet erst im März 2018 statt, doch schauen wir einmal auf die Kontor Festival Sounds 2018 – The Beginning.
Hier findet wir schnell die üblichen Verdächtigen, die man auf zahlreichen Festivals auf der Mainstage findet. Gemeint sind natürlich Top DeeJays wie z.B. Martin Garrix, Dimitri Vegas & Like Mike, Don Diablo, Nicky Romero, Sick Individuals, Armin van Buuren, Super8, Afrojack, Niels van Gogh und viele weitere.
Der Release der Compilation Kontor Festival Sounds 2018 – The Beginning ist für den 2. Februar 2018 angesetzt, bis dahin sind bekanntlich noch ein paar Tage Zeit. Höchste Zeit sich einen ersten Eindruck von der neuen Ausgabe zu verschaffen und die Zeit direkt einmal dazu zu nutzen, sich das gute Stück schon einmal vorzubestellen.
Wie immer an dieser Stelle, haben wir natürlich auch hier die Tracklist und das passende Cover für euch am Start. Den dazugehörigen MiniMix, haben wir euch bereits oben über dem Artikel eingebunden.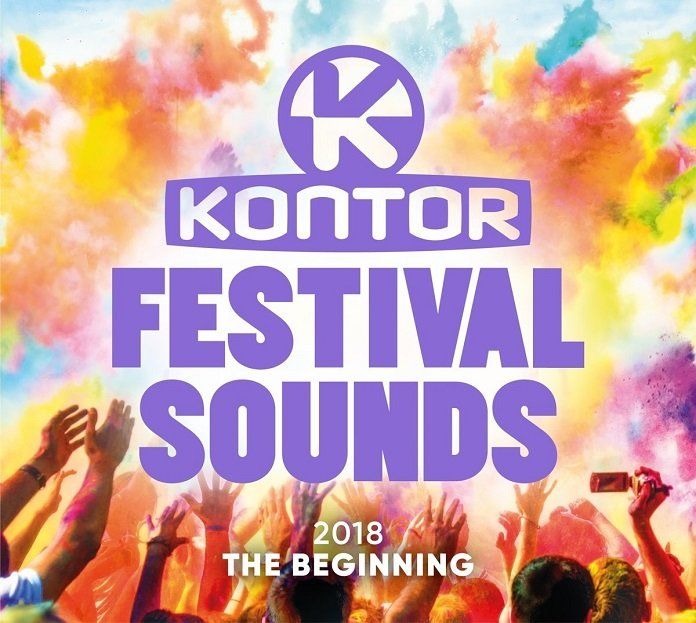 Disk 1:
01. Martin Garrix & Matisse & Sadko – Forever
02. Eastblock Bitches & Niels van Gogh – Get Money
03. DubVision & Afrojack – New Memories
04. J Balvin & Willy William – Mi Gente (Hardwell & Quintino Remix)
05. Wolfpack & Futuristic Polar Bears feat. Shurakano – Destiny
06. Marshmello x Khalid – Silence (Tiësto's Big Room Remix)
07. Stephen Oaks & JayKay feat. Pitbull – Ojos Q No Ven (Jerome Remix)
08. Dimitri Vegas & Like Mike vs. David Guetta feat. Kiiara – Complicated (Bassjackers Remix)
09. Blasterjaxx & Timmy Trumpet – Narco
10. Throttle & Niko The Kid – Piñata
11. Don Diablo – Momentum
12. Showtek & Moby – Natural Blues
13. Nicky Romero & Florian Picasso – Only For Your Love
14. Pauls Paris feat. Moses York – Make Your Mind Up (Axwell & NEW_ID Remode)
15. Dave202 – Impulse
16. Maurice West – Voices In My Head
17. Qulinez & Luciana – Jack U Up
18. Neilsan – Secrets
19. Claim Cracker & Eric Chase – One Move
20. SICK INDIVIDUALS & Mightyfools – FLOW
Disk 2:
01. Armin van Buuren – Be In The Moment
02. Sultan + Shepard feat. Nadia Ali & IRO – Almost Home (Mark Sixma Remix)
03. Super8 & Tab – Pressure
04. Mark Sixma & Emma Hewitt – Missing (Andrew Rayel & Mark Sixma Remix)
05. Avao – A Prophecy
06. DRYM – Spider
07. Exis feat. Enya Angel – Free
08. Ayla – Ayla (Ben Nicky & Luke Bond Remix)
09. Klopfgeister – Du Hast Vergessen Wie Man Lebt
10. DJ Fabio – Travelling Lights
11. Alchimyst feat. Staccato – Deva
12. Atisha – Indian Vibes
13. Protoculture – Sunspire
14. Driftmoon & Allen Watts – Banshee
15. Talla 2XLC – It Makes Me Wonder
16. Omiki – Walame
17. WARRIORS feat. S&L – Dana
18. Ben Gold – Kingdoms
19. Panjabi MC – Mundian To Bach Ke (Dimatik Remix)
20. Holmes & Watson – Sonic Empire
Disk 3:
01. Afrojack feat. Mightyfools – Keep It Low
02. John Dahlbäck – Find A Home
03. MATTN & Magic Wand feat. Neisha Neshae – Let The Song Play (Futuristic Polar Bears Remix)
04. Scooter – In Rave We Trust – Amateur Hour (Anthem Club Mix)
05. Andrew Rayel & Max Vangeli feat. Kye Sones – Heavy Love (Crystal Lake Remix)
06. Timmy Trumpet & Dimatik – Punjabi
07. Deorro – Andele
08. Brennan Heart, Code Black & Jonathan Mendelsohn – Broken
09. R.I.O. feat. Nicco – Party Shaker (Bass Prototype & Corevin Remix)
10. Zatox – For Ever
11. Headhunterz – Destiny
12. Coone & Wildstylez – Here I Come
13. Dr Phunk – Safe House
14. Code Black, Da Tweekaz & Adrenalize feat. Matthew Steeper – Heart Like Mine
15. Cascada – Everytime We Touch (Fallen Superhero Remix)
16. Bassjackers & Crossnaders – Last Fight
17. Luca Testa – Last Weekend
18. Ran-D – Zombie
19. Jebroer – Wij Zijn Alles (Rät N FrikK Remix)
20. Crystal Lake – Space People