Die Kontor Festival Sounds 2018 – the Closing läutet mir ihrer Tracklist das Ende der aktuellen Festival Saison ein. Doch gibt es das in Deutschland eigentlich noch ? Mittlerweile gibt es zahlreiche XXL Indoor Events, die sich von der Stimmung her, oft mit zahlreichen Festivals Messen können.
Zum ersten mal wird es sogar eine Tomorrowland Winter Edition geben, worauf die gesamte Szene schaut und sich fragt, ob dies wirklich funktionieren kann oder eher ein zu großes Risiko durch das im Winter oftmals sehr schlechte Wetter einfach zu groß ist aus finanzieller Sicht.
Kommen wir aber zurück zur Kontor Festival Sounds 2018 – the Closing, denn mit Hilfe dieser Ausgabe, könnt ihr noch einmal so richtig abfeiern, bevor es dann endgültig in die kalte Jahreszeit geht. Neben der Tracklist und dem dazugehörigen Cover, bietet Kontor Records wieder einen MiniMix zur Compilation an, der eindeutig Lust auf mehr macht.
Doch schauen wir mal einen Blick auf die besagte Tracklist, hier findet ihr zahlreiche Top Tracks, die derzeit auf jedem Festival zu hören sind. Gemeint sind hier natürlich Songs von z.B. Martin Garrix, Hardwell, David Guetta, Quintino, Showtek, Afrojack, Armin van Buuren, Vini Vinci, Neelix und viele weitere.
Wenn euch die Kontor Festival Sounds 2018 – the Closing mit ihrer Tracklist zu überzeugen weiß, so könnt ihr sie ab Freitag dem 28. Septrember 2018 im Handel erwerben.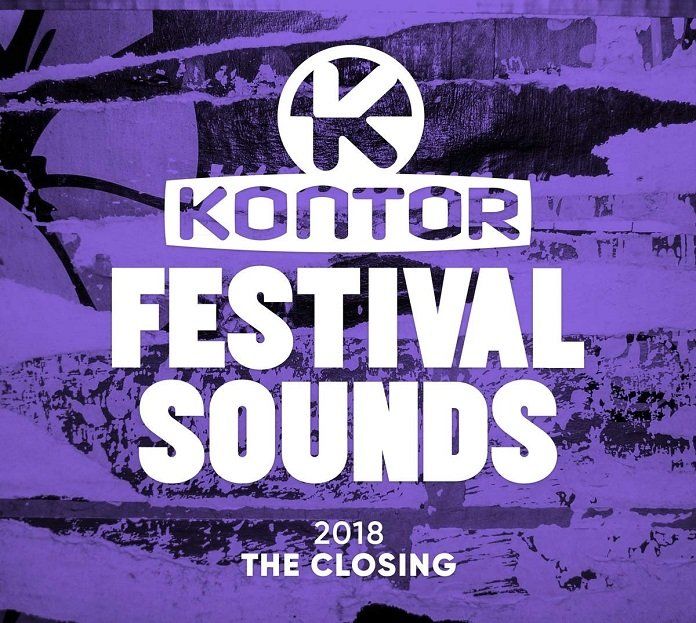 Disk: 1
1. High on life – Garrix, Martin / Bonn
2. Unity – Vegas, Dimitri / Hardwell / Like Mike
3. United – Buuren, Armin van / Vini Vici / Alok / Zafrir
4. Flamenco – Trumpet, Timmy / Jetfire / Rage
5. Shakalaka – Aoki, Steve / Deorro / Makj / Styler, Max
6. Wave rider – Tiesto
7. Neverland – Kshmr / 7 Skies
8. Another level – Afrojack
9. Your love – Guetta, David / Showtek
10. Spaceship (Moti Remix) – Galantis / Uffie
11. Fire (Angemi Festival Mix) – Angemi / Grimix / Fulmo / Dankner, Ido
12. Tim – Arty
13. Symphony (Kidmyn Remix) – DJ Antoine / Kidmyn / Armando / Jimmi The Dealer
14. I believe (Inpetto Remix) – Sinclar, Bob
15. Ellie (Futuristic Polar Bears Remix) – Regi / Reese, Jake
16. Brasil connect – Quintino
17. Dftf – Deorro / Vikstrom
18. Derb – Wolfpack / Futuristic Polar Bears
19. Throne – Mattn / Futuristic Polar Bears / James, Olly
20. Next level – Le Scorpion / Kimura
Disk: 2
1. Our origin – Buuren, Armin van / Shapov
2. Where the heart is – Vini Vici
3. History – Neelix / Cosmonet
4. Sinfonia – Sixma, Mark
5. Take me there – Militia
6. U – Bond, Luke
7. Fly away (Khomha Remix) – Moor, Vincent De
8. Gladiator – Ram & Exis
9. Clockwork – Atisha
10. I love you – Drym / Abhishek Y2V
11. Strike as one – Gold, Ben / Watts, Allen
12. Kumai – Shinovi
13. I've been thinking about you – Standerwick
14. Faith – DJ Nano / Chalud
15. Everytime (Sneijder Remix) – Lustral
16. Shock therapy (Rising Altitude Mix) – Splinta
17. Lost dreams (Standerwick Remix) – Page, Morgan / Jayceeoh / Zanders, Kaleena
18. Dreams that we have – Chase, Eric
19. Venom – Dave202
20. Flight of the buzzard – Starr, Tom
Disk: 3
1. Shine a light – Hardwell / Wildstylez / Kifi
2. Leap of faith – Headhunterz
3. Heartbeat – Wildstylez
4. Jägermeister – Da Tweekaz
5. Blah blah blah (Brennan Heart & Toneshifterz Remix) – Buuren, Armin van
6. Switch – Styles, Darren
7. Hard knockin' beats 2018 – Heart, Brennan TNT
8. Everytime we touch (Hardwell & Maurice West Remix) – Cascada
9. Bring me to life – Da Tweekaz / Haliene
10. This is our world – Noisecontrollers / Atmozfears
11. Maximum force (Defqon.1 Anthem 2018) – Project One
12. Engel – Jebroer / DJ Paul Elstak / Dr Phunk
13. 1 2 Fire – Rät N Frikk
14. Sky – Jerome VS Beatfighterz
15. Loves got me down – Sickddellz / Renae, Alina
16. Broken (Wildstylez Remix) – Evil Activities / Endymion / E-Life
17. Hold me tonight (Toneshifterz & Suae & Pulsar Remix) – Manian
18. Our soul – Bass Modulators / Enforcer, Max
19. Future empire – Husman
20. By your side – Nacho