Mit der neuen Compilation Kontor Festival Sounds – the Opening Season 2015 läutet das Dance Music Label die neue Saison ein. In der Tracklist der neuen Festival Sounds Compilation zeigt sich schnell, dass auch die kommende Saison wieder den ganz großen der Szene gehört aber auch einige noch unbekanntere Namen haben sich in die Tracklist geschlichen.
An erster Stelle dieser Compilation steht natürlich der DJ Nummer 1 der Welt und zwar Hardwell, an ihm kommt man in den letzten Monaten einfach nicht vorbei, nahezu jedes Riesen Festival hat ihn im Programm und auch im Internet wird alles was mit Hardwell zutun hat, fleißig gesucht, geliked und kommentiert.
Bereits im letzten Jahr brachte Kontor Records eine Festival Sounds Compilation auf den Markt und traf damit direkt den Nerv der Zeit, denn bekanntlich erleben Festival derzeit einen Boom, der nie größer war.
Schauen wir da einmal auf das Tomorrowland Festival, die Tickets für das Mega Event in Belgien waren in nur 16 Minuten bereits ausverkauft und das bei über 180.000 verfügbaren Tickets. Im letzten Jahr soll es laut Veranstalter über 2 Millionen Anfragen auf die Tickets gegeben haben, in diesem Jahr waren es sicherlich nicht weniger.
Kommen wir aber zurück zur Kontor Festival Sounds – the Opening Season 2015 diese steht für euch ab dem 6. März 2015 im Handel bereit und wie immer an dieser Stelle, versorgen wir euch schon einmal mit der Tracklist und dem Cover zur neuen Ausgabe, viel Spaß damit.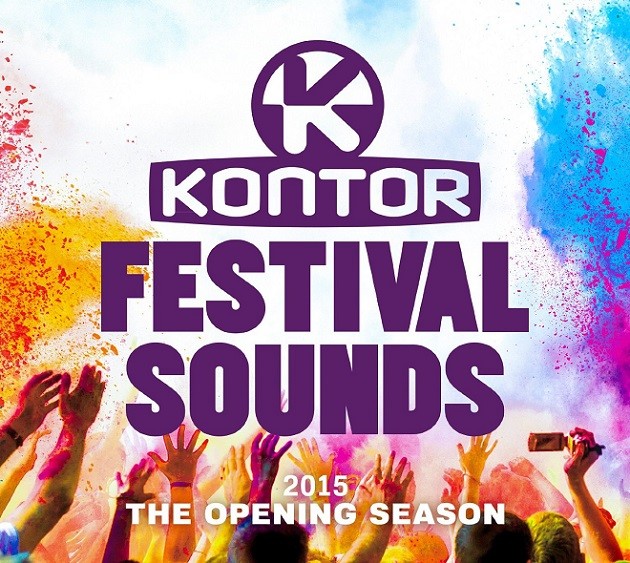 Disk: 1
1. Hardwell – Eclipse
2. Dimitri Vegas & Like Mike vs. Fedde Le Grand – Tales Of Tomorrow (feat. Julian Perretta)
3. Afrojack & Martin Garrix – Turn up the Speakers
4. Blasterjaxx & DBSTF feat. Ryder – Beautiful World
5. Armin van Buuren – Together [In A State of Trance]
6. twoloud – The Biz
7. Tiësto featuring Christian Burns – In The Dark (Chadash Cort Remix)
8. Yves V. vs. Don Diablo – King Cobra (Tomorrowland Edit)
9. Mark Sixma – Shadow (W&W Edit)
10. Firebeatz – Arsonist
11. Thomas Newson & Jaz von D – Elephant
12. Sick Individuals – Skyline
13. Krunk! & Matt Watkins – We Fresh
14. Le Scorpion – Josefine
15. Row Rocka – Kingwood
16. KURA – Makhor
17. Marnik, Lush & Simon – Orion
18. Disco Fries feat. Niko The Kid – The Light (Tommie Sunshine & Halfway House Radio Edit)
19. Noah Neiman vs Andrew Parsons – Wildheart
20. Rave Radio & Jason Risk – Blackout
Disk: 2
1. 3LAU & Nom De Strip feat. Estelle – The Night
2. David Guetta feat. Sam Martin – Lovers On The Sun (Showtek Remix)
3. Galantis – You (Tiësto vs twoloud Radio Edit)
4. Mike Candys & Jack Holiday – Jupiter
5. DVBBS & Dropgun feat. Sanjin – Pyramids
6. R3HAB & KSHMR – Karate
7. Tommy Trash & Burns – About U
8. Mauro Picotto vs Nicola Fasano & Miami Rockets – Komodo (South Beach Mix)
9. Dirty Rush & Gregor Es – Pressure (twoloud Edit)
10. Yves V. & Sidney Samson – Magic
11. diMaro & Dave Till – Do Ya Thing
12. Qulinez – Pegasus
13. Thami – Drop Bombs
14. Joey Dale – Zodiac
15. Eric Chase feat. MileyZ – Lifting Off The Roof
16. Scooter – How Much Is The Fish (Tony Junior Remix)
17. Revolvr & Bass Kleph – Mile High
18. Diver – Fire
19. L.A.M – Dat Drop
20. Flosstradamus & Yellow Claw feat. Green Velvet – Pillz
Disk: 3
1. Ferry Corsten featuring Chris Jones – Make It Ours
2. Avicii – The Nights (Avicii By Avicii)
3. Lost Frequencies – Are You With Me (diMaro Remix)
4. Dash Berlin & John Dahlback feat. BullySongs – Never Let You Go
5. Cosmic Gate with Jonathan Mendelsohn – All My Life
6. Sander van Doorn & Oliver Heldens – THIS
7. AK9 – DNCE
8. Antonio Giacca – Alright
9. Dave Silcox – Shut It Down
10. John Dish & Digital Bounze – Tyttan
11. Ctrl Alt Del – Make It Pop
12. Jerome vs XPR – Muthafuqa
13. Fun{k}house – Gomorra
14. DJ Antoine vs Mad Mark – Vampires (Bodybangers Remix)
15. Marc Benjamin & Revero – Lights Camera Action
16. Daddy's Groove – Stellar (Martin Garrix Remix)
17. Bombs Away, Peep This & Bounce Inc. – Bassline Maniacs
18. Bounce Inc. – Waive Your Hands
19. Swanky Tunes feat. Raign – Fix Me
20. Yellow Claw & Yung Felix – Dancefloor Champion