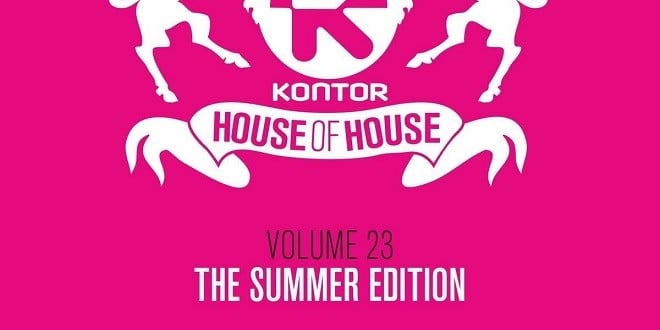 Seid ihr bereit für die Kontor House of House 23 ? Mit ihrer grandiosen Tracklist, trägt sich nicht zu unrecht den Titel " The Summer Edition ". Wenn man sich die CD anhört, bekommt man gleich Lust auf eine wilde Pool Party oder einen kühlen Drink am Strand, eben je nach CD.
Wie immer bleiben hier keine Wünsche offen, denn auf der Kontor House of House 23 ist so ziemlich alles vertreten was sich derzeit in den House Charts tummelt. Wie immer finden wir hier einige Tracks auch nicht in ihrer Originalen Version, sondern in den oft besseren Remixen.
Knapp einen Monat vorm offiziellen Sommeranfang kommt das gute Stück auf den Markt, denn der Release der Kontor House of House 23 ist für den 27. Mai 2016 angesetzt. Somit solltet ihr euch langsam mit dem Cover und der dazugehörigen Tracklist vertraut machen, damit ihr wisst was euch hier erwartet.
In der besagten Tracklist findet ihr Top Tracks von Fedde Le Grand, Amfree, Sigala, DJ Antoine, Gestört aber Geil, R3hab, Stereoact, Jan Leyk und vielen mehr. Übrigens von Stereact ist es nicht der mittlerweile unheimlich nervige Song "Die immer Lacht", sondern " Der Himmel Reisst auf".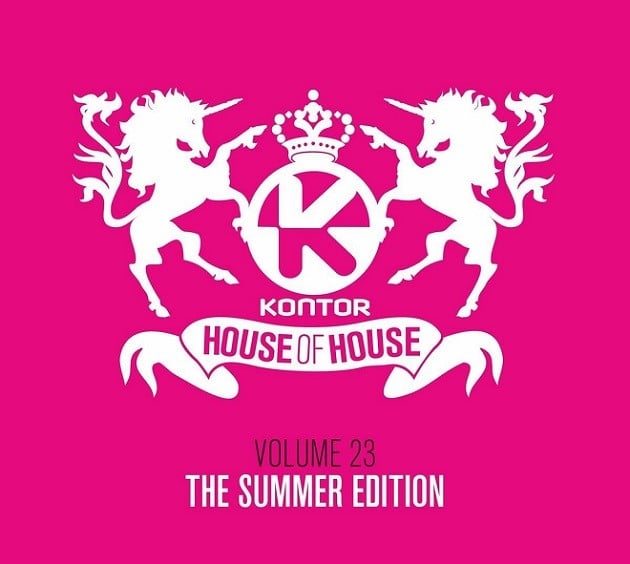 Disk: 1
1. Gestört aber GeiL & Two Magics – Glücklich wie die Kinder
2. Stereoact – Der Himmel Reisst Auf
3. R3hab & Quintino – Freak (Sam Feldt Remix Edit)
4. Kriss Raize feat. David Celine – Turn Me On (Hold You) (Stereoact Cut)
5. Pretty Pink – Traumtänzer
6. Mike Candys & Evelyn – Summer Dream
7. DJ Antoine & Timati feat. Grigory Leps – London (DJ Antoine vs Mad Mark 2k16 Edit)
8. MATTN & Futuristic Polar Bears – Café Del Mar 2016 (Dimitri Vegas & Like Mike vs Klaas Mix)
9. Phats & Small – Turn Around (Hey What's Wrong With You) (Calvo Remix)
10. Sigala feat. Imani & DJ Fresh – Say You Do
11. Amfree & Hoxtones feat. Jenson – Two Can Play That Game
12. Dimaro & Pegasus – Last Night (On Earth)
13. Kaarl feat. Mathilde Hoslet – Cool Kids
14. Nora En Pure – Lake Arrowhead
15. Lion Club – Can You Feel The Sound
16. The Durden Theory – Durden Mind
17. Fedde Le Grand – Rhythm Of The Night
18. Anna Naklab – Whole
19. Sean Finn & L.A. H3RO – We Are One (Jan Leyk Remix Edit)
20. Dizkodude – Faith
21. Borgeous, Rvssian & M.R.I. feat. Sean Paul – Ride It
Disk: 2
1. Era Istrefi – Bonbon
2. Alan Walker – Faded
3. Odd Mob feat. Starley – Into You
4. Audiosonik X Jerome – Thong Song
5. Tujamo & Taio Cruz – Booty Bounce
6. Galantis – No Money
7. Otto Knows & Lindsey Stirling feat. Alex Aris – Dying For You
8. Dimitri Vegas & Like Mike vs W&W – Arcade (Magic Wand Remix)
9. Cimo Fränkel – Too Much In Love (Groozm Remix)
10. Set Mo feat. Deutsch Duke – White Dress
11. Yves Larock & LVNDSCAPE feat. Jaba – Rise Up 2k16
12. Rico Bernasconi feat. Marianne Rosenberg – Sie Tanzt
13. Chris Avedon & Kevin Neon feat. Kevin Brian Smith – Du Trägst Keine Liebe In Dir
14. Smash – Feel The Summer
15. Michael Feiner – Mantra (Axwell Cut)
16. Scooter – Mary Got No Lamb
17. Hardwell feat. Jake Reese – Run Wild (eSQUIRE Houselife Remix Edit)
18. Jack Wins – Good Love
19. DJ Shog – In The Air Tonight (Mann & Meer Remix Edit)
20. Global Deejays & Danny Marquez feat. Puppah Nas T & Denise – Work
21. Eva Simons feat. Sidney Samson – Bludfire
Disk: 3
1. Pretty Pink – Traumtänzer
2. Chris Avedon & Kevin Neon feat. Kevin Brian Smith – Du Trägst Keine Liebe In Dir
3. Rico Bernasconi feat. Marianne Rosenberg – Sie Tanzt
4. Gestört aber GeiL & Two Magics – Glücklich wie die Kinder
5. Stereoact – Der Himmel Reisst Auf
6. Michael Feiner – Mantra (Axwell Cut)
7. R3hab & Quintino – Freak (Sam Feldt Remix Edit)
8. Eva Simons feat. Sidney Samson – Bludfire
9. Hardwell feat. Jake Reese – Run Wild (eSQUIRE Houselife Remix Edit)
10. Kriss Raize feat. David Celine – Turn Me On (Hold You) (Stereoact Cut)
11. Jack Wins – Good Love
12. Phats & Small – Turn Around (Hey What's Wrong With You) (Calvo Remix)
13. Mike Candys & Evelyn – Summer Dreams
14. Dimitri Vegas & Like Mike vs W&W – Arcade (Magic Wand Remix)
15. Dimaro & Pegasus – Last Night (On Earth)
16. Odd Mob feat. Starley – Into You
17. Global Deejays & Danny Marquez feat. Puppah Nas T & Denise – Work
18. Dizkodude – Faith
19. Scooter – Mary Got No Lamb
20. Borgeous, Rvssian & M.R.I. feat. Sean Paul – Ride It
21. Nora En Pure – Lake Arrowhead
22. MATTN & Futuristic Polar Bears – Café Del Mar 2016 (Dimitri Vegas & Like Mike vs Klaas Mix)
23. Fedde Le Grand – Rhythm Of The Night
24. Kaarl feat. Mathilde Hoslet – Cool Kids
25. Amfree & Hoxtones feat. Jenson – Two Can Play That Game
26. Smash – Feel The Summer
27. Audiosonik X Jerome – Thong Song
28. Lion Club – Can You Feel The Sound
29. DJ Antoine & Timati feat. Grigory Leps – London (DJ Antoine vs Mad Mark 2k16 Edit)
30. The Durden Theory – Durden Mind
31. Cimo Fränkel – Too Much In Love (Groozm Remix)