Die Kontor Summer Jam 2016 schickt ihre Tracklist ins Rennen und diese weiß durchaus zu überzeugen. In Sachen Dance Music kommt man an den Compilation von Kontor Records nicht mehr vorbei, da kommt die neue Ausgabe der Kontor Summer Jam gerade richtig.
Während die Kontor Top of The Clubs Deutschlands erfolgreichste DJ-Mix Compilation ist, rückt die Kontor House of House in den Compilations Charts ebenfalls immer weiter nach vorne. Das Der Erfolg der Kontor Summer Jam 2016 nahezu fest eingeplant werden kann, sollte da nicht verwundern.
Wir können uns auch gut vorstellen, dass die mittlerweile 4. Ausgabe der Kontor Summer Jam besser dastehen wird, als die 3 Ausgaben zuvor, die es immerhin bis auf Platz 3 der Compilation Charts geschafft haben.
Insgesamt warten hier 60 Top Tracks für euch verteilt auf 3 CDs und das beste daran ist wieder einmal, dass es das ganze zum Preis einer Doppel-CD gibt. Ein paar Tage müsst ihr euch jedoch noch gedulden bis zum Release, denn erst am 5. August 2016 steht das gute Stück für euch im Fachhandel bereit.
Bis dahin könnt ihr euch einen ersten Eindruck der Kontor Summer Jam 2016 verschaffen, denn wie immer an dieser Stelle, haben wir hier die Tracklist und das passende Cover für euch, darüber hinaus liefern wir euch den MiniMix zur neuen Ausgabe in wenigen Stunden nach.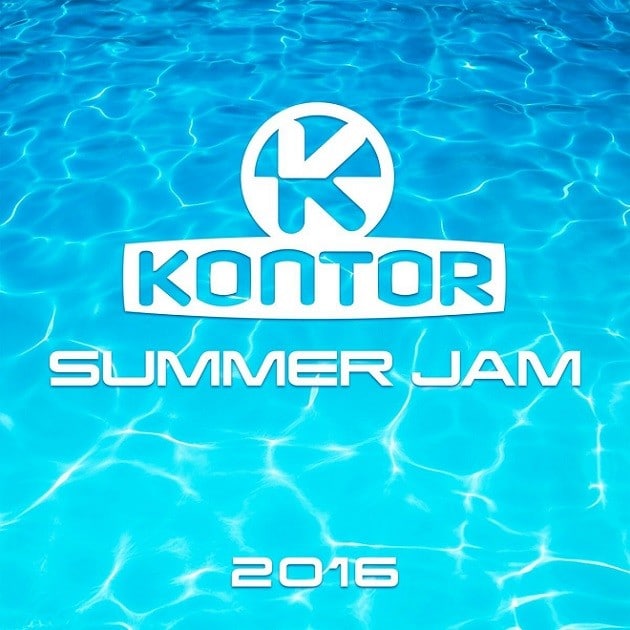 Disk 1:
1.GALANTIS – NO MONEY
2.THE CHAINSMOKERS FEAT. DAYA – DON'T LET ME DOWN
3.FUN FACTORY – TURN IT UP
4.RICO BERNASCONI & LOTUS FEAT. FLO RIDA – KEEP PLAYING (FILATOV & KARAS REMIX)
5.MIKE POSNER – I TOOK A PILL IN IBIZA (SEEB REMIX)
6.KUNGS & COOKIN' ON 3 BURNERS – THIS GIRL
7.PYJAMA PACK – FREI
8.WILLY WILLIAM – EGO
9.KYGO FEAT. KODALINE – RAGING
10.ROBIN SCHULZ FEAT. AKON – HEATWAVE
11.STEVE AOKI & FELIX JAEHN FEAT. ADAM LAMBERT – CAN'T GO HOME
12.G-EAZY X BEBE REXHA – ME, MYSELF & I (MARC STOUT & SCOTT SVEJDA REMIX)
13.STEREOACT FEAT. UNCLE B. – KLING KLANG
14.GRETA – SONNE IM GEPÄCK
15.TOPIC FEAT. NICO SANTOS – HOME
16.SANDRO SILVA FEAT. ROCHELLE – BREAKING WALLS
17.ELLIE GOULDING – ARMY (MIKE MAGO REMIX)
18.THE UNDERDOG PROJECT – SUMMER JAM (BLONDEE & ROBERTO MOZZA REMIX)
19.JOHN DAHLBÄCK – AIN'T YOU
20.BORGEOUS, RVSSIAN & M.R.I. FEAT. SEAN PAUL – RIDE IT
Disk 2:
1.ALAN WALKER – FADED (TIËSTO'S DEEP HOUSE REMIX)
2.AVICII VS CONRAD SEWELL – TASTE THE FEELING
3.PAPERCLAP FEAT. ALICIA-AWA – SUMMERTIME
4.DISCIPLES & DAVID GUETTA – NO WORRIES
5.GOLDREGEN – SCHWÜM
6.THE HIM FEAT. GIA KOKA – DON'T LEAVE WITHOUT ME
7.GESTÖRT ABER GEIL – SO SCHMECKT DER SOMMER
8.ERA ISTREFI – BONBON
9.TAM COOPER – BE BOLD
10.TRC PROJECT – LET YOUR HEAD DOWN
11.BENNY BENASSI & CHRIS BROWN – PARADISE
12.CONSOUL TRAININ – TAKE ME TO INFINITY
13.AUDIOSONIK X JEROME – THONG SONG
14.NICOLA FASANO & MIAMI ROCKETS FEAT. MOHOMBI & NOIZY – LEGALIZE IT
15.MICHAEL CALFAN – NOBODY DOES IT BETTER
16.SMASH – FEEL THE SUMMER
17.DAVE202 + ANGELIKA VEE – OUTTA MIND
18.KRISS RAIZE FEAT. DAVID CELINE – TURN ME ON (HOLD YOU)
19.CARLPRIT – HOLD ON
20.FUN FACTORY – MEGAMIX
Disk 3:
1.LOST FREQUENCIES FEAT. SANDRO CAVAZZA – BEAUTIFUL LIFE
2.EDX – ROADKILL (EDX'S IBIZA SUNRISE REMIX)
3.CROATIA SQUAD & LIKA MORGAN – MAKE YOUR MOVE
4.DIMITRI VEGAS & LIKE MIKE – STAY A WHILE
5.STARLEY – CALL ON ME (HELLA REMIX)
6.NORA EN PURE – LAKE ARROWHEAD
7.MAGIC WAND FEAT. EMMA CARN – SUNSET
8.R3HAB & QUINTINO – FREAK (SAM FELDT REMIX)
9.PH!L – HOLD ON
10.LEXER – FORGIVE ME
11.SEBASTIEN FEAT. BRIGHT SPARKS – GOLD
12.PHATS & SMALL – TURN AROUND (HEY WHAT'S WRONG WITH YOU) (MAISON & DRAGEN REMIX)
13.19EIGHTY7 – GET IT ON
14.ODD MOB FEAT. STARLEY – INTO YOU
15.SANS SOUCI FEAT. PEARL ANDERSSON – SWEET HARMONY
16.WK2 – ONLY YOU
17.ADDAL FEAT. LISA MAY – MORNING IN LOVE (KISO REMIX)
18.CIMO FRÄNKEL – TOO MUCH IN LOVE (GROOZM REMIX)
19.JAN BLOMQVIST FEAT. THE BIANCA STORY – DANCING PEOPLE ARE NEVER WRONG
20.PABLO NOUVELLE FEAT. JAMES GRUNTZ – HOLD ON