Die Kontor Top of the Clubs 69 kommt mit ihrer Top Tracklist gleich in 2 Editionen auf den Markt. Wer es gewöhnlich mag, der kann sich die Kontor Top of the Clubs 69 wie gewohnt in de Standardausführung holen, darüber hinaus gibt es sie auch noch als Limited Edition mit Kontor In-Ear-Kopfhörern.
Als letzte Dance Music Compilation im Jahr 2015, erblickt die Kontor Top of the Clubs 69 das Licht de Welt, denn der Release ist für den 31. Dezember 2015 angesetzt. So kann man diese Compilation gerne auch als Lastminute Rettung von Silvester im musikalischen Sinn sehen.
Zwar kommt der neue Ausgabe der Kontor Top of the Clubs als Weihnachtsgeschenk etwas spät, doch könnt ihr euch mit den zahlreichen Gutscheinen, die es oft zum Fest gibt, mit dieser CD-Box selber beschenken, wie bereits gesagt bei der Limited Edition gibt es dann auch noch Kopfhörer dazu.
Neben der Tracklist und dem Cover, die wir euch bei jeder CD, die wir euch hier vorstellen bieten, haben wir den MiniMix dazu eingebunden. So solltet ihr euch noch besser einen ersten Eindruck der Kontor Top of the Clubs 69 verschaffen können.
Wie man es von dem Flaggschiff aus dem Hause Kontor Records schon kennt, gibt es in der umfangreichen Tracklist auch dieses mal wieder einige exklusive Tracks und Remixe, die ihr bislang auf noch keiner anderen Compilation findet.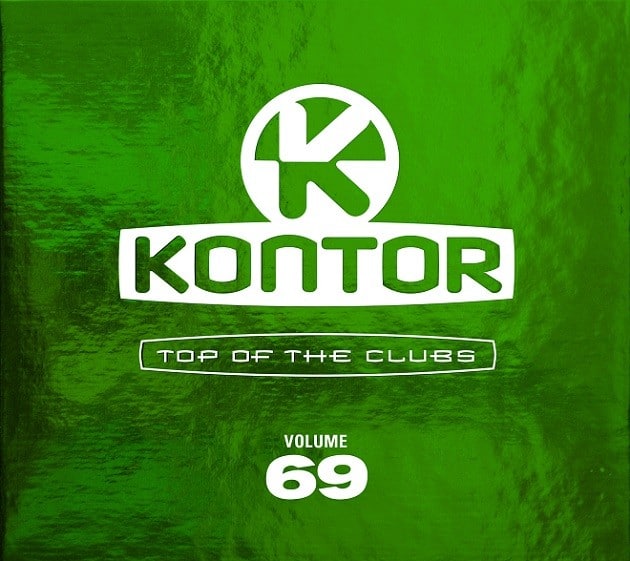 CD1: Mixed by Jerome
01. Deejay Y – Over The Rainbow*
02. Sigala – Easy Love
03. OMI – Hula Hoop
04. Felix Jaehn feat. Polina – Book Of Love
05. Jerome & Eric Chase – Close To You*
06. Galantis – Peanut Butter Jelly
07. Major Lazer feat. Elliphant & Jovi Rockwell – Too Original
08. Rene Rodrigezz feat. Robbie Wulfsohn – We Are We Are*
09. Rico Bernasconi & Lotus feat. Nicki Minaj, Shiloh & Gravy – Make A Miracle*
10. SPYZR feat. Michael Maidwell – Ready For It (Jerome Remix)
11. Stereoact feat. Kerstin Ott – Die Immer Lacht
12. Diplo & Sleepy Tom – Be Right There
13. Jerome feat. David Oesterling – Glücklich*
14. Skrillex & Diplo feat. AlunaGeorge – To Ü (Clean Bandit Remix)
15. Hardwell feat. Jake Reese – Mad World
16. Leland feat. Pyramids In Paris & Nevada – Full Time*
17. ATB – Sun Goes Down (Savi x Lema Remix)*
18. Bassjackers – Bring That Beat*
19. Steve Aoki & Headhunterz – The Power Of Now
20. KSHMR and BASSJACKERS feat. SIRAH – Memories
CD2: Mixed by Markus Gardeweg
01. Martin Solveig feat. Sam White – +1
02. Siege – Crunk
03. Disclosure feat. Gregory Porter – Holding On
04. MICAR feat. Nico Santos – Brothers In Arms*
05. Duke Dumont – Ocean Drive
06. Stanton Warriors feat. Laura Steel – The One (SPYZR Remix)*
07. Kamaura – I Should Have Knew*
08. Rudimental feat. Ed Sheeran – Lay It All On Me
09. Armin van Buuren feat. Cimo Fränkel – Strong Ones (MÖWE Remix)*
10. Eric Chase feat. Michelle Hord – I Can't Wait*
11. Alle Farben feat. Lowell – Get High
12. De Hofnar X GoodLuck – Back In The Day*
13. LYAR feat. Brenton Mattheus – With You*
14. Dimitri Vegas & Like Mike ft. Ne-Yo – Higher Place (Gestört aber GeiL Remix)*
15. Nero – Two Minds (Nero '92 Minds Remix)
16. Autoerotique – Count On You
17. Madison Mars – Theme O
18. Arston & Jay Colin – Endless
19. Smash feat. Ridley – Lovers2Lovers*
20. On An On – Drifting (RAC Remix)*
CD3: Mixed by EDX
01. EDX – Revered*
02. Oliver Heldens & Shaun Frank feat. Delaney Jane – Shades Of Grey (Nora En Pure Remix)
03. Avicii – For A Better Day (KSHMR Remix)
04. Robin Schulz feat. Francesco Yates – Sugar (EDX's Ibiza Sunrise Remix)
05. Tiësto & Don Diablo feat. Thomas Troelsen – Chemicals
06. Gestört aber GeiL feat. Sebastian Hämer – Ich & Du (Frey Remix)*
07. Croatia Squad – Back To Life
08. Stevens – Love Me (Oakland Remix)
09. Andrew Bennett – Can You Find Me*
10. Sergey Smile – Drop It*
11. Spada feat. Anna Leyne – Catchfire (Sun Sun Sun) (EDX's Miami Sunset Remix)
12. eSQUIRE & Polina Griffith – Over Now
13. Gil Glaze – Funkhouse (Antonio Giacca Remix)*
14. Mauro Picotto – The Whistle
15. Lost Frequencies feat. Janieck Devy – Reality (John Dahlbäck Remix)
16. Felix Leiter – Need to Know*
17. Kryder, Tom Staar & The Wulf – De Puta Madre
18. 2Souls – Trambada*
19. Sugarstarr feat. Alexander – Hey Sunshine (Croatia Squad Remix)
20. Schuhmacher – Bahia*
* = Exklusiver Compilation-Track/-Remix