Bereit für die Kontor Top of the Clubs 70 ? Die Tracklist liest sich auf jeden Fall schonmal Fett und das Cover kommt auch sehr Edel daher. Die Kontor Top of the Clubs ist Deutschlands Dance-Compilation Nummer 1, das war jedoch nicht immer so.
Im Hause Kontor ist man mit der Zeit gegangen auch wenn so aus der Kontor Top of the Clubs eher eine zweite Kontor House of House geworden ist. Manche kritisieren genau die Sache aber wir halten es für den richtigen Weg um nicht unter zu gehen, wie zahlreiche andere Compilations im Dance Sektor.
Verteilt auf 3 CDs bekommt ihr hier die 60 Top Tracks und Remixe, die wie immer teilweise exklusiv und unveröffentlich sind, so sticht die Kontor Top of the Clubs 70 wieder einmal deutlich aus der Masse der zahlreichen Compilations auf den Markt hervor.
Die Kontor Top of the Clubs Reihe ist eine der wenigen Werke aus dem Hause Kontor Records, die noch immer von einer fetten Marketingkampagne begleitet werden, so wird auch dieses mal hinterher niemand behaupten, er hätte nicht gewusst, dass die Kontor Top of the Clubs 70 in den Handel gekommen ist.
Ab dem 8. April 2016 steht das gute Stück für euch im Handel bereit, höchste Zeit einen Blick auf die oben bereits erwähnte Tracklist zu werfen. Darüber hinaus haben wir natürlich wie immer das passende Cover für euch eingebunden.
Damit ihr euch jedoch einen noch besseren Eindruck von der Kontor Top of the Clubs 70 machen könnt, gibt es an dieser Stelle noch den offiziellen MiniMix für euch, so sollte auch der letzte Zweifler überzeugt werden.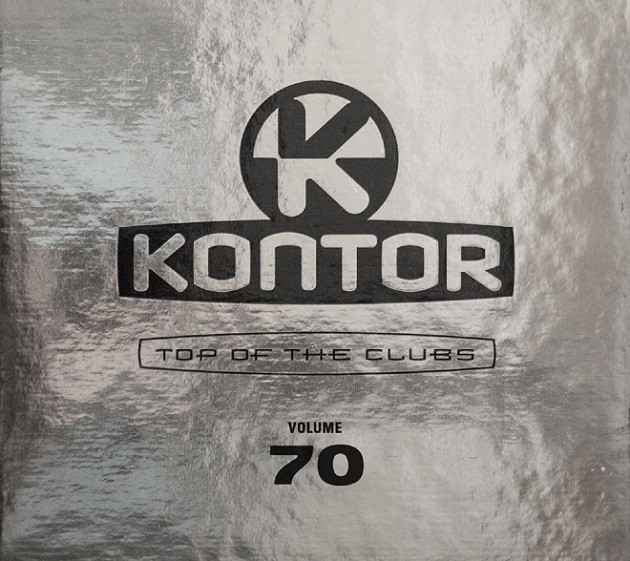 Disk: 1
1. Gestört aber GeiL & Marc Narrow – Geh Nicht Weg
2. The Him feat. Son Mieux – Feels Like Home
3. Blondee & Marc Werner feat. Fabienne Rothe – Wonderful Days
4. Dua Lipa – Be The One (With You Remix)
5. Robin Schulz & J.U.D.G.E. – Show Me Love
6. Hoxtones vs Sunloverz feat. The Now – Trapped
7. 19EIGHTY7 – Get It On
8. Stereoact feat. Kerstin Ott – Die Immer Lacht
9. Achtabahn feat. Beady – Like A New Love
10. EFF – Stimme
11. Ellie Goulding – On My Mind (Jax Jones Remix)
12. Showtek & Eva Shaw feat. Martha Wash – N2U
13. Dr. Kucho! vs Gregor Salto vs Lucas & Steve – Love Is My Game
14. Mokoa & Alex Brandt feat. GuitK – Find A Way
15. Melloton – Zombie
16. MURANO meets TOKA – Take It Or Leave It (Sunrise Mix)
17. Mark Neo feat. ARCII – Look @ Me
18. LIZOT feat. Jason Anousheh – Einfach Nur Weg (Blondee & Roberto Mozza Remix)
19. Madeline Juno – Stupid Girl (Madizin Single Mix Extended)
20. George Whyman & Robin Way feat. Ian Simmons – Flash Mein Herz
Disk: 2
1. DJ Antoine feat. Jay Sean – Weekend Love (DJ Antoine vs Mad Mark 2k16 Extended Mix)
2. Sigala feat. Bryn Christopher – Sweet Lovin'
3. The Chainsmokers feat. ROZES – Roses (The Him Remix)
4. Galantis – In My Head
5. Dannic & Sick Individuals – Feel Your Love (Funkerman Remix)
6. Seizo – Oh Baby
7. Toby Green – Move
8. Crystal Lake feat. Kifi – Into The Sunset (Headhunterz Edit)
9. Sean Paul feat. Yolanda Be Cool & Mayra Veronica – Outta Control (Rico Bernasconi Remix)
10. Friends Of Mayday – Twenty Five (Jerome's Official Anthem Mix)
11. Wolfpack & Warp Brothers – Phatt Bass 2016
12. Max Vangeli & Flatdisk – Blow This Club
13. Dimitri Vegas & Like Mike vs W&W – Arcade
14. Hardwell feat. Jake Reese – Run Wild
15. Basto & Natasha Bedingfield – Unicorn
16. Tobtok feat. River – Fast Car (L'Tric Remix)
17. Chassio – Let The Monkeys Out
18. Fleur East – Sax (LuvBug Remix)
19. Florian Kempers feat. Rozalla – Everybody's Free 2016
20. MORTEN feat. Frida Sundemo – Beautiful Heartbeat (Avicii Remix)
Disk: 3
1. AirDice feat. Ben Cocks – Your Firefly
2. Mickey – It's My Man
3. MICAR – Sleep Alone
4. Sonny Fodera feat. Yasmin – Feeling U
5. Noize Generation – I Need Love
6. Low Steppa feat. Kelli – Leigh
7. EDX feat. Mingue – Missing
8. Me & My Toothbrush – Get Down, JB!
9. Mike Candys – All My Tomorrows
10. Madison Mars – Milky Way
11. Lifelike & Kris Menace – Discopolis 2.0
12. Sans Souci feat. Pearl Andersson – Sweet Harmony
13. Shawn Mendes – Stitches (SeeB Remix)
14. DJ Le Roi feat. Roland Clark – I Get Deep (Late Nite Tuff Guy Remix Emanuel Satie Rework)
15. Eddie Amador – Rise (Robosonic Remix)
16. Lika Morgan – Down For U
17. Clément Bcx – Miracle In The Middle Of My Heart
18. Magic Wand feat. Emma Carn – Sunset
19. Jan Blomqvist feat. Elena Pitoulis – More
20. Kygo feat. Maty Noyes – Stay