Bereit für die neue Kontor Top of the Clubs 71 und ihre Tracklist ? Bevor das gute Stück im Handel für euch bereit steht, haben wir alle Infos für euch. Die "Kontor Top Of The Clubs" ist Deutschlands # 1 Dance-Compilation-Serie und ein absoluter Chartgarant!
Die Volume 71 kompiliert wieder die 60 aktuellsten und angesagtesten Club-Hits, die zu einem großen Teil erstmalig und exklusiv auf einer Compilation zu finden sind. Für die Zusammenstellung und das Mixing des fetten 3CD-Set zeichnen sich wie gewohnt die Residents Markus Gardeweg und Jerome sowie ein weiterer Top-DJ mit ihrem musikalischen Gespür verantwortlich und zeigen, wie der Puls in den Clubs schlägt.
Das Ergebnis ist fast vier Stunden "upfront" Clubsound im exklusiven DJ-Mix, den es so auf keiner anderen Compilation zu hören gibt. Wir haben euch in der Tracklist einige Tracks mit einem Sternchen versehen, diese Tracks bzw. Remixe sind exklusiv auf der Kontor Top of the Clubs 71 zu finden.
Bis zum Release der Kontor Top of the Clubs 71 dauert es noch ein paar Tage, denn erst ab dem 15. Juli 2016 könnt ihr sie erwerben. Hier haben hier wie immer an dieser Stelle natürlich schon jetzt die Tracklist und das passende Cover für euch am Start.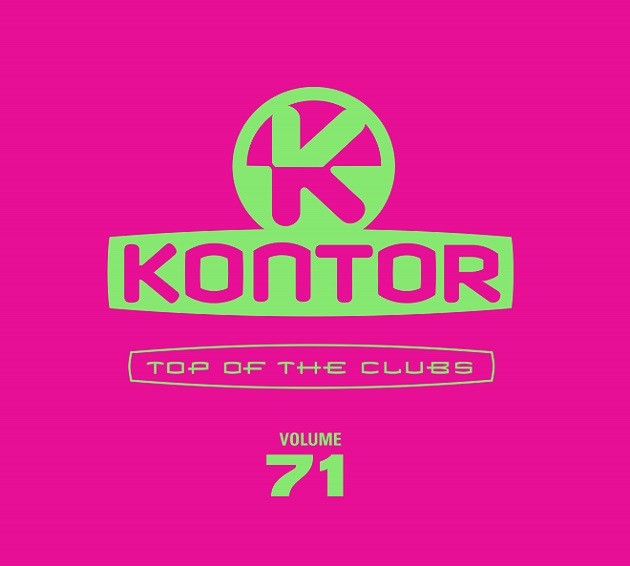 CD1: Mixed by Jerome
01. Lost Frequencies feat. Sandro Cavazza – Beautiful Life
02. Dimitri Vegas & Like Mike – Stay A While*
03. Avicii vs. Conrad Sewell – Taste The Feeling
04. Alan Walker – Faded (Tiësto's Northern Lights Remix)
05. CID – Together
06. Robin Schulz feat. Akon – Heatwave (HUGEL Remix)
07. Mike Posner – I Took A Pill In Ibiza (Seeb Remix)
08. Sia feat. Sean Paul – Cheap Thrills (Le Youth Remix)
09. Mike Candys & Evelyn – Summer Dream (Jerome Remix)
10. Gestört aber GeiL – So Schmeckt Der Sommer*
11. MATTN & Futuristic Polar Bears – Café Del Mar 2016 (Dimitri Vegas & Like Mike vs Klaas Vocal Mix)
12. Jasper Forks – Awesome*
13. Audiosonik X Jerome – Thong Song
14. Amfree & Hoxtones feat. Jenson – Two Can Play That Game (Jerome Respect The Klassics Remix Extended)
15. Sam Feldt – Been A While (Madison Mars Remix)
16. Swanky Tunes & Going Deeper – Drownin'
17. Sagi Abitbul & Guy Haliva – Stanga*
18. Max K. feat. Jason Anousheh – I Give You All (Bodybangers Remix)*
19. Herplay feat. Limmona – Into The Night (Emanuele Asti Mix)*
20. Paris Blohm – Something About You (Conro's Ultra Miami 2016 Remix)
CD2: Mixed by Markus Gardeweg
01. Croatia Squad & Lika Morgan – Make Your Move
02. EDX – Roadkill (EDX's Ibiza Sunrise Remix)*
03. Format:B – Chunky
04. Phats & Small – Turn Around (Hey What's Wrong With You) (Maison & Dragen Extended Remix)
05. Disciples & David Guetta – No Worries
06. Odd Mob feat. Starley – Into You
07. R3hab & Quintino – Freak
08. Lexer – Forgive Me
09. Calvo feat. Gigi – Made For Us
10. REZarin – I Got That
11. Dirty Freek – Love For You*
12. Tam Cooper – Be Bold (Philip George Remix)*
13. Consoul Trainin – Take Me To Infinity*
14. Ph!l – Hold On*
15. WK2 – Only You*
16. Simon Fava feat. Toto La Momposina – La Candela Viva*
17. Pete Sabo & Who Knows – Like This! (Sharam Jey Edit)
18. Pirupa & Leon – Pitch Da Bitch
19. Erick Morillo feat. Eli & Fur – Thunder & Lightning
20. Jan Blomqvist feat. The Bianca Story – Dancing People Are Never Wrong
CD3: Mixed by Der HouseKaspeR
01. Der HouseKaspeR – Streak*
02. Galantis – No Money
03. Stereoact – Der Himmel Reisst Auf (Mike Candys Remix)
04. DJ Antoine & Timati feat. Grigory Leps – London (Dimaro Remix)
05. Scooter – Mary Got No Lamb
06. Dimitri Vegas, Like Mike & Steve Aoki vs Ummet Ozcan – Melody
07. Tujamo – Drop That Low (When I Dip)
08. Wolfpack And Avancada – Go! (Dimitri Vegas & Like Mike Extended Remix)*
09. TJR feat. Savage – We Wanna Party
10. Hardwell & Thomas Newson – 8Fifty
11. Mike Williams & Justin Mylo – Groovy George
12. Muzzaik & Stadiumx – So Much Love
13. Michael Mandal & Forbes – Really Love*
14. Corderoy – Close My Eyes (Don Diablo Edit)
15. Rene Rodrigezz & MC Yankoo feat. Merel Koman – Grand Slam*
16. Birdy – Keeping Your Head Up (Don Diablo Remix Edit)
17. Borgeous, Rvssian & M.R.I. feat. Sean Paul – Ride It
18. Deorro feat. Elvis Crespo – Bailar
19. Flaco Flow & Melanina feat. Big Mancilla – El Tiki (BrainDeaD Remix)*
20. The Chainsmokers feat. Daya – Don't Let Me Down