Auch wenn die Kontor Top of the Clubs 75 bereits auf dem Markt ist, möchten wir euch die dazugehörige Tracklist nicht vorenthalten. Das Flaggschiff aus dem Hause Kontor Records, hat sich in den letzten Jahren zur erfolgreichsten Misch-Compilation im Dance Bereich gemausert und hat damit ihren Platz weiter gefestigt.
Sich einen Überblick über die Qualität der Kontor Top of the Clubs 75 zu verschaffen ist zum Glück gar nicht so schwer, denn neben der Tracklist und dem passenden Cover, können wir euch bei CDs aus dem Hause Kontor Records immer den passenden MiniMix bieten, der als kleinen Vorgeschmack dienen kann.
Wenn wir uns nun einmal die besagte Tracklist anschauen, finden wir reichlich Tracks die ihr derzeit auch auf vielen Festivals auf die Ohren bekommt. Gemeint sind da natürlich Top Tracks von z.B. Robin Schulz, Felix Jaehn, Galantis, Gestört aber Geil, Kygo, The Chainsmokers, Alle Farben und viele weitere.
Die Kontor Top of the Clubs 75 ist bereits seit dem 21 Juli 2017 im Handel erhältlich. Selbstverständlich haben wir an dieser Stelle die Tracklist und das Cover für euch am Start, darüber hinaus haben wir für euch den MiniMix natürlich noch eingebunden, viel Spaß damit.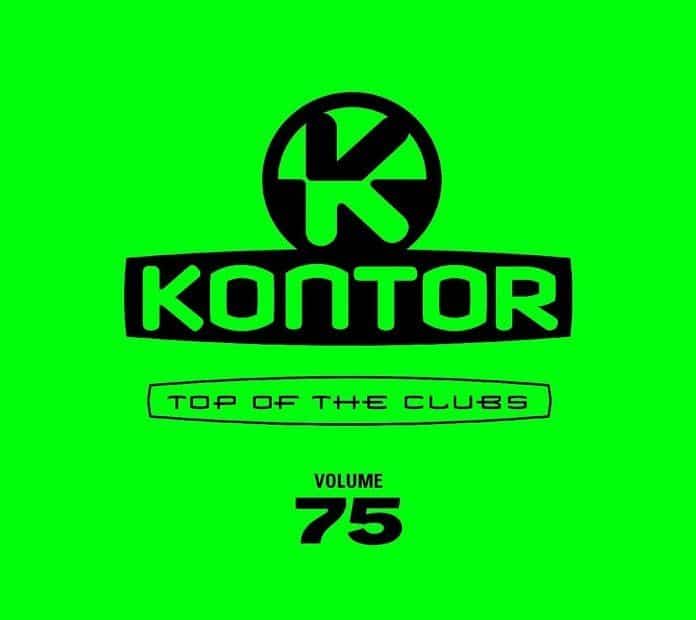 Disk: 1
1. OK – Schulz, Robin / Blunt, James
2. Hot2Touch – Jaehn, Felix / Hight / Aiono, Alex
3. Little Hollywood – Alle Farben / Janieck
4. Bum bum tam tam – MC Fioti
5. Touch me – Starley
6. Hunter – Galantis
7. Issues (Alan Walker Remix) – Michaels, Julia
8. I love your smile – DJ Antoine / Dizkodude / Sibbyl
9. Jump (Giant leap) – Marcapasos
10. A place for me – Soulclimbers / Jazz Buddafly
11. The sign – R.I.O. / Vengaboys
12. Bis ans Ende dieser Welt – Stereoact / Cronauer, Chris
13. On my mind – Disciples
14. The unicorns – Pink Elephant / Irene
15. Big one – Oaks, Stephen / CRZY / Minaj, Nicky / Gravy
16. Feels so good – Mago, Mike
17. Move real slow – Spyzr
18. Ritual – Neptunica / Raj, Rhea
19. Talking to you – Twenty Feet Down / Turner, Annabel
20. Follow me – Pink Panda / Zy
Disk: 2
1. Wohin willst du – Gestört Aber GeiL / Lea
2. Running into you – Smiie / Albeneir
3. Here with you – Lost Frequencies / Netsky
4. One last time – Riback, Ryan / Some Chick
5. All for you (Spada Mix) – Spada / Jones, Abi F
6. Paris – Chainsmokers, The
7. It ain't me – Kygo / Gomez, Selena
8. You don't know me – Jones, Jax / Raye
9. In the music (Michael Feiner Remix) – Deepswing
10. All the way up – Skiy
11. Edge of tomorrow – Paetzold, Florian
12. Get what you came for – Verhouzer, Kav / Bullysongs
13. No promises – Cheat Codes / Lovato, Demi
14. On our own – Showtek / Brooks / Major, Natalia
15. So many times – Dae, Sandy
16. Pajaro del monte – Fasano, Nicola / Miami Rockets
17. Something's takin' over me – Kolorize
18. Beautiful you – Mordkey / Mastrovita
19. Ready to jump – Omnikid
20. Food & gas – Longo, Robby
Disk: 3
1. Burden down (Florian Paetzold Remix) – Micar
2. Daddy says – Gestört Aber GeiL / Gregory, Tom
3. Voyage – EDX
4. Tears in your eyes – Nora En Pure
5. Pages (Sebastien Remix) – ATB / Haliene
6. Float away – Coustan
7. White bay – Artlec
8. Eagle eye – Lexer / Fran
9. Beachball (Sans Souci Remix) – Nalin & Kane
10. Eivissa – Fort Arkansas
11. Clouds above (Jerome Remix) – Akkadia
12. Heliecat – Kanst
13. Same same but different – Gardeweg, Markus
14. Lucky star (Martijn ten Velden Remix) – Carroll, Ron
15. Wie du (Club Mix) – Hirschwell
16. Afterlight – Sebastien / Poor, Zac
17. Best days of my life – Sons Of Maria
18. Almost home – Sultan / Shepard / Ali, Nadia / Iro
19. Stand on our own (Mier Remix) – Geonis / Wallmers
20. Till the end – Brodowski, Marcus