Mit der neuen Kontor Top Of The Clubs 83 und ihrer Tracklist, sollte man sich langsam für die kalte Jahreszeit mit den neusten Top Songs eindecken. Wenn die Festivalsaison langsam aber sicher zu Ende geht, sind die Kassen der Partypeople auch langsam wieder voller, höchste Zeit sich neue Songs zu besorgen.
Das Ende der großen Party Saison ist damit nämlich noch lange nicht eingeläutet, denn Jahr für Jahr gibt es neue große Indoor Festivals, welche in jedem Jahr immer aufwendiger werden und teilweise den großen Festivals im Sommer in nichts mehr nach stehen.
Natürlich muss man hier auch Tomorrowland Winter erwähnen, das erste echte Winter Festival in Europa, dass in diesem Jahr seine Premiere feierte. Kommen wir aber zurück zur neuen Kontor Top Of The Clubs 83, denn hier bekommt ihr wie gewohnt, die volle Ladung neuer Tracks aus den aktuellen Charts.
Wie man es aus dem Hause Kontor Records bereits kennt, findet man auch hier natürlich wieder zahlreiche Songs bzw. Remixe, die so bislang auf keiner anderen Compilation zu finden sind. Der Release der Kontor Top Of The Clubs 83 ist für den 13. September 2019 angesetzt, also höchste Zeit sich ein Exemplar zu sichern.
Wie immer an dieser Stelle, haben wir natürlich auch in diesem Fall wieder die Tracklist und das passende Cover für euch am Start, damit ihr schon vor dem Kauf wisst, was euch hier erwartet. Damit aber nicht genug, denn selbstverständlich darf auch der dazugehörige MiniMix nicht fehlen.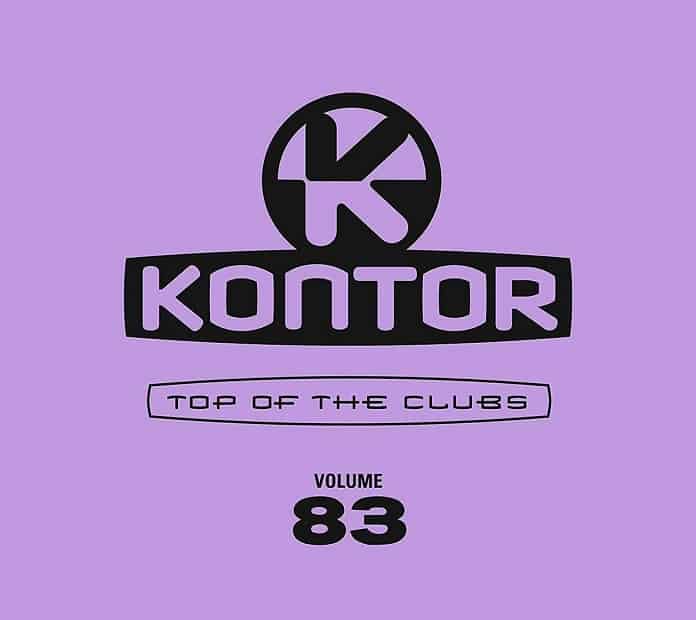 CD1: Mixed by Jerome
01. Meduza feat. Goodboys – Piece Of Your Heart
02. Lost Frequencies – Sun Is Shining
03. David Guetta feat. Raye – Stay (Don't Go Away)
04. Jerome – Only Go Higher
05. Robin Schulz feat. Harlœ – All This Love
06. Jax Jones, Martin Solveig & Madison Beer – All Day And Night (Jax Jones & Martin Solveig Present Europa)
07. Spanish Armada Movement – Margarita
08. Dynoro & Ina Wroldsen – Obsessed
09. Martin Garrix, Macklemore & Fall Out Boy – Summer Days (Lost Frequencies Remix)
10. Ellie Goulding – Sixteen (Don Diablo Remix)
11. Avicii feat. Agnes & Vargas & Lagola – Tough Love (Tiësto Remix Edit)
12. Armin van Buuren & Avian Grays feat. Jordan Shaw – Something Real
13. VIZE feat. Laniia – Stars (VIP Remix)
14. Loud Luxury & Bryce Vine – I'm Not Alright
15. Keanu Silva and Richard Judge – We Are The Greatest
16. R3HAB & A Touch Of Class – All Around The World (La La La)
17. MK – Body 2 Body (MEDUZA Remix)
18. Calvo – Let Me Love You (DAZZ Remix)
19. Sevenn – Loco Papi
20. Fedde Le Grand – Skank
21. LUM!X & Gabry Ponte – Monster
22. Jerome – Light (Deep Mix)
23. Zonderling feat. Josh Cumbee & Damon Sharpe – Lifetime
CD2: Mixed by Markus Gardeweg
01. EDX – Stay
02. Nora En Pure – Heart Beating
03. Sneaky Sound System – We Belong
04. Calippo – You Can't Do Better
05. Milk & Sugar feat. John Paul Young – Love Is In The Air (Qubiko Remix)
06. Markus Gardeweg – Meat 49
07. CamelPhat & Jake Bugg – Be Someone
08. Bogenhausen – Sambia
09. Amba Shepherd – Something Beautiful
10. Stockanotti – Love, Sex & Fitness (Love Mix)
11. Milk & Sugar & David Penn – Happy People
12. PBH & Jack feat. Hayla – Waiting All My Life
13. Magnolia – Sky
14. Go Freek feat. Yeah Boy – One Question
15. Joe Smooth – Promised Land (Gerd Janson Remix)
16. Lucky Luke – Cooler Than Me
17. Trinix – Rodeo
18. OFFAIAH feat. Cat Connors – Somewhere Special
19. Jansons feat. Dope Earth Alien – Switch
20. Elderbrook – How Do You
21. KDA feat. Angie Stone – The Human Stone
22. Sono – Keep Control (Maxim Lany Remix)
23. Monolink – Return to Oz (Artbat Remix)
CD3: Mixed by Mike Candys
01. YouNotUs & Janieck & Senex – Narcotic
02. Leony – More Than Friends
03. El Profesor – Busy Bye Bye
04. Alle Farben & James Blunt – Walk Away
05. Timmy Trumpet – World At Our Feet
06. Eric Chase & Emy Perez – Original
07. Mike Candys & Jack Holiday – Saltwater (Rework)
08. MATTN, Klaas & Roland Clark – Children
09. Jay Hardway & Mesto – Save Me
10. Tujamo – Hell Yeah
11. Mike Candys – Push It
12. Jewelz & Sparks – Gucci Moves
13. Neptunica feat. Emy Perez – That Saturday
14. Copycattz – Alone
15. Mesto & Jonas Aden – Your Melody
16. Laidback Luke & Keanu Silva – Oh Yes (Rockin' With The Best)
17. Cappella – Move On Baby (Mike Candys Remix)
18. DJ Antoine feat. Craig Smart – Good Vibes (Good Feeling) (Mad Mark & Paolo Ortelli Remix)
19. Dave202 – Wild
20. EDX – Ubuntu
21. GoldFish & Cat Dealers – Colours & Lights
22. Landis – Nobody Like You
23. NOTD, HRVY & R3HAB – I Miss Myself (R3HAB Remix)
CD4: Full Length Versions
01. Armin van Buuren & Avian Grays feat. Jordan Shaw – Something Real
02. Spanish Armada Movement – Margarita
03. Lost Frequencies – Sun Is Shining
04. Jerome – Only Go Higher
05. VIZE feat. Laniia – Stars (VIP Remix)
06. El Profesor – Busy Bye Bye
07. EDX – Stay
08. Loud Luxury & Bryce Vine – I'm Not Alright
09. Sevenn – Loco Papi
10. Eric Chase & Emy Perez – Original
11. Mike Candys – Push It
12. Nora En Pure – Heart Beating
13. Calippo – You Can't Do Better
14. Neptunica feat. Emy Perez – That Saturday
15. Leony – More Than Friends
16. Copycattz – Alone
17. Trinix – Rodeo
18. Milk & Sugar feat. John Paul Young – Love Is In The Air
19. Sneaky Sound System – We Belong
20. PBH & Jack feat. Hayla – Waiting All My Life
21. Go Freek feat. Yeah Boy – One Question
22. Tujamo – Hell Yeah
23. Dave202 – Wild