Zum Ende des Jahres kommt die Kontor Top of the Clubs 84 mit einer gigantischen Tracklist nochmal um die Ecke. Wenn wir an dieser Stelle von gigantisch sprechen, dann ist dies auch wirklich so, denn die neue Top of the Clubs Ausgabe, kommt auch dieses mal wieder als 4er CD-Box um die Ecke.
Als wäre das nicht schon Grund genug sich ein Exemplar zu sichern, gibt es wie bei Kontor Records üblich, auch in diesem Fall wieder exklusive Songs bzw. Remixe auf die Ohren, die ihr bislang auf keiner anderen Compilation finden könnt. So ist die Kontor Top of the Clubs 84 genau die richtige Compilation für eure Silvester Party.
Während CD 1-3 voller EinzeltracksWerfen wir an dieser Stelle mal einen Blick auf die Tracklist, bei der Größe findet ihr natürlich nahezu alle Tracks, welche sich derzeit in den Charts bzw. in den Clubs so tummeln oder auf den zahlreichen großen Winterevents zu hören sind.
Wenn wir mal einen Blick auf die Tracklist werfen, finden wir zahlreiche Top Tracks von z.B. Neptunica, Mike Candys, Eric Chase, Scooter, Jerome, Felix Jaehn, R3HAB, Don Diablo, Ran-D & Psyko Punkz, Sam Feldt und sehr viele weitere, verteilt auf insgesamt 4 CDs.
Der Release der Kontor Top of the Clubs 84 ist für den 27. Dezember 2019 angesetzt und bietet euch so die richtige Musikalische Untermalung für den Jahreswechsel. Wie immer an dieser Stelle, haben wir natürlich auch hier die Tracklist und das passende Cover für euch am Start, damit ihr wisst was euch hier erwartet.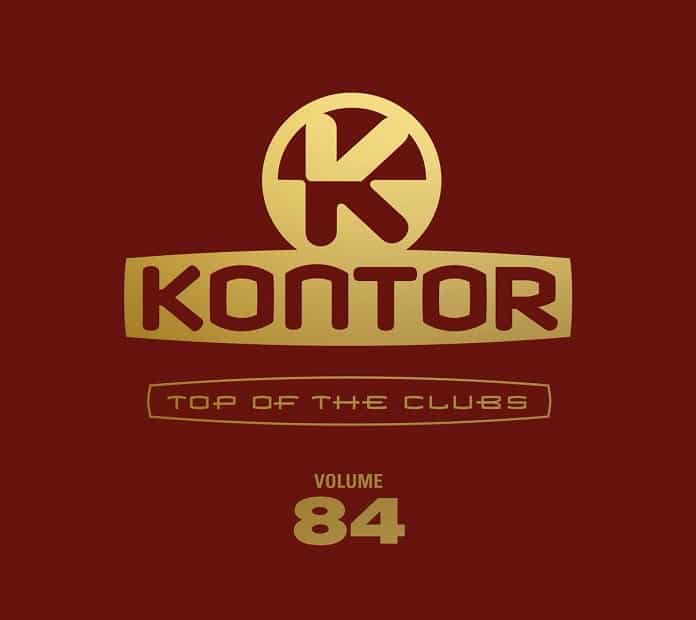 Disk: 1
1. Felix Jaehn & VIZE feat. Miss Li : Close Your Eyes
2. Limao feat. Life on Mars : Broken Bone (All I Know)
3. Regard : Ride It (Jonas Blue Remix)
4. Neptunica feat. IIVES : Fuckboy
5. Lika Morgan : Be My Lover
6. Loud Luxury & Bryce Vine : I'm Not Alright (EDX's Dubai Skyline Remix)
7. Chico Rose feat. Afrojack : Sad
8. R.I.O. feat. Glasford : Life
9. Mike Candys : Lights Go Down
10. Don Diablo : Never Change
11. Keanu Silva & Mo Falk : You Got The Love
12. Armin van Buuren : Million Voices
13. Me & My Toothbrush : Cowbells & Bitches
14. Dave202 : Dance
15. Eric Chase : Trouble
16. ATIKA PATUM : Atikapatum
17. R3HAB & Vini Vici feat. Pangea & Dego : Alive
18. W&W x Timmy Trumpet x Will Sparks feat. Sequenza : Tricky Tricky
19. Jerome : Only Go Higher (Beatfighterz Remix)
20. Scooter : Which Light Switch Is Which?
21. Da Tweekaz & Crystal Lake – Keep On Rockin'
22. Jerome : Light (Adaro & Hard Driver Remix)
23. Ran-D & Psyko Punkz feat. K's Choice : Not An Addict
Disk: 2
1. LOVRA : Straight Lovin'
2. Riton x Oliver Heldens feat. Vula : Turn Me On
3. Klingande & Stevie Appleton : Sinner
4. Sam Feldt feat. RANI : Post Malone (VIZE Remix)
5. CLIENTS : Don't Feel Lonely
6. LOVRA feat. SERA : Someone In The Dark
7. Friend Within : Set You Free
8. Martin Ikin feat. Hayley May : How I Feel
9. Joel Corry : Sorry (James Hype Remix)
10. Disco Fries : Family Affair
11. Rockefeller : Same Man
12. Paul Kalkbrenner : No Goodbye
13. Gorgon City & MK : There For You
14. Disciples & Eyelar : All Mine (Sonny Fodera Remix)
15. Matoma feat. Bryn Christopher : All Around The World (Ferreck Dawn Remix)
16. Ian Carey feat. Michelle Shellers : Keep On Rising (OFFAIAH Remix)
17. MANT feat. Hayla : Lonely Days
18. Lee Cabrera & Mike Vale : Shake It
19. Low Steppa feat. Amy Douglas : Burn Me Up (The System)
20. Mark Knight vs Mr. Roy : Something About U
21. Mattei & Omich feat. Ella : Find You (Glen Horsborough Remix)
22. Mike Vale : Music Is The Answer
23. Qubiko : Love Like This
Disk: 3
1. Autograf feat. Jared Lee : Ain't Deep Enough
2. Trinix : Soweto
3. Ferreck Dawn : Louisiana
4. EDX : Voltaic
5. Andrea Belli & Julian Moss feat. Elle : One More Time
6. Markus Gardeweg : Camps Bay
7. Starley : Lovers + Strangers (Mousse T. Remix)
8. Lost Frequencies feat. Love Harder : Beat Of My Heart
9. Sultan + Shepard feat. Mougleta : All Of Your Weapons
10. Duke Dumont & Zak Abel : The Power
11. Felon : Crazy
12. Elderbrook & Rudimental : Something About You (Elderbrook VIP)
13. Nora En Pure : Epiphany
14. Martin Ikin feat. Dope Earth Alien : Headnoise (Get Hype)
15. Solardo x Eli Brown : XTC
16. Calippo : Nocturnal
17. EDX : Neptune
18. Illyus & Barrientos : Losing Control
19. Detlef : Music Please
20. Dom Dolla : San Frandisco
21. Torren Foot : More Life
22. Matt Sassari : Put A Record On
23. Beachbag : Beatbox Rocker
Disk: 4
1. Armin van Buuren : Million Voices
2. Neptunica feat. IIVES : Fuckboy
3. Lost Frequencies feat. Love Harder : Beat Of My Heart
4. Loud Luxury & Bryce Vine : I'm Not Alright (EDX's Dubai Skyline Remix)
5. Martin Ikin feat. Dope Earth Alien : Headnoise (Get Hype)
6. Ferreck Dawn : Louisiana
7. EDX : Neptune
8. Limao feat. Life on Mars : Broken Bone (All I Know)
9. R.I.O. feat. Glasford : Life
10. Lika Morgan : Be My Lover
11. LOVRA : Straight Lovin'
12. Markus Gardeweg : Camps Bay
13. Andrea Belli & Julian Moss feat. Elle : One More Time
14. Nora En Pure : Fibonacci
15. Starley : Lovers + Strangers (Mousse T. Remix)
16. Autograf feat. Jared Lee : Ain't Deep Enough
17. Trinix : Soweto
18. Lee Cabrera & Mike Vale : Shake It
19. Calippo : Nocturnal
20. Beachbag : Beatbox Rocker
21. Mike Candys : Lights Go Down
22. W&W x Timmy Trumpet x Will Sparks feat. Sequenza : Tricky Tricky
23. Jerome : Light (Adaro & Hard Driver Remix)