Die brandneue Kontor Top Of The Clubs – Electric 90s bringt euch mit ihrer Tracklist, die bestens Hits der 90er Jahre nach Hause. Wer nun allerdings wieder einmal, eine ganz normale 90er Jahre Compilation erwartet, der hat nicht mit der Tracklist aus dem Hause Kontor Records gerechnet.
Natürlich ist auch hier der eine oder andere Track zu finden, der nahezu auf jeder 90er Compilation zu finden ist, jedoch nicht ausschließlich. So finden wir auf der Kontor Top Of The Clubs – Electric 90s reichlich Tracks, an die man sich erst wieder erinnert, wenn man sie sich tatsächlich auch anhört.
Darüber hinaus dürfen wir uns auf Tracks von RUN DMC, Hysteric Ego, Fragma, Energy 52, Rober Miles, Baby D, Armand van Helden, FPI Project, Niels van Gogh, Paul van Dyke, Chicane und wirklich viele weitere Top Künstler, die in den 90ern ganz vorne mitgespielt haben.
Bis zum Release dieser großartigen Compilation, dauert es zum Glück auch nicht mehr ganz so lange, denn bereits ab dem 1. November 2019 steht das gute Stück für euch im Handel parat. Wie immer an dieser Stelle, haben wir auch hier die Tracklist und das dazu passende Cover für euch am Start.
So könnt ihr euch schon vor dem Kauf einen ersten Eindruck von der Kontor Top Of The Clubs – Electric 90s und ihrer Tracklist machen. Nutzt die Zeit bis zum Release, um euch ein Exemplar bei Amazon oder anderen Shops vorzubestellen.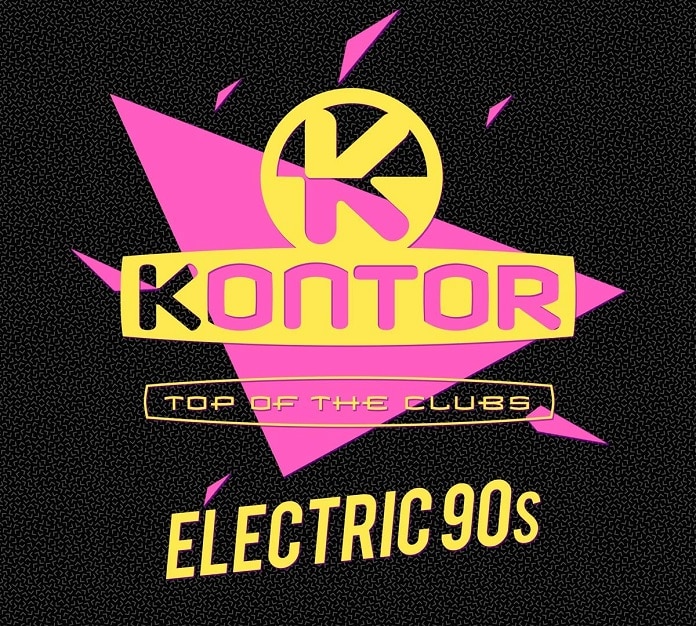 Disk: 1
1. David Morales pres. The Face – Needin' U
2. Crystal Waters – Gypsy Woman (La Da Dee La Da Da)
3. Robin S – Show Me Love (Stone's Edit)
4. The Original – I Luv U Baby (Dancing Divaz Club Mix)
5. Nightcrawlers – Push The Feeling On (Mk Dub Revisited Edit)
6. CeCe Peniston – Finally
7. FPI Project – Rich In Paradise (Going Back To My Roots)
8. Armand Van Helden feat. Duane Harden – You Don't Know Me
9. Run DMC vs. Jason Nevins – It's Like That (Drop The Break Edit)
10. Hysteric Ego – Want Love
11. Baby D – Let Me Be Your Fantasy
12. Nalin & Kane – Beachball
13. Olive – You're Not Alone
14. Nomad – (I Wanna Give You) Devotion
15. Livin' Joy – Dreamer
16. Phats & Small – Turn Around (Hey What's Wrong With You)
17. Mighty Dub Katz – Magic Carpet Ride (Son Of Wilmot Version)
18. The Good Men – Give It Up (Batucada Refrescante)
19. Tori Amos – Professional Widow (Armand van Helden's Star Trunk Mix)
20. Jaydee – Plastic Dreams
Disk: 2
1. Fragma – Toca Me
2. Three 'N One – Reflect
3. B.B.E. – Seven Days and One Week
4. Energy 52 – Café Del Mar (Three 'n One Edit)
5. Robert Miles – Children (Dream Edit)
6. Chicane feat. Moya Brennan – Saltwater
7. Niels van Gogh – Pulverturm (DJ Tomcraft Remix)
8. Paul van Dyk – For An Angel (PvD Angel In Heaven Edit)
9. Delerium feat. Sarah McLachlan – Silence (Fade's Sanctuary Mix)
10. Celvin Rotane – I Believe
11. Blank & Jones – Cream
12. Jens – Loops & Tings (Fruit Loops Remix)
13. Liquid – Sweet Harmony
14. ATB – 9 PM (Till I Come) (9 PM Mix)
15. Schiller – Das Glockenspiel
16. Marmion – Schöneberg
17. Klubbheads – Klubbhopping
18. Capricorn – 20 Hz
19. Atlantic Ocean – Waterfall
20. Sonique – It Feels So Good
Disk: 3
1. Deee-Lite – Groove Is In The Heart
2. Fatboy Slim – Praise You
3. Azzido Da Bass – Dooms Night (Timo Maas Remix)
4. Adamski feat. Seal – Killer
5. Opus III – It's A Fine Day
6. The Prodigy – No Good (Start The Dance)
7. Members Of Mayday – Sonic Empire
8. Zombie Nation – Kernkraft 400 (DJ Gius Cut)
9. Faithless – Insomnia (Monster Edit)
10. C+C Music Factory feat. Freedom Williams – Gonna Make You Sweat (Everybody Dance Now)
11. SNAP! – Rhythm Is A Dancer
12. Felix – Don't You Want Me (Hooj Mix Edit)
13. The Chemical Brothers – Hey Boy Hey Girl
14. N-Joi – Anthem
15. Technotronic feat. Felly – Pump Up The Jam
16. U.S.U.R.A. – Open Your Mind
17. Golden Girls – Kinetic (Orbital Mix)
18. 808 State – Pacific 707
19. Age Of Love – The Age Of Love (Jam & Spoon Watch Out For Stella Mix)
20. Wink – Higher State Of Consciousness (Tweekin Acid Funk Mix)