Der A State of Trance Yearmix 2018 von Armin van Buuren ist mit seiner gigantischen Tracklist der krönende Abschluss des Jahres, zumindest im Trance Musik Sektor. Unter den Trance DeeJays, gehört Armin van Buuren zweifelsohne zu den bekanntesten der Welt bzw. er ist definitiv der bekannteste der Welt.
Insgesamt wurde Armin van Buuren in den letzten Jahren ganze 5 mal zum besten DJ der Welt gewählt, wenn man nach den DJ Mag Top 100 geht. Im laufe der Zeit wurde A State of Trance zu einer richtigen Marke mit CDs, Festivals und natürlich nicht zu vergessenlich die A State of Trance Radio Show.
Kein Wunder also, dass Trance Liebhaber sehnsüchtig auf A State of Trance Yearmix warten. Auch in diesem Jahr, zeigt sich die dazugehörige Tracklist gigantisch, denn hier erwarten euch über 100 feinste Trance Music Tracks, die ihr teilweise so noch nie auf einer Compilation gehört habt.
Allerdings handelt es sich hier nicht um irgendwelche Tracks, denn die Hörer der weltweiten A State of Trance Radioshow konnten die besten Songs des Jahres wählen, welche Armin van Buuren dann in einem Yearmix zusammengestellt.
Im Handelt steht A State of Trance Yearmix 2018 ab dem 14. Dezember 2018 und wie immer an dieser Stelle, haben wir natürlich auch hier die Tracklist und das dazugehörige Cover für euch. Als kleinen Vorgeschmack, haben wir keinen MiniMix für euch, sondern den 24/7 Youtube Sender von A State of Trance.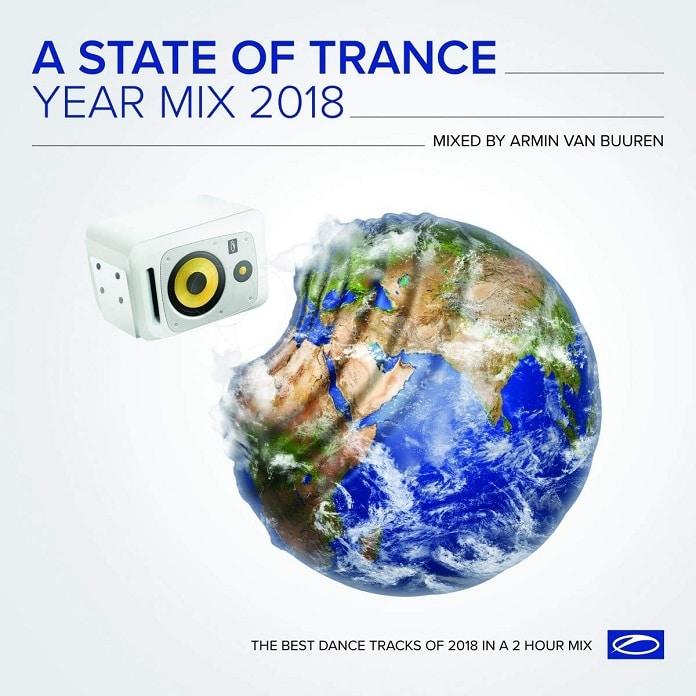 Disk: 1
1. License To DJ – Intro
2. CYBERPUNK – Omnia
3. Immortal Lover (In My Next Life Mix) – Andrew Bayer feat. Alison May
4. Higher – Audien feat. Cecilia
5. The Last Dancer – Armin van Buuren vs Shapov
6. Blockchain – Super8 & Tab
7. Why I Came Here – Simon Lee & Alvin with Susie Ledge
8. Sinfonia – Mark Sixma
9. Coming On Strong (Gareth Emery & Ashley Wallbridge Remix) – Signum feat. Scott Mac
10. Hurt – Jeremy Vancaulart feat. Danyka Nadeau
11. True Love – Super8 & Tab feat. Envy Monroe
12. For You – Omnia feat. Danyka Nadeau
13. Awaken – Cosmic Gate & Jason Ross
14. Dream In Color (Ruben de Ronde Remix) – HALIENE
15. Happiness Amplified (Above & Beyond Club Mix) – Above & Beyond feat. Richard Bedford
16. Body (Orjan Nilsen Remix) – Loud Luxury feat. brando
17. Bergen – Purple Haze
18. Wild Wild Son (Club Mix) – Armin van Buuren feat. Sam Martin
19. Bloom – Estiva
20. Ghost Voices (Raito Remix) – Virtual Self
21. Will We Remain – ilan Bluestone & Maor Levi feat. EL Waves
22. Safe With Me – Ferry Corsten & DIM3NSION
23. Tim – ARTY
24. Violet – Fatum
25. Savour This Moment – Orjan Nilsen
26. Tierra – KhoMha
27. Here We Are – MaRLo feat. Emma Chatt
28. A Thousand Seas – MaRLo & Roxanne Emery
29. Sweet Lie – Denis Kenzo & Sveta B.
30. We Are The Light – Markus Schulz feat. Nikki Flores
31. Stay – Ben Gold & Sivan
32. Call To Arms (Cosmic Gate Remix) – Gareth Emery feat. Evan Henzi
33. Therapy (Super8 & Tab Remix) – Armin van Buuren feat. James Newman
34. Light Years – Maor Levi
35. Trance ReBorn (Mark Sixma Remix) – Andrew Rayel & David Gravell
36. Wormhole – NWYR
37. Inkunzi – Eric Senn
38. Dragon – NWYR
39. White Swan – KhoMha
40. Only Road (Cosmic Gate Remix) – Gabriel & Dresden feat. Sub Teal
41. Who I Am – Denis Kenzo, Fahjah & Kate Miles
42. Without You My Love (Myon Definitive Mix) – Seven Lions feat. Rico & Miella
43. Always (Above & Beyond Club Mix) – Above & Beyond feat. Zoë Johnston
44. Perfect Strangers – ARTY
45. Sleepwalker – ALPHA 9
46. Red Rocks – Above & Beyond
47. In The Dark – Andrew Rayel & HALIENE
48. Our Origin – Armin van Buuren vs Shapov
49. Surrender – Darude & Ashley Wallbridge feat. Foux
50. Sundown – Alex Kunnari
51. Pearl – Beatsole
52. A Slice Of Heaven – Ferry Corsten & Paul Oakenfold
Disk: 2
1. Patterns Of The Soul (Davey Asprey Remix) – Venetica
2. Running For Peace (Club Mix) – Alex M.O.R.P.H.
3. See You Again – DJ T.H. & Nadi Sunrise feat. Michele C
4. This Life – Craig Connelly feat. Roxanne Emery
5. Open My Mind – Bryan Kearney & Deirdre McLaughlin
6. Fireflies (Jorn van Deynhoven Remix) – Roman Messer feat. Christina Novelli
7. You & I (Aly & Fila Club Mix) – Aly & Fila & Emma Hewitt
8. There Will Be Angels – Ben Gold & Audrey Gallagher
9. Fall For You – Simon Patterson feat. Lucy Pullin
10. D (Don't Go) – Scot Project
11. Zombie – Ran-D
12. Strike As One – Ben Gold & Allen Watts
13. Northern Star – RAM & Susana
14. Light The Way (Bryan Kearney Remix) – Craig Connelly feat. Kat Marsh
15. Long Way Home (Ashley Wallbridge Remix) – Gareth Emery
16. Missing (Jorn van Deynhoven Remix) – Mark Sixma & Emma Hewitt
17. Army Of Angels – A.R.D.I.
18. Enough Echo – MaRLo
19. Coming Home (STANDERWICK Remix) – Dash Berlin feat. Bo Bruce
20. United – Armin van Buuren x Vini Vici x Alok feat. Zafrir
21. Popcorn – Armin van Buuren vs Alexander Popov
22. Free – Exis feat. Enya Angel
23. Till The Sunrise – Giuseppe Ottaviani
24. I Feel Love (Omar Sherif Remix) – CRW
25. Stadium Arcadium – Heatbeat
26. Be In The Moment (ASOT 850 Anthem) (Allen Watts Remix) – Armin van Buuren
27. Midnight – Allen Watts
28. Music Rescues Me – Paul van Dyk feat. Plumb
29. Rebirth (Ahmed Romel Remix) – Aly & Fila
30. Seventh Heaven – Will Atkinson
31. Wherever You Are (Solis & Sean Truby Remix) – Ferry Corsten feat. HALIENE
32. Safe From Harm (Giuseppe Ottaviani Remix) – Markus Schulz feat. Emma Hewitt
33. Just As You Are – Armin van Buuren presents Rising Star feat. Fiora
34. For The One You Love – Roger Shah & RAM feat. Natalie Gioia
35. Alone In The Wilderness – Davey Asprey
36. Zubr – Oliver Cattley with Kiyoi & Eky
37. Whiplash – Darren Porter
38. The Air I Breathe – Richard Durand & Christina Novelli
39. Activate – Avao
40. Ayla (Ben Nicky & Luke Bond Remix) – Ayla
41. Lifting You Higher (ASOT 900 Anthem) – Armin van Buuren
42. Thirty Three South – Protoculture
43. I've Been Thinking About You – STANDERWICK
44. Take Me There – Militia
45. Blah Blah Blah – Armin van Buuren
46. U – Luke Bond
47. A World Beyond (FSOE550 Anthem) – Aly & Fila with Philippe El Sisi & Omar Sherif
48. Disturbance – Billy Gillies
49. The Wolf – Chris Schweizer
50. The Sound Of E (Jorn van Deynhoven Remix) – Ultra Shock
51. Ready To Rave – W&W x Armin van Buuren
52. Shock Therapy (Rising Altitude Mix) – Splinta
53. The Verdict – Outro