Mit der Back to the 90s Nr.1 Hits der 90er und ihrer Tracklist, passt sich Kabel Eins auch Musikalisch dem Motto dieser Woche an. Auch wir erfuhren erst durch die TV Werbung für die 90er Jahre Woche von dem Thema und schauten direkt einmal, ob es dazu auch eine Compilation gibt.
So kam die passende CD zur Woche bereits am 31. Oktober 2014 auf den Markt und das beim Label Sony Music. Ein Blick in die Tracklist der CD " Back to the 90s Nr.1 Hits der 90er " stimmt uns eher weniger positiv, denn die Zusammenstellung ist für Sony Music schon sehr unglücklich geraten.
Zwar findet man reichlich Top Tracks der 90er Jahre auf der CD, doch in einer unmöglichen Anordnung, so ist jeder Lied Wechsel auch fast immer ein Wechsel in ein komplett anderes Tempo und das ist für eine Party nun wirklich nichts, wenn man zum Beispiel direkt nach Rednex mit dem Song " Big Big World " von Emilia weiter macht.
Wie bereits oben im Text erwähnt, ist die CD seit Ende Oktober im Handel, das hält uns natürlich jedoch nicht davon ab euch die Tracklist und das Cover zur Back to the 90s Nr.1 Hits der 90er zu präsentieren, viel Spaß damit.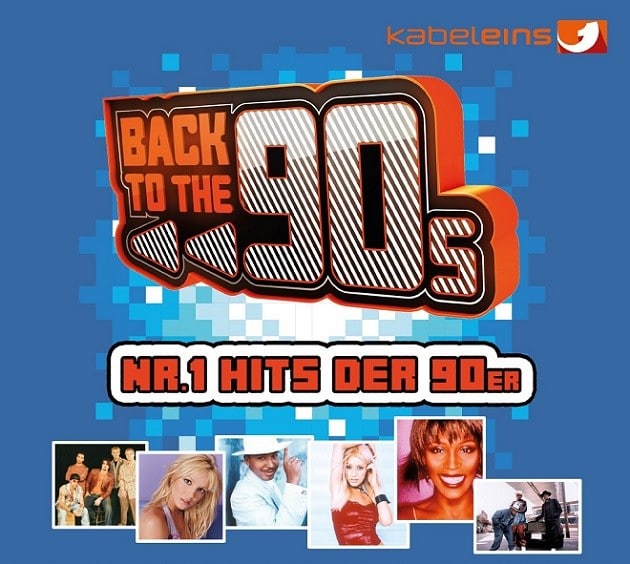 Disk 1 von 3:
1.Britney Spears – …Baby One More Time
2.Christina Aguilera – Genie in a Bottle
3.Backstreet Boys – Quit Playing Games (With My Heart)
4.Hanson – Mmmbop (Single Version)
5.Take That – Back for Good (Radio Mix)
6.Ricky Martin – The Cup of Life (La Copa De La Vida) [The Official Song of the World Cup, France '98] – English (Crowd noise)
7.Boyzone – No Matter What
8.N'Sync – Tearin' up My Heart (Radio Edit)
9.Sinéad O'Connor – Nothing Compares 2 U
10.Fools Garden – Lemon Tree
11.Rednex – Cotton Eye Joe
12.Emilia – Big Big World
13.Crash Test Dummies – Mmm Mmm Mmm Mmm
14.Nick Kamen – I Promised Myself (Album Version)
15.Yanai – Summer Dreamin'
16.Oli P. – Flugzeuge im Bauch (Radio Mix)
17.Lucilectric – Mädchen (Mädchen-Radio-Mixv
18.Tic Tac Toe – Warum? (Single Mix)
19.No Mercy – Where Do You Go (Radio Mix)
20.Londonbeat – I've Been Thinking About You
Disk 2 von 3:
1.Lou Bega – Mambo No. 5 (A Little Bit of…)
2.Los Del Rio – Macarena
3.Bellini – Samba de Janeiro
4.Ace Of Base – The Sign
5.Inner Circle – Sweat (A La La La La Long)
6.MC Hammer – U Can't Touch This
7.RUN-DMC vs. Jason Nevins – It's Like That
8.Vanilla Ice – Ice Ice Baby
9.Snow – Informer
10.Dr. Alban feat. Leila K. – Hello Afrika – Fast Blast Club Mix)
11.Die Doofen – Mief! (Video Version)
12.Torfrock – Beinhart
13.Mo-Do – Eins, Zwei, Polizei
14.Dolls United & Lukas der Lokomotivführer – Eine Insel mit zwei Bergen
15.Matthias Reim – Verdammt ich lieb Dich
16.Backstreet Boys – I Want It That Way
17.R. Kelly – I Believe I Can Fly
18.East 17 – It's Alright (The Guvnor Mix)
19.DJ Bobo – Everybody
20.SNAP! – The Power
Disk 3 von 3:
1.Céline Dion – My Heart Will Go On – Love Theme from
2.Whitney Houston – I Will Always Love You
3.Fugees – Killing Me Softly with His Song
4.Toni Braxton – Un-Break My Heart
5.Monica & Brandy – The Boy Is Mine
6.Sabrina Setlur – Du liebst mich nicht (1822 Radio Edit unzensiert)
7.Xavier Naidoo – Sie sieht mich nicht
8.Sarah Brightman – Time to Say Goodbye (Con Te Partiro) (Sarah's Intimate Version)
9.Everything But The Girl – Missing
10.Roxette – Joyride (Single Version)
11.Vangelis – Conquest of Paradise
12.Shanice – I Love Your Smile (Original Single Version)
13.Cher – Believe (Single Version)
14.Dr. Alban – Sing Hallelujah! (Short)
15.Ace Of Base – All That She Wants
16.Salt-N-Pepa – Let's Talk About Sex (Radio Edit)
17.Bomfunk MC's – Freestyler (Radio Edit)
18.Die Fantastischen Vier – Die Da!?!
19.Kris Kross – Jump (Album Version)
20.Coolio feat. L. V. – Gangsta's Paradise