Die Best of 2014 – Die Hits des Jahres rückt näher, höchste Zeit einen Blick auf ihre Tracklist zu werfen bevor es an den Download geht. Ob man es glaubt oder nicht aber das Jahr 2014 nähert sich schon wieder dem Ende, denn wir haben bereits Mitte Oktober.
Während die einen noch die letzten warmen Tage genießen, planen die ersten schon das Weihnachtsfest oder die große Silvesterparty. Gerade für Silvester ist es absolut wichtig die richtige Musik am Start zu haben, denn wenn bei dieser Party etwas schief geht, wird es euch das gesamte kommende Jahr vorgehalten.
Die Best of 2014 – Die Hits des Jahres gibt euch wie der Name schon sagt, einen Rückblick der besten Hits des Jahres und während man zu Silvester in das kommende Jahr schaut, feiert man doch eher zu den Hits der letzten Monate und da darf kein Nummer 1 Hit fehlen.
Bis zum Release Termin der Best of 2014 – Die Hits des Jahres ist es gar nicht mehr so lange hin, denn sie steht ab dem 24. Oktober 2014 für euch im Handel bereit und somit exakt 2 Monate vor Weihnachten.
Wie gewohnt haben wir natürlich auch in diesem Fall die Tracklist und das Cover für euch bereit, denn ihr sollt ja bereits jetzt einen ersten Eindruck von dieser Compilation bekommen.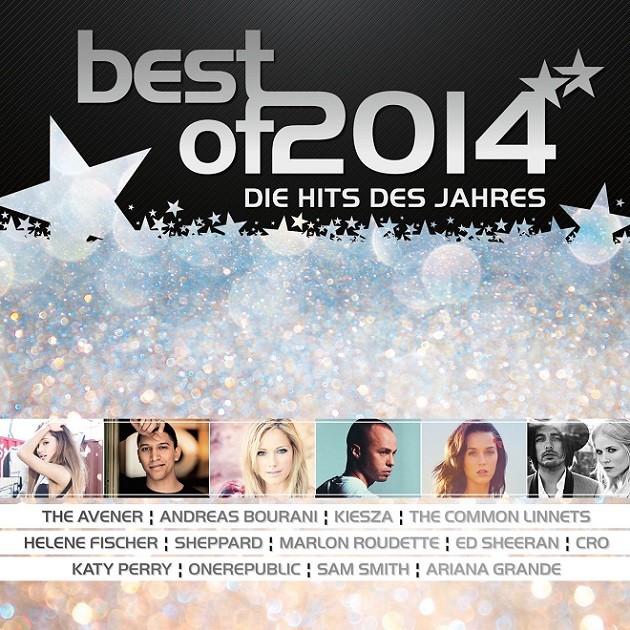 Disk: 1
1. Fade Out Lines – The Avener
2. The Days (Radio Edit) – Avicii
3. When The Beat Drops Out – Roudette, Marlon
4. Giant In My Heart (Album Version) – Kiesza
5. Break Free – Grande, Ariana
6. My Love – Route 94
7. Bang Bang – Jessie J, Grande, Ariana, Minaj, Nicki
8. Wiggle – Derulo, Jason
9. Don't – Sheeran, Ed
10. Rude – Magic!
11. Am I Wrong – Nico & Vinz
12. Liar Liar – Cab, Cris
13. Traum – Cro
14. Addicted To You – Avicii
15. Wicked Wonderland – Tungevaag, Martin
16. The One – Aneta, Sablik, Aneta
17. Birthday – Perry, Katy
18. Right Here – Glynne, Jess
19. Fancy – Azalea, Iggy
20. Shot Me Down – Guetta, David
21. Won't Look Back (Radio Edit) – Dumont, Duke
22. Changing (Radio Edit) – Sigma
Disk: 2
1. Auf Uns – Bourani, Andreas
2. Atemlos Durch Die Nacht (Bassflow Main Radio/Video Mix) – Fischer, Helene
3. Geronimo – Sheppard
4. Maps – Maroon 5
5. Love Runs Out – Onerepublic
6. Au Revoir – Forster, Mark
7. Riptide – Joy, Vance
8. Budapest – Ezra, George
9. Calm After The Storm (Radio Edit) – Common Linnets, The
10. Take Me To Church (Ep Version) – Hozier
11. I'm Not The Only One – Smith, Sam
12. West Coast (Radio Mix) – Del Rey, Lana
13. Magic (Radio Edit) – Coldplay
14. Amoi Seg' Ma Uns Wieder – Gabalier, Andreas
15. Is It Right – Elaiza
16. Best Day Of My Life (Single Version) – American Authors
17. You Can Never Be Ready – Sunrise Avenue
18. St. Pauli (Single Edit) – Delay, Jan
19. Black Saturday (Single Version) – Mando Diao, Hammer, Jan
20. Of The Night – Bastille
21. Down By The River (Radio Edit) – Milky Chance
22. Netzwerk (Falls Like Rain) – Klangkarussell