Die Best Of 2016 – Frühlingshits steht an und an dieser Stelle hoffen wir mal das ihre Tracklist den Winter endgültig vertreibt. Wenn uns Stück für Stück die Informationen zu sämtlichen Frühlings Compilations erwarten, wissen wir jedes mal, dass der Winter bald vorbei ist.
Jetzt wir sicherlich der ein oder andere denken ist doch logisch, doch so logisch ist das nicht immer, denn die ersten Weihnachts CDs erreichen uns bereits mitten im Sommer. Kommen wir nun aber zurück zur Best Of 2016 – Frühlingshits, denn darum geht es natürlich hier im Artikel.
Wenn wir an dieser Stelle mal einen Blick auf die Tracklist werfen, finden wir vor allem ein Hit und zwar "Eff – Stimme", dieser Song geht gerade absolut durch die Decke. Hinter Eff verstecken sich Mark Forster und Felix Jaehn, gerade letzterer ist derzeit Weltweit unheimlich erfolgreich.
Darüber hinaus gibt es aber natürlich noch reichlich weitere Top Tracks aus den verschiedensten Genres. Wenn euch die Tracklist überzeugen kann, könnt ihr diese natürlich schon einmal vorbestellen, denn im Handel steht sie erst ab dem 4 März 2016 für euch bereit.
Bis dahin könnt ihr euch mit dem Cover und der Tracklist natürlich einen ersten Eindruck von der Best Of 2016 – Frühlingshits verschaffen. Als kleinen Bonus haben wir euch mal Eff – Stimme eingebunden, für alle die diesen Track noch nicht kennen.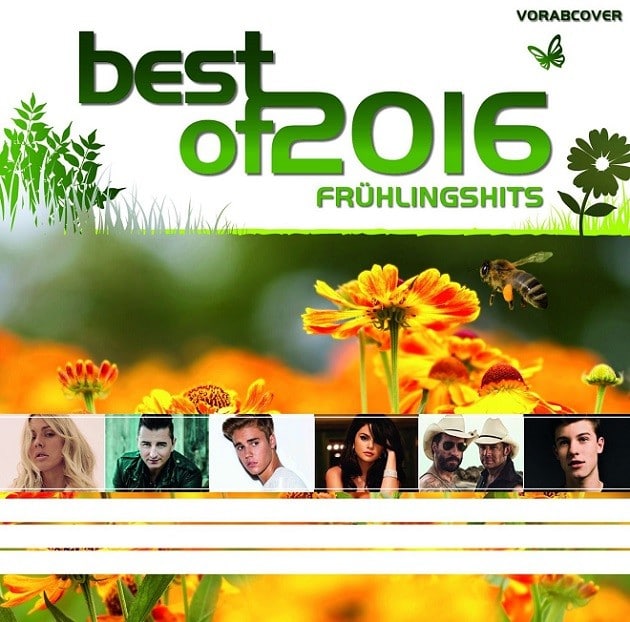 Disk: 1
1. Stimme – Eff
2. Fast Car (Radio Edit) – Blue, Jonas
3. Stitches – Mendes, Shawn
4. Stand By Me (Radio Mix) – Smith, Geeno
5. Sweet Lovin' (Radio Edit) – Sigala
6. Light It Up (Remix) – Major Lazer
7. Hundred Miles – Yall
8. Hey Everybody! – 5 Seconds Of Summer
9. Adventure Of A Lifetime – Coldplay
10. Something In The Way You Move – Goulding, Ellie
11. Show Me Love (Radio Edit) – Schulz, Robin, J.U.D.G.E
12. Die Immer Lacht (Radio 2016 Mix) – Stereoact
13. Catch & Release (Deepend Remix) – Simons, Matt
14. Little Love – Kilian & Jo
15. Thank You (Album Version) – Dj Antoine
16. Hello – Bradford, Sean
17. We Survive – Medina
18. Middle – Snake, Dj
19. I Took A Pill In Ibiza (Seeb Remix) – Posner, Mike
20. With Arms Wide Open (Darius & Finlay Radio Remix) – Taccini, Alessandro
21. Booty Bounce – Tujamo, Cruz, Taio
22. The Right Song – Tiësto, Heldens, Oliver
Disk: 2
1. Love Yourself – Bieber, Justin
2. Be The One – Lipa, Dua
3. Renegades – X Ambassadors
4. Ex's & Oh's – King, Elle
5. Jolene – The Bosshoss
6. 7 Years – Graham, Lukas
7. Zuhause Ist Die Welt Noch In Ordnung – Sido
8. Glow – Lamiya
9. Ghost (From The Voice Of Germany) – Kriewitz, Jamie-Lee
10. The Hills – The Weeknd
11. Here – Cara, Alessia
12. Das Ist Dein Leben – Dittberner, Philipp
13. Hey – Bourani, Andreas
14. Kommst Du Mit Ihr – Connor, Sarah
15. Speeding Cars – Walking On Cars
16. If You Ever Want To Be In Love – Bay, James
17. Jour 1 – Louane
18. The Sound – The 1975
19. Cake By The Ocean – Dnce
20. Hearts Without A Home (Album Version) – Stanfour
21. Hulapalu – Gabalier, Andreas