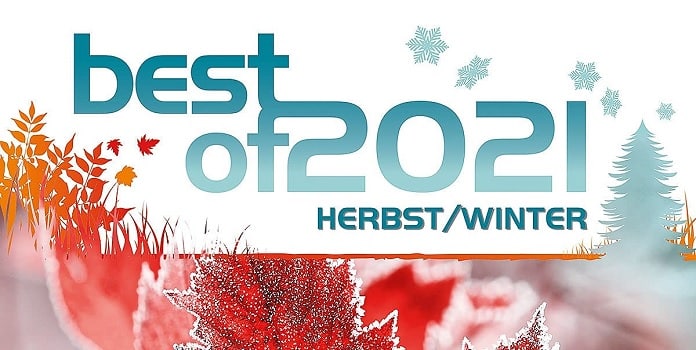 Die neue Best Of 2021 – Herbst/Winter bringt euch mit ihrer Tracklist die besten Hits ins heimische Wohnzimmer. Die Outdoor Events werden langsam wieder weniger und so ist es nicht verwunderlich, dass man sich mit seinen Freunden wieder mehr zu Hause trifft um kräftig zu feiern.
Um sich bei dem lustigen Abend mit Freunden nicht mit der falschen Musik zu blamieren, dürfen Compilation wie z.B. die Best Of 2021 – Herbst/Winter eben nicht fehlen. Hier findet ihr zahlreiche Top Tracks aus den aktuellen Charts und direkt den einen oder anderen Top Song von Morgen.
So findet ihr auf der neuen Best Of 2021 – Herbst/Winter Songs den angesagtesten Künstlern aus den aktuellen Single Charts. Gemeint sind hier Songs von z.B. Robin Schulz, The Weeknd, Alvaro Soler, Justin Bieber, Jason Derulo, Tom Gregory, OneRepublic, Billie Eilish, Johannes Oerding und viele mehr.
Wenn euch die Tracklist zusagt, wovon wir an dieser Stelle einfach mal ausgehen, könnt ihr euch direkt ein Exemplar sichern. Der Grund dafür ist einfach, denn die Best Of 2021 – Herbst/Winter steht bereits seit dem 17. September 2021 für euch im Handel bereit.
Wie immer an dieser Stelle, darf die Tracklist und das dazu passende Cover nicht fehlen, damit ihr schon vor dem Kauf wisst, was euch hier alles erwartet.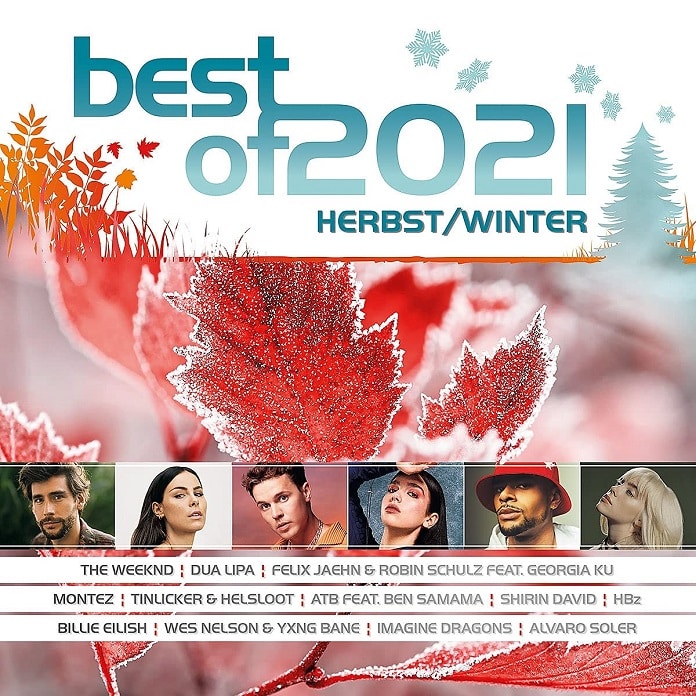 Disk 1:
01.The Weeknd – Take My Breath 3:41
02.Robin Schulz & Felix Jaehn – I Got A Feeling 2:25
03.Helsloot & Tinlicker – Because You Move Me 3:18
04.Pascal Letoublon – Friendships (Lost My Love) 3:03
05.Yxng Bane feat Wes Nelson – Nice To Meet Ya 3:02
06.Lena – Strip 2:49
07.Tom Gregory – River 3:12
08.R3hab x Sigala x JP Cooper – Runaway 2:49
09.Glockenbach feat. ClockClock – Redlight 2:58
10.Ofenbach – Wasted Love 2:18
11.Atb – Like That 2:46
12.Joel Corry – Head & Heart 2:48
13.Twocolors – Passion 2:46
14.Alvaro Soler – Mañana 3:32
15.Trinidad Cardona – Dinero 2:42
16.Justin Bieber – Peaches 3:19
17.Bastille – Distorted Light Beam 2:58
18.Bebe Rexha & Topic – Chain My Heart 2:28
19.Jason Derulo & Tesher – Jalebi Baby 2:51
20.Laurell – Habit 3:02
21.Hbz – King Kong 2:37
Disk 2:
01.Billie Eilish – Happier Than Ever 4:59
02.Tainy & Shawn Mendes – Summer Of Love 3:04
03.Onerepublic – Run 2:49
04.Imagine Dragons – Wrecked 4:04
05.Dua Lipa – Love Again 4:18
06.Montez – Auf & Ab 2:47
07.Shirin David – Lieben wir 2:37
08.Michael Schulte – Stay 2:52
09.Johannes Oerding & Wincent Weiss – Die guten Zeiten 2:53
10.Max Mutzke – Beste Idee 3:47
11.Neeka & SUPER-Hi – Following The Sun 3:28
12.Alvaro Soler – Magia 3:13
13.Zoe Wees – Hold Me Like You Used To 3:07
14.Rani, Martin Jensen, Amber Van Day, N.F.I – Can't Come To The Phone 2:57
15.Léon, Jonas Blue – Hear Me Say 3:11
16.David Guetta, Becky Hill – Remember 2:41
17.Jan-Marten Block – Break Out 3:15
18.Nathan Evans – Told You So 3:15
19.Mike Singer – Forever Young 2:16
20.Aylo – Gefühle 2:44