Die Booom 2016 the First steht bevor und möchte euch mit ihrer Tracklist, den ersten musikalischen Ausblick auf das kommende Jahr bieten. Also Weihnachtsgeschenk bietet sich die Booom 2016 the First förmlich an, denn sie steht ab dem 18. Dezember 2015 für euch im Handel.
Wie der Name dieser Compilation schon fast vermuten lässt, findet ihr hier die derzeit angesagtesten Tracks aus den Charts, denn bei einem Ausblick auf 2016, braucht natürlich niemand Lieder, die bereits seit Monaten im Radio rauf und runter laufen, so ist die Booom 2016 the First ein echter Kauftipp.
So findet ihr hier Tracks von z.B. Glasperlenspiel, Cro, Silbermond, Lena, Chris Brown, Revolverheld feat. Johannes Oerding, Jess Glynne, Omi, Robin Schulz, Felix Jaehn und noch reichlich weitere Top Acts mit ihren Superhits.
Wie bereits oben erwähnt, steht die Booom 2016 the First für euch ab dem 18. Dezember 2015 für euch im Handel bereit, wer sie zu Weihnachten verschenken möchte, kann sie natürlich bereits jetzt bei Amazon und Co vorbestellen und bekommt sie so direkt zum Release zugeschickt.
Wir haben an dieser Stelle wie immer die Tracklist und das passende Cover für euch am Start, denn auch im Falle der Booom 2016 the First, sollt ihr natürlich vorab wissen, was euch hier erwartet.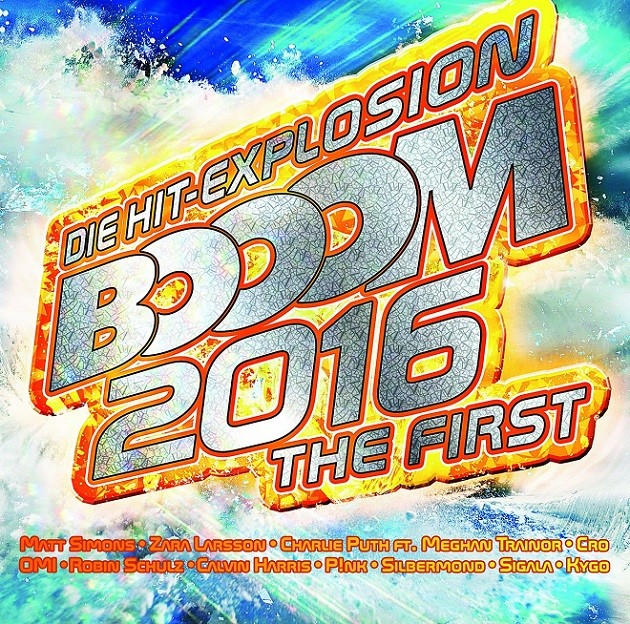 Disk: 1
1. Lush Life – Larsson, Zara
2. Catch & Release – Deepend Remix – Simons, Matt
3. Geiles Leben – Madizin Single Mix – Glasperlenspiel
4. Avenir – Radio Edit – Louane
5. Marvin Gaye – Puth, Charlie Feat. Meghan Trainor
6. Melodie – Unplugged Version – Cro
7. Leichtes Gepäck – Silbermond
8. Wild & Free – Lena
9. Today's The Day – P!Nk
10. Locked Away – R. City Feat. Adam Levine
11. Kompliziert – Namika
12. Das Ist Dein Leben – Dittberner, Philipp
13. Bedingungslos – Radio Edit – Connor, Sarah
14. Call You Home – Jones, Kelvin
15. Sommer In Schweden – Mtv Unplugged 3. Akt – Revolverheld Feat. Johannes Oerding
16. Like I'm Gonna Lose You – Trainor, Meghan Feat. John Legend / Trainor, Meghan / Legend, John / Gelbuda, Chris
17. Barcelona – Ezra, George / Ezra, George
18. Lights – Hurts / Hutchcraft, Theo
19. The Fix – Nelly Feat. Jeremih
20. Zero – Brown, Chris
21. Fired Cuz I Was Late – Aronchupa
22. Whip It! – Lunchmoney Lewis Feat. Chloe Angelides
Disk: 2
1. Book Of Love – Jaehn, Felix Feat. Polina
2. Hula Hoop – Omi
3. Sugar – Schulz, Robin Feat. Francesco Yates
4. Ich & Du – Gestört Aber Geil Feat. Sebastian Hämer
5. How Deep Is Your Love – Harris, Calvin & Disciples / Wrolsden, Ina
6. Here For You – Kygo Feat. Ella Henderson
7. Easy Love – Radio Edit – Sigala
8. For A Better Day – Avicii / Alex Ebert
9. I Wanna Luv Ya – Mafia Clowns Feat. Sean Kingston
10. How Hard I Try – Filous Feat. James Hersey
11. Don't Be So Hard On Yourself – Glynne, Jess
12. Ghost Town – Lambert, Adam
13. Sonnenmädchen – Lizot Radio Edit – Lizot & Charming Horses Feat. Jason Anousheh
14. I Can't Say No! – Broiler Remix – Rue, Lea
15. Waste Some Time – Extended Version – Auld, Timothy & Marcapasos
16. Sing That Song – Radio Edit – Bate, Shaun Feat. Sirona
17. Blütenstaubromanze – Pretty Pink Radio Edit – Mai, Emma & Pretty Pink
18. Ready For It (Hamburg 2024) – Radio Edit – Spyzr Feat. Michael Maidwell
19. Belong – Radio Mix – Edx
20. L'amour Toujours – (Tiesto Edit) [Radio Edit] – Dzeko & Torres Feat. Delaney Jane
21. Policeman – Radio Edit – Simons, Eva Feat. Konshens
22. Domino – Video Edit – Carlprit & U-Jean