Bereit für Booom 2020 the First und eine Tracklist voller Chart Hits ? Zwischen den ganzen großen Compilation, die den Chart Bereich abdecken, taucht auch immer die Booom Compilation auf. Die Nische füllt sie allerdings auch sehr gut, denn die Tracklist der Booom 2020 the First kann sich wirklich sehen lassen.
Auch wenn wir bislang noch Ende November haben, solltet ihr schon jetzt an die zahlreichen Silvester Partys denken, die in den nächsten Wochen bevorstehen. Jedem sollte an dieser Stelle klar sein, dass bei einer Party nicht Schlimmer ist, als die falsche oder gar fehlende Musik.
Schauen wir hier nun mal auf die Tracklist der Booom 2020 the First, hier findet ihr zahlreiche Top Tracks aus den Charts. Gemeint sind natürlich Tracks von Mark Forster, Ava Max, Travis Scott, Tim Bendzko, LEA, Miley Cyrus, Alle Farben, Dimitri Vegas & Like Mike und viele mehr.
Bis zum Release der Booom 2020 the First dauert es nur noch wenige Tage, denn bereits ab dem 13. Dezember 2019 findet man sie im Handel. Damit ihr euch einen ersten Eindruck von der Qualität der Booom 2020 the First machen könnt, haben wir natürlich auch hier die Tracklist und das dazugehörige Cover.
Sollte euch die besagte Tracklist gefallen, wovon wir an dieser Stelle einmal ausgehen, könnt ihr diese natürlich bereits bei Amazon und ähnlichen Shops vorbestellen.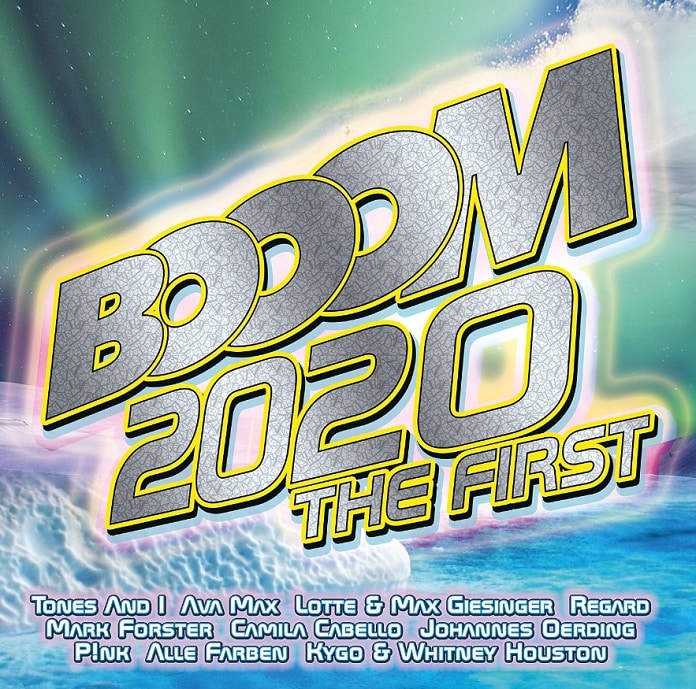 Disk: 1
1. Dance Monkey – Tones and I
2. Torn – Max, Ava
3. Auf das, was da noch kommt – LOTTE & Max Giesinger
4. 194 Länder – Single Version – Forster, Mark
5. Liar – Cabello, Camila / Cabello, Camila
6. Higher Love – Kygo & Whitney Houston / Houston, Whitney
7. 110 (Prolog) – LEA
8. All I Need – Schulte, Michael
9. Small Steps – Gregory, Tom
10. Hoch – Bendzko, Tim
11. Alles okay – Oerding, Johannes
12. HIGHEST IN THE ROOM – Scott, Travis
13. Fuck, I'm Lonely – from '13 Reasons Why: Season 3′ – Lauv feat. Anne-Marie
14. We Made It – Tomlinson, Louis
15. Bigger Than – Jesso, Justin & Seeb
16. Easy – Merton, Alice
17. Shame On You – The Twinz & Nexeri & ConKi feat. Nick Luebke
18. After The Landslide – Remix – Simons, Matt
19. Zeit steht – Trettmann, KitschKrieg feat. Alli Neumann
20. So kann es weitergehen – Dittberner, Philipp & Marv
21. Slide Away – Cyrus, Miley
22. Hurts 2B Human – P!nk feat. Khalid / P!nk & Khalid
Disk: 2
1. Ride It – Regard / Pearce, Daniel
2. Seventeen – YouNotUs & Kelvin Jones
3. As Far as Feelings Go – Alle Farben & Justin Jesso
4. Post Malone – Feldt, Sam feat. Rani
5. Instagram – Dimitri Vegas & Like Mike, David Guetta, Daddy Yankee, Afro Bros, Natti Natasha, Dimitri Vegas, Like Mike
6. Turn Me On – Riton x Oliver Heldens feat. Vula / Malinga, Vula / Ritson, Hal
7. Roses – Imanbek Remix – SAINt JHN
8. Ich brauch dich nicht – Anstandslos & Durchgeknallt & Georg Stengel
9. Never Never – Drenchill feat. Indiiana
10. Used To Love – Martin Garrix, Dean Lewis
11. Sweater Weather – Gaullin & Julian Perretta / Perretta, Julian
12. On & On – Alok & Dynoro
13. Ready Or Not (Here I Come) – Bodybangers
14. We Got Love – Sigala feat. Ella Henderson / Henderson, Ella
15. Not With Me – LIZOT & Charming Horses feat. David Taylor
16. Her Bed – Konger, Vion feat. Nikki Ambers
17. Beat of My Heart – Lost Frequencies feat. Love Harder / Love Harder
18. Monster – LUM!X, Gabry Ponte
19. Good To Go – Aexcit vs. Danny Dearden
20. Lucky Star – Adaptiv & Mingue
21. Rather Be Alone – Schulz, Robin & Nick Martin & Sam Martin
22. No Goodbye – Kalkbrenner, Paul / Hunter, Chiara