Nun kommt der Der 90er Hammer auch als CD um die Ecke, in der Tracklist natürlich jede Menge Mega Hits der guten alten Zeit. Das gleichnamige Event findet seit Monaten in verschiedenen Locations in Deutschland statt und so ganz sicher auch bald in deiner Nähe.
Das man an so einem Abend kräftig mitsingen muss, wie in den alten Zeiten, sollte natürlich jedem klar sein. So solltet ihr euch viele alte Hits nochmal anhören, damit der Text auch wirklich sitzt, denn nur so steigt die Stimmung bis zum Siedepunkt auf Der 90er Hammer Party.
Die gleichnamige CD, zur Partyreihe " Der 90er Hammer " wird euch mit einigen Top Tracks der guten alten Zeit verwöhnen. Im Handel steht das gute ab dem 17. Oktober 2014 und bis dahin versorgen wir euch schon einmal mit der Tracklist und dem Cover der 90er Hammer CD.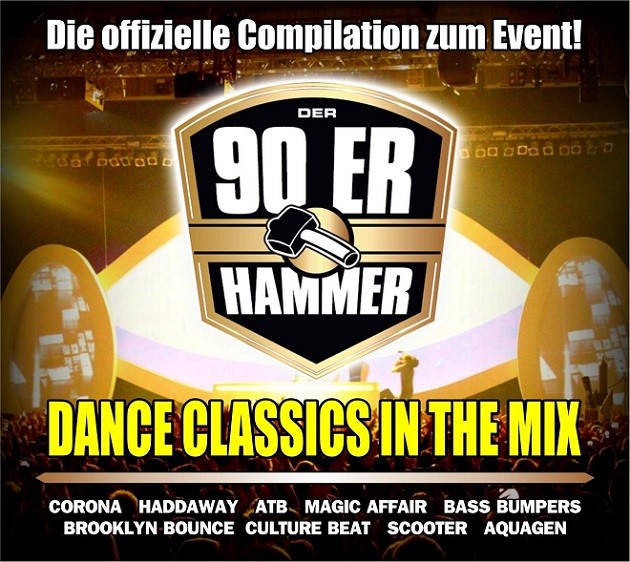 1. Corona – The Rhythm Of The Night
2. Haddaway – Life
3. Gardeweg – This Groove
4. Celvin Rotane – Push Me To The Limit
5. ATB – Don't Stop
6. Zhi-Vago – Celebrate (The Love)
7. Ice MC – Take Away The Colour
8. Magic Affair – Give Me All Your Love
9. Red 5 – Da Beats Go …
10. Brooklyn Bounce – Take A Ride
11. Bumpers – Runnin'
12. Culture Beat – Mr. Vain Recall
13. Scooter – How Much Is The Fish?
14. Aquagen – Ihr Seid So Leise!