Die 2000er – the Biggest Dance Tracks lädt euch mit ihrer Tracklist zu einer musikalischen Zeitreise ein. Nachdem in den letzten Monaten eine 90er Compilation nach der anderen auf den Markt kam, sind nun die 2000er dran. Wenn man einen Blick auf die Tracklist wirft, kommen selbst als Fan der 90er zahlreiche Erinnerungen zurück.
Die 2000er waren die großen Jahre der Dance Music aber auch der Anfang des großen House Music Trends. So finden wir in der Tracklist Tracks von z.B. Aquagen, Special D., Cascada, Safri Duo, Starsplash, ATB, Jan Wayne, Rocco, Danzel, The Underdog Project, DJs @ Work, Michael Mind, Guru Josh Project und unzählige weitere.
Da das ganze von Kontor Records in den sozialen Netzwerken gepusht wird, gibt es zur Compilation " Die 2000er – the Biggest Dance Tracks " auch einen MiniMix, den wir euch oben über dem Artikel eingebunden. Wer an dieser Stelle schon einmal über die Tracklist gehuscht ist, dürfte bereits in zahlreichen Erinnerungen schwelgen.
Diese Compilation ist seit dem 2. Februar 2018 im Handel erhältlich, wir haben an dieser Stelle natürlich wie immer, die Tracklist und das passende Cover für euch am Start, damit ihr euch einen Eindruck von dieser Compilation machen könnt, viel Spaß bei der musikalischen Zeitreise in die 2000er.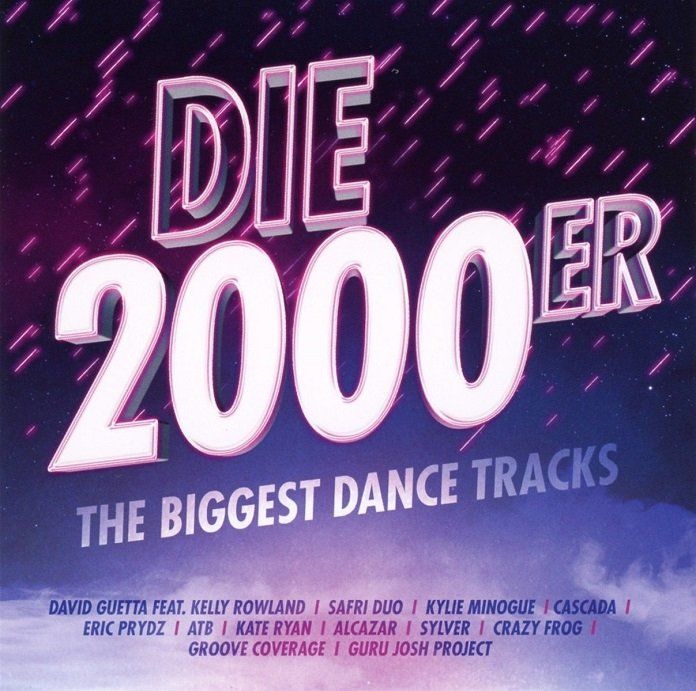 Disk 1:
01. Safri Duo – Played-A-Live (The Bongo Song)
02. David Guetta feat. Kelly Rowland- When Love Takes Over
03. Kylie Minogue – Can't Get You Out Of My Head
04. Cascada – Everytime We Touch
05. Scooter – Nessaja
06. French Affair – My Heart Goes Boom
07. Basshunter – Boten Anna
08. Kate Ryan – Désenchantée
09. Mad'House – Like A Prayer
10. Guru Josh Project – Infinity 2008 (Klaas Vocal Edit)
11. ATB – Let U Go
12. Starsplash – Free
13. Jan Wayne – Because The Night
14. Aquagen – Hard To Say I'm Sorry
15. R.I.O. – Shine On
16. Michael Mind feat. Manfred Mann's Earth Band – Blinded By The Light
17. Special D – Come With Me
18. Novaspace – Time After Time
19. DJs @ Work – Someday
20. Rocco – Everybody
21. The Underdog Project – Summer Jam
22. Danzel – Pump It Up!
Disk 2:
01. Alcazar – Crying At the Discoteque
02. Eric Prydz – Call On Me
03. DJ Sammy & Yanou feat. Do & Alia – Heaven
04. A Touch Of Class – Around the World (La La La La La)
05. Sylver – Turn The Tide
06. O-Zone – Dragostea Din Tei
07. Alex C. feat. Yass – Du hast den schönsten Arsch der Welt
08. In-Grid – Tu Es Foutu
09. Crazy Frog – Axel F.
10. Rednex – Spirit Of The Hawk
11. Groove Coverage – Moonlight Shadow
12. Brooklyn Bounce – Bass, Beats & Melody
13. Master Blaster – Hypnotic Tango
14. The Disco Boys Feat. Manfred Mann's Earth Band – For You
15. LMC vs U2 – Take Me To The Clouds Above
16. Mauro Picotto – Komodo
17. Pulsedriver – Cambodia
18. Die Atzen – Das Geht Ab
19. Fedde Le Grand – Put Your Hands Up For Detroit
20. Scotty – The Black Pearl
21. Lexy & K-Paul – Love Me Babe
22. Alexander Marcus – Papaya