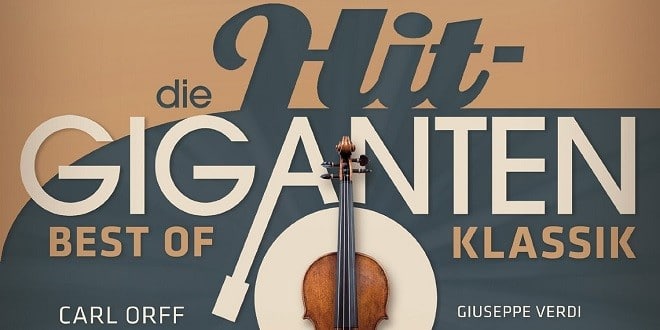 Die Hit Giganten Best of Klassik steht bevor und der Blick auf die Tracklist, lässt großes hoffen. Noch nie haben wir zuvor über eine Compilation aus dem Klassik Bereich berichtet, die von einem deutschen Privatsender promotet wurde aber irgendwann ist bekanntlich immer das erste mal.
Zum Weihnachtsgeschäft lässt sich vieles verkaufen, so sieht es sicherlich auch im Klassik Genre aus, doch im Gewand der Hit Giganten, sind wir uns nicht sicher ob das die richtige Wahl ist. Die Tracklist kann zwar durchaus überzeugen, doch würde wohl kaum ein Klassik Liebhaber, so eine Compilation von der Reihe erwarten.
Auf der CD " Die Hit Giganten Best of Klassik " findet ihr Stücke von zahlreichen großen Orchestern, so sollte für reichlich Abwechslung gesorgt sein. Das große Orchester, ähnlich wie Musiker im Pop Bereich, immer ihren eigenen Stiel haben, brauchen wir an dieser Stelle sicherlich nicht weiter zu vertiefen.
Auf den Kauf der CD " Die Hit Giganten Best of Klassik " braucht ihr zum Glück auch nicht mehr zu warten, denn bereits ab heute also dem 6. November 2015 steht das gute Stück für euch im Handel bereit. Wie immer haben wir auch hier, die Tracklist und das passende Cover für euch eingebunden.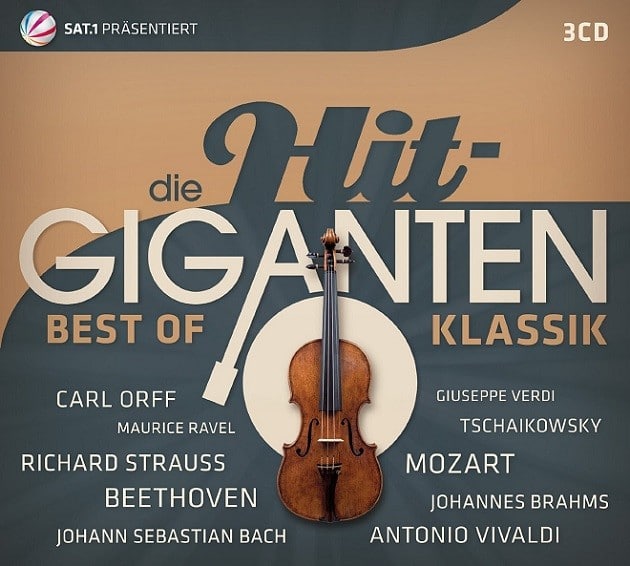 Disk: 1
1. Fortuna Imperatrix Mundi : O Fortuna – London Symphony Chorus / Boy's Choir Of St. Paul's Cathedral, London, The / London Symphony Orchestra
2. Die Walküre: Walkürenritt (Live) – Orchester Der Tiroler Festspiele
3. Violin Concerto No. 4 In F Minor, Rv 297, 'L'inverno' : I. Allegro Non Molto – Moscow Virtuosi
4. Iii. Alla Turca. Allegretto
5. Iii. Poco Allegretto – Ndr Sinfonieorchester
6. Sabre Dance – Boston Pops Orchestra
7. In The Hall Of The Mountain King – Philadelphia Orchestra, The
8. Vii. Waltz Ii – Radio-Sinfonie-Orchester Frankfurt
9. Hungarian Dance No. 5 In G Minor – London Festival Orchestra
10. Acte 2 : Tango – Le Sage, Eric
11. Allegro – Orchestra Da Camera Italiana
12. No. 12, Divertissement: Dance Of The Flutes – Orchestra Of The Royal Opera House, Covent Garden, The / Halesworth Middle School Choir
13. Valse Lente – Orchestra Of The Royal Opera House, Covent Garden, The
14. Ii. Tempo Di Valse – Münchner Philharmoniker
15. Ebben?… Ne Andro Lontana – Münchner Rundfunkorchester / Chor Des Bayerischen Rundfunks
16. Liebestraum No. 3 – Boston Pops Orchestra
17. Pavane Pour Une Infante Defunte, M. 19 – Chicago Symphony Orchestra
18. V. Love Theme – Filarmonica Della Scala
19. Io Sono Docile – Metropolitan Opera Chorus / Metropolitan Opera Orchestra
20. Lacrimosa – Chor Des Bayerischen Rundfunks / Symphonieorchester Des Bayerischen Rundfunks
21. Ave Maria, D. 839 – Vienna Symphony Orchestra
Disk: 2
1. Overture – Chor Der Wiener Staatsoper / Wiener Sängerknaben, Die / Wiener Philharmoniker
2. No. 8 In G Minor. Presto – Philharmonia Orchestra, The
3. The Carnival Of The Animals: Aquarium – Boston Pops Orchestra
4. Iii. Clair De Lune – Boston Pops Orchestra
5. William Tell Overture – Boston Pops Orchestra
6. Flight Of The Bumblebee – London Symphony Orchestra
7. Act Ii : Un Bel Di Vedremo – New Philharmonia Orchestra
8. No. 13 Dance Of The Knights – Orchestra Of The Royal Opera House, Covent Garden, The
9. Scorrende Unite – Solti, Sir Georg / Rca Italiana Opera Chorus / Rca Italiana Opera Orchestra
10. Prelude: Morning Mood – Oslo Philharmonic Chorus, Oslo Philharmonic Chorus / Oslo Philharmonic Orchestra
11. Turandot, Act Iii: 'Nessun Dorma' – Potts, Paul / London Symphony Orchestra
12. No. 1 In G Minor – Enescu, George & Bucharest Philharmonic Orchestra
13. Comptine D'un Autre Ete – (Keine Angaben)
14. Lakme: Dome Epais Le Jasmin (Flower Duet) – Royal Liverpool Philharmonic Orchestra And Choir / King's Division Normandy Band
15. No. 7 Valse – Orchestra Of The Royal Opera House, Covent Garden, The
16. Menuet And Badinerie – I Solisti Di Zagreb
17. Piano Sonata No. 14 In C-Sharp Minor, Op. 27, No. 2, 'Mondschein': I. Adagio Sostenuto
18. Hijo De La Luna
19. Fantasia On Greensleeves – New York Philharmonic Orchestra
20. Gymnopedie No. 1 – National Philharmonic Orchestra
21. Bolero, Pt. 2 – New York Philharmonic Orchestra
Disk: 3
1. Sonnenaufgang – Chicago Symphony Orchestra
2. Hallelujah! – Royal Philharmonic Orchestra / Royal Philharmonic Chorus
3. Va, Pensiero, Sull'ali Dorate (Chorus Of The Hebrew Slaves) – Rca Victor Orchestra / Shaw, Robert, Chorale
4. Orchestral Suite No. 3 In D Major, Bwv 1068: Ii. Air – English Chamber Orchestra
5. Ma Vlast: Ii. Vltava, 'The Moldau' – Bamberger Symphoniker
6. Barcarolle – Boston Pops Orchestra
7. No. 29 Scene Finale – Orchestra Of The Royal Opera House, Covent Garden, The
8. Farandole – Boston Pops Orchestra
9. Violin Concerto No. 2 In G Minor, Rv 315, 'L'estate' : Iii. Presto – Moscow Virtuosi
10. Ii. Romance. Andante – New York Philharmonic Orchestra
11. String Quintet In E Major, Op. 13, No. 5: Iii. Minuetto
12. Rondeau – Danse Du Calumet De La Paix Executee Par Les Sauvages – Collegium Aureum
13. Noi Siamo Zingarelle – Rca Italiana Opera Orchestra And Chorus
14. Canon In D Major For Strings And Basso Continuo, Pwc 37, T. 337, Pc 358 – Baroque Chamber Orchestra
15. Serenade, D. 957, No. 4 – Philadelphia Orchestra, The
16. Moon River (From 'Breakfast At Tiffany's')
17. Ii. Adagio Cantabile
18. Waltz – Rca Victor Symphony Orchestra
19. Palladio: I. Allegretto – London Symphony Orchestra
20. Out Of Africa – Barry, John
21. Für Elise, Woo 59