Die Ultimative Chartshow – Hits 2021 bringt euch mit ihrer Tracklist die größten Hits des Jahres zu euch ins heimische Wohnzimmer. Natürlich gibt es wie gewohnt auch eine passende Ausgabe der Show auf RTL dazu. Keine Chart-Show im deutschen Fernsehen ist so erfolgreich wie die ultimative Chartshow auf RTL.
Viele Songs sind durch die Pandemie und die dadurch fehlenden Partys auch in diesem Jahr an einem vorbei gegangen. Da kommen Best of Compilation gerade richtig, denn hier bekommt ihr einfach alles was man braucht, um das Jahr 2021 zumindest musikalisch komplett zu erfassen.
So findet ihr auf der Compilation "Die Ultimative Chartshow – Hits 2021" zahlreiche Mega Hits von z.B. Nathan Evans, P!nk, Tiesto, Alvaro Soler, Ava Max, ATB, Helene Fischer, Justin Wellington, Coldplay, Billie Eilish, The Weeknd und unheimlich viele mehr.
Bis zum Release ist es zum Glück nicht mehr ganz so lange hin, denn bereits ab dem 5. November 2021 steht die Ultimative Chartshow – Hits 2021 Doppel-CD für euch im Handel bereit. Wie immer an dieser Stelle, darf die Tracklist und das passende Cover nicht fehlen, damit ihr wisst was euch hier alles erwartet.
Die dazugehörige TV-Show wird am 14. November 2021 auf RTL ausgestrahlt und darüber hinaus in der nachfolgenden Nacht direkt noch einmal Widerholt.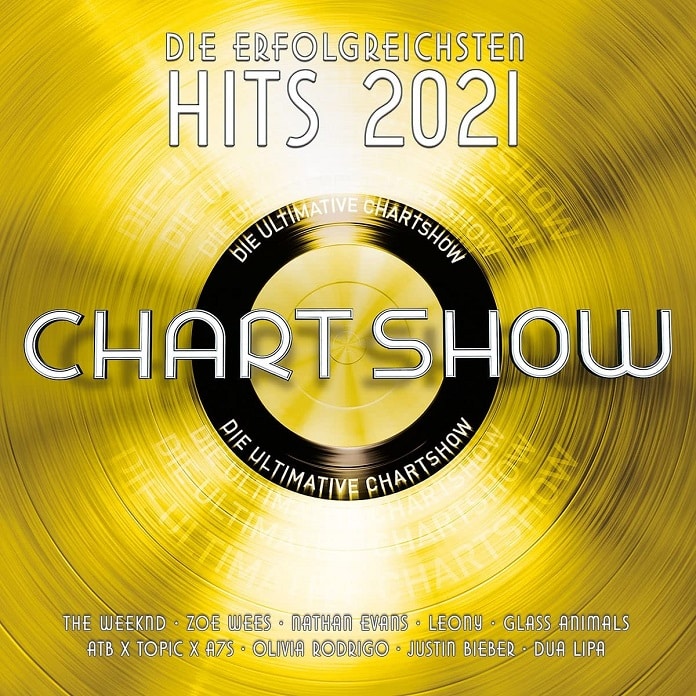 Disk 1:
1. Nathan Evans – Wellerman (Sea Shanty)
2. The Weeknd – Save Your Tears
3. The Kid LAROI x Justin Bieber – STAY
4. Olivia Rodrigo – good 4 u
5. Billie Eilish – Happier Than Ever
6. P!nk & Willow Sage Hart – Cover Me In Sunshine
7. Zoe Wees – Girls Like Us
8. Leony – Faded Love
9. Glass Animals – Heat Waves
10. DUa Lipa feat. DaBaby – Levitating
11. SUPER-Hi x Neeka – Following The Sun
12. Nico Santos – Would I Lie To You
13. Robin Schulz feat. KIDDO – All We Got
14. Tiesto – The Business
15. Miley Cyrus feat. Dua Lipa – Prisoner
16. Maneskin – Beggin'
17. Imagine Dragons – Follow You
18. Mark Forster x Lea – Drei Uhr Nachts
19. Ava Max – EveryTime I Cry
20. Alvaro Soler – Magia
21. Milky Chance – Colorado
22. Ofenbach & Quarterhead feat. Norma Jean Martine – Head Shoulders Knees & Toes
23. Riton x Nightcrawlers feat. Muafasa & Hyperman – Friday (Dopamine Re-Edit)
24. Kungs – Never Going Home
Disk 2:
1. Helene Fischer feat. Luis Fonsi – Vamos a Marte
2. Justin Wellington feat. Small Jam – Iko Iko (My Bestie)
3. Coldplay – Higher Power
4. Masked Wolf – Astronaut In The Ocean
5. Olivia Rodrigo – drivers license
6. ATB x Topic x A7S – Your Love (9PM)
7. Pascal Letoublon feat. Leony – Friendships (Lost My Love)
8. Tinlicker & Helsloot – Because You Move Me
9. The Weeknd – Take My Breath
10. MEDUZA feat. Dermot Kennedy – Paradise
11. Justin Bieber feat. Daniel Caesar & Giveon – Peaches
12. Wes Nelson feat. Yxng Bane – Nice To Meet Ya
13. Shawn Mendes & Tainy – Summer of Love
14. OneRepublic – Run
15. Udo Lindenberg – Kompass
16. Wincent Weiss – Wer wenn nicht wir
17. Sarah Connor – Stark
18. Stefanie Heinzmann – Ungeschminkt
19. Lil Nas X – MONTERO (Call Me By Your Name)
20. Cro – ALLES DOPE
21. Bausa vs. Apache 207 – Madonna
22. Montez – Auf & Ab
23. Sophia – Niemals Allein
24. Laurell – Habit
25. Bonus: Broilers – Alice und Sarah