Die neue Staffel von Got to Dance 2015 ist gestartet und die passende CDs zur Sendung schickt ihre Tracklist ins Rennen. Auch in diesem Jahr ist Got to Dance die einzige Castingshow im deutschen Fernsehen, die sich im Bereich Tanz bewegt.
Ob das Format auch in diesem Jahr erfolgreich sein wird, wird sich erst in den nächsten Wochen zeigen, denn dafür ist es jetzt noch zu früh. In dieser TV Saison werden die Zuschauer wieder mit einigen Castingshows gequält, wer sich am Ende Quoten technisch durchsetzen wird, bleibt abzuwarten.
Wer sich zur Musik von Got to Dance 2015 bewegen möchte, sollte sich die gleichnamige CD sichern, denn hier bekommt ihr reichlich Top Tracks aus der Sendung. Vielleicht reicht es bei dem einen oder anderen von euch ja sogar zur Teilnahme bei der nächsten Staffel im kommenden Jahr ?
Die neue gleichnamige CD zur Castingshow Got to Dance 2015 steht ab dem 28. August 2015 für euch im Handel bereit. Bis dahin könnt ihr euch einen ersten Eindruck von der Got to Dance 2015 CD verschaffen, indem ihr euch die Tracklist und das passende Cover anschaut.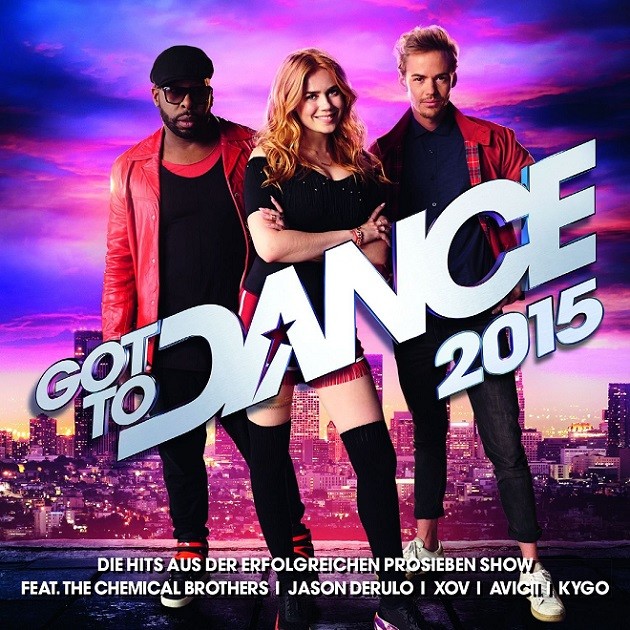 Disk: 1
1. Go – The Chemical Brothers
2. Want To Want Me – Derulo, Jason
3. Bills – Lewis, Lunchmoney
4. Uptown Funk – Ronson, Mark
5. Treasured Soul – Calfan, Michael
6. Show Me Love – Feldt, Sam
7. Something About You – James, Hayden
8. You Know You Like It – Dj Snake & Alunageorge
9. Lean On – Major Lazer, Snake, Dj
10. +1 (Radio Edit) – Solveig, Martin
11. Waiting For Love – Avicii
12. Sun Is Shining – Axwell / Ingrosso, Axwell, Ingrosso, Sebastian
13. Intoxicated (Radio Edit) – Solveig, Martin, Gta
14. Ebony Eyes (Original Edit) – Bernasconi, Rico, Tuklan
15. Glitterball – Sigma
16. Five More Hours – Deorro, Brown, Chris
17. Blitzlichtgewitter – Chefboss
18. Schwung In Die Kiste – Die Orsons
19. Fester Skank – Lethal Bizzle
20. Get Low (Edit) – Francis, Dillon, Snake, Dj
21. Bend Ova – Lil Jon
22. Tetra – Sebastian
23. Phantom Pt. Ii – Justice
Disk: 2
1. So Wie Du Bist (Radio Edit) – Motrip
2. Bye Bye – Cro
3. Reality (Radio Edit) – Lost Frequencies
4. Stole The Show – Kygo
5. Shine – Years & Years
6. Lucifer – Xov
7. Chandelier – Sia
8. Radioactive – Imagine Dragons
9. Pistols At Dawn (Lucian X Mickey Valen Remix) – Sey, Seinabo
10. Pump It (Album Version) – The Black Eyed Peas
11. Come Baby Come (Radio Edit) – K7
12. Anaconda – Nicki Minaj
13. Where The Hood At (Radio Edit) – Dmx
14. Alles Neu (Album Version) – Fox, Peter
15. Kotch – Rdx
16. Holiday (Dj Antoine Vs Mad Mark 2k15 Radio Edit) – Dj Antoine
17. Higher – Cruz, Taio
18. Flashlight (From "Pitch Perfect 2" Soundtrack) – Jessie J
19. Stay With Me – Smith, Sam
20. Wie Schön Du Bist – Connor, Sarah
21. Fall For You – James, Leela
22. To Build A Home – The Cinematic Orchestra