Die House 2016 könnte man mit ihrer Tracklist auch den Blick in die Zukunft von Zyx Music nennen. Während andere Labels erst einmal mit den Best of CDs des aktuellen Jahres um die Ecke kommen, traut man sich bei dieser Compilation schon einmal eine Prognose für die kommende Saison abzugeben.
Wir haben euch bereits über die EDM 2016 informiert, auf der House 2016 geht es eine ganze Ecke softer zu, hier fehlen die großen Festival Banger der aktuellen Festival Saison. Die Tracklist muss sich jedoch nicht verstecken, denn gerade im Bereich Deep House wird euch hier einiges geboten.
So dürfen natürlich Tracks von Mike Candys, The Disco Boys, Alex Schulz, Robin Schulz und Felix Jaehn nicht fehlen, natürlich gibt es darüber hinaus noch eine ganze Menge mehr Tracks aus dem House Music Sektor.
Wer sich die House 2016 sichern will, muss nicht mehr warten, denn bereits seit heute, also dem 9. Oktober 2015 steht das gute Stück im Handel für euch bereit. Wir haben an dieser Stelle wie immer die Tracklist und das passende Cover für euch am Start, damit ihr wisst was euch hier erwartet.
Wenn ihr mehr aus dem House Music Sektor erfahren wollt, könnt ihr uns natürlich auch auf unserem House Music Magazin besuchen, denn dort gibt es noch reichlich mehr zum Thema House Musik.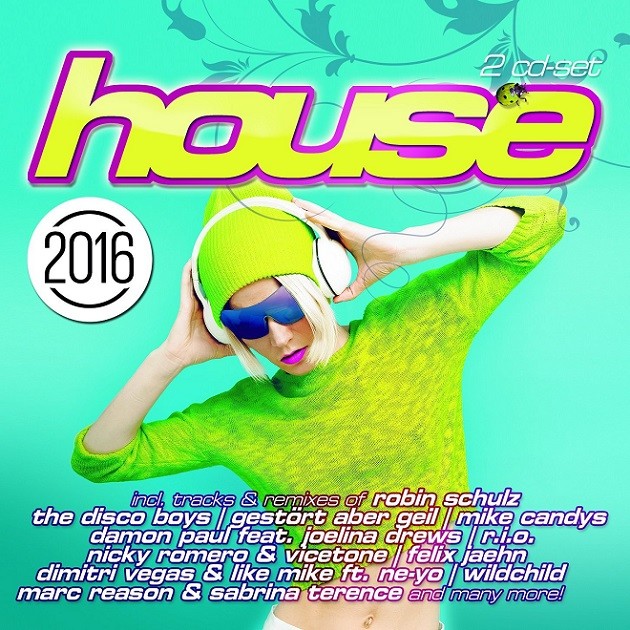 Disk 1
1. Felix Jaehn Feat. Thallie Ann – Dance With Me (Radio Edit)
2. The Disco Boys – Taxi Nach Paris (Fabelwelt Radio Edit)
3. Mike Candys Feat. U-jean – Paradise (Radio Edit)
4. Artenvielfalt Presents Paulina – Stop Breathing (Radio Mix)
5. Kidkonsole – Moments (Radio Mix)
6. Ante Perry Feat. Cosmo Klein – One More Try (Radio Edit)
7. Pappenheimer – Daydream (Radio Edit)
8. Mad Kingz – Wanderlust (Mann & Meer Radio Edit)
9. The Oh Hellos – Like The Dawn (David K. Radio Mix)
10. Dj Stone – The Sun (Single Mix)
11. A2a – That's What We Need! (Ibiza Rework Radio Mix)
12. Nora En Pure – U Got My Body (Radio Mix)
13. Alex Barattini – Mustang Sally (Radio Mix)
14. Sol City Feat. Johnny King – See Di Angel (Annry Remix Edit)
15. Erik Lee – So In Love With You (Scheffler & Mossy Remix Edit)
16. Alex Schulz – In The Morning Light (Radio Mix)
17. Eric Bazilian & Blutonium Boy – Where Did I Go (Ponyfarm Edit)
18. Andrew Spencer & Aquagen – Here Without You 2.5 (Radio Edit)
19. Michael Fall – Let Me Go (Radio Edit)
20. Tom Franke & Joachim Deutschla – Marie (Gestört aber Geil Remix)
21. Seaside Clubbers – Wir (Oliver Pum Mix)
22. Kaind Feat. Younotus – Leuchtturm (Radio Edit)
23. Robin Schulz Feat. Ilsey – Headlights
Disk 2
1. R.i.o. Feat. U-jean – Sun Is Up (Video Edit)
2. Rico Bernasconi & Tuklan Feat. – Ebony Eyes (Original Edit)
3. Damon Paul Feat. Joelina Drews – Gridlocked (Village Rockerz Edit)
4. Kindervater Feat. Jaicko Lawre – Shine On (Radio Edit)
5. Uplink Feat. Harriet Hill – Behind The Walls (Radio Edit)
6. Village Rockerz – Be Strong (Radio Edit)
7. Elena Feat. Danny Mazo – Senor Loco (Alien Cut Remix)
8. Tapo & Raya Feat. 2eivissa – Dale Duro (Radio Edit)
9. Martini Monroe & Steve Moralez – One Chance (Radio Edit)
10. Andy Prinz & Dave Emanuel – See The Light (Radio Edit)
11. Basslovers United Feat. David – Give Me Some More (Radio Edit)
12. Manuel Baccano & Marc Radix Fe – Giving You Up (Radio Edit)
13. Modana – Don't Look At Me (Short Mix)
14. Marc Reason & Sabrina Terence – Arabian Pleasure (DJ A.N.D.Y. Edit)
15. Alan-lee – Give It Up (Edit)
16. Tube Tonic & Dave Cansis – Call Me (Jay Frog Remix Edit)
17. Dj Van – Unique (Marc Reason Edit)
18. Nicky Romero & Vicetone – Let Me Feel (feat. When We Are Wild) (Micha Moor Radio Edit)
19. Chris Van Dutch Meets Phun & K – Reggaeton (Radio Edit)
20. Palmer & Stone – Gangsta Beat (CJ Stone Remix Edit)
21. Svendeekay – My Mind (Original Edit)
22. Honour Kode – Unicorpse (Radio Edit)
23. Wildchild – Elco
24. Dimitri Vegas & Like Mike Feat – Higher Place (Radio Edit)