Die Megahits 2016 – Die Zweite bringt euch mit ihrer Tracklist reichlich neue Hits aus dem Jahr 2016. Ganz so aktuell wie die Bravo Hits Reihe ist sie nun nicht, doch können wir die Megahits 2016 – Die Zweite mit ruhigem Gewissen als Alternative für alle Fans der Chart Musik empfehlen.
Das die CDs rund um das Thema Single Charts sehr bunt gemisst sind, ist natürlich kein Geheimnis denn die großen Genres in Deutschland sind weiterhin House Music und Pop Music. Auch der ein oder andere deutsche Song ist hier zu finden, natürlich darf hier auch Jamie-Lee Kriewitz nicht fehlen.
Jamie-Lee gewann The Voice of Germany und wird uns nun beim ESC vertreten. Mit neuen Regeln beim ESC, könnten sogar wieder mehr Punkte für uns über bleiben, denn für Deutschland ist der ESC seit bestehen eine ewige Berg-und Talfahrt.
Bis zum 1 April müsst ihr euch jedoch noch bei der Megahits 2016 – Die Zweite gedulden, denn solang wird es noch dauern, bis das gute Stück für euch im Handel bereit steht. Wir haben an dieser Stelle wie immer die Tracklist und das passende Cover für euch am Start, damit ihr wisst was euch erwartet.
Mit Hinblick auf den Sommer und die bevorstehende Festival Saison, sollte man musikalisch natürlich auf dem neusten Stand sein, damit man bei all den anstehenden Partys, die Lieder auch kennt, zu denen alle abfeiern.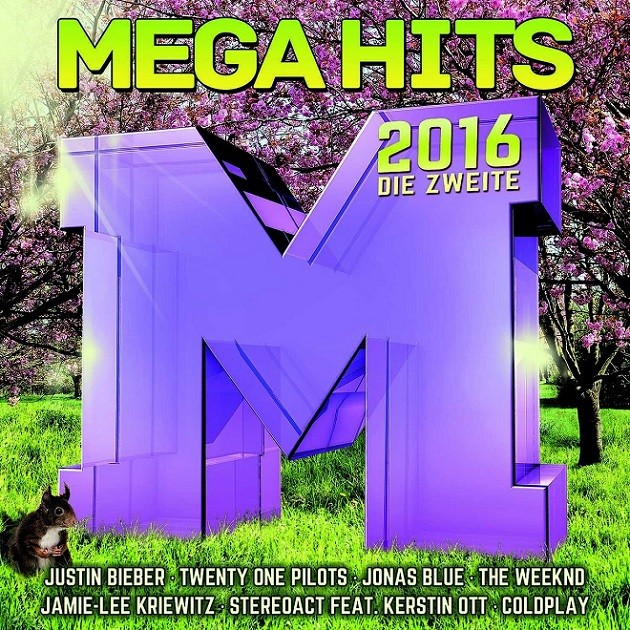 Disk: 1
1. Love Yourself – Bieber, Justin
2. Stressed Out – Twenty One Pilots
3. Renegades – X Ambassadors
4. Ghost (From The Voice Of Germany) – Kriewitz, Jamie-Lee
5. Hymn For The Weekend – Coldplay
6. Hands To Myself – Gomez, Selena
7. Get Ugly (Album Version) – Derulo, Jason, Derülo, Jason
8. The Hills – The Weeknd
9. Middle – Snake, Dj
10. Hundred Miles – Yall
11. Never Be Like You – Flume
12. Booty Bounce – Tujamo, Cruz, Taio
13. Keeping Your Head Up – Birdy
14. The Right Song – Tiësto, Heldens, Oliver
15. We Survive – Medina
16. Lay It All On Me – Rudimental
17. Something In The Way You Move – Goulding, Ellie
18. Hearts Without A Home (Album Version) – Stanfour
19. Lush Life – Larsson, Zara
20. That's How You Know (Album Version) – Nico & Vinz
21. Take Me Home – Glynne, Jess
22. Die Immer Lacht (Radio 2016 Mix) – Stereoact
Disk: 2
1. Fast Car (Radio Edit) – Blue, Jonas
2. Losing U (Original Mix) – Klingande
3. I Took A Pill In Ibiza (Seeb Remix) – Posner, Mike
4. White Dress (Radio Version) – Set Mo
5. Geh Nicht Weg – Gestört Aber Geil, Narrow, Marc
6. Home – Topic
7. Stand By Me (Radio Mix) – Smith, Geeno
8. 1.40m – Prinz Pi
9. In2 – Wstrn
10. Zuhause Ist Die Welt Noch In Ordnung – Sido
11. Das Ist Dein Leben – Dittberner, Philipp
12. Kommst Du Mit Ihr – Connor, Sarah
13. Steine – Bosse
14. Hand In Hand (Album Version) – Le Play, Julian
15. One Call Away – Puth, Charlie
16. Jour 1 – Louane
17. Jolene – The Bosshoss
18. Speeding Cars – Walking On Cars
19. The Sound – The 1975
20. Hey Everybody! (Radio Edit) – 5 Seconds Of Summer
21. Stupid Girl – Juno, Madeline
22. Hulapalu – Gabalier, Andreas