Die Ministry of Sound – 80s Blockbusters schickt ihre Tracklist ins Rennen und schlägt schon jetzt hohe Wellen. Ministry Of Sound präsentiert: 80s Blockbusters – sechzig zeitlose Soundtrack-Hymnen aus den bekanntesten Filmen der 80er Jahre!
Auch in den 80ern gab es zahlreiche Blockbuster die unheimlich erfolgreich waren. Ihre Filmtitel wurden zu Evergreens und sind bis heute unvergessen, darüber hinaus laufen viele noch heute in den Clubs der Welt und ziehen jede Menge feiernde Menschen auf die Dancefloors.
Die ultimativen 80er Soundtrack-Anthems aus Filmen wie Scarface, Beverly Hills Cop, Flashdance, Rocky, Footloose, The Lost Boys, Dirty Dancing, Mad Max, Top Gun, u.v.m.! Mit Songs von Harold Faltermeyer, Irene Cara, Pointer Sisters, Survivor, Bonnie Tyler, Blondie, Tina Turner, Frankie Goes To Hollywood, Simple Minds, Carly Simon, Deniece Williams, Earth Wind & Fire, Patrick Swayze feat. Wendy Frazer, Bill Medley & Jennifer Warnes, John Carpenter, Echo & The Bunnymen, The Blow Monkeys, Yello, Jan Hammer, Cyndi Lauper, James Brown, Robert Palmer, Billy Idol, Four Tops, Miami Sound Machine und viele mehr.
Bis zum Release der Ministry of Sound – 80s Blockbusters dauert es zum Glück nicht mehr lange, denn schon am 14. Oktober 2016 steht das gute Stück für euch im Handel bereit. Wie immer an dieser Stelle, folgt nun die Tracklist und das passende Cover, damit ihr euch schon jetzt einen Eindruck der CD verschaffen könnt.
Wenn euch das gute Stück gefällt, könnt ihr sie schon jetzt bei Amazon oder anderen Shops vorbestellen.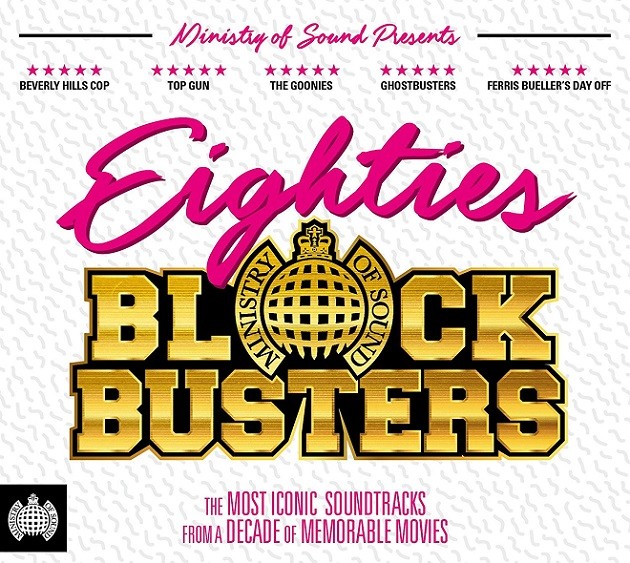 Disk: 1
1. Harold Faltermeyer – Axel F (From "Beverly Hills Cop" Soundtrack)
2. Irene Cara – Flashdance…What A Feeling
3. The Pointer Sisters – I'm So Excited
4. Joe "Bean" Esposito – You're The Best
5. Yello – Oh Yeah
6. Survivor – Eye of the Tiger
7. Philip Oakey & Giorgio Moroder – Together In Electric Dreams
8. Bonnie Tyler – Holding out for a Hero
9. Michael Sembello – Maniac ("Flashdance" Soundtrack Version)
10. Blondie – Call Me
11. Kenny Loggins – Danger Zone
12. Wang Chung – Dance Hall Days
13. Jan Hammer – Crockett's Theme (From "Miami Vice")
14. Gerard McMann – Cry Little Sister
15. Tina Turner – We Don't Need Another Hero (Thunderdome)
16. Billy Idol – Hot In The City
17. The Four Tops – Loco in Acapulco
18. Gloria Estefan & Miami Sound Machine – Conga
19. Cyndi Lauper – The Goonies 'R' Good Enough
20. The Trashmen – Surfin Bird
Disk: 2
1. Simple Minds – Don't You (Forget About Me)
2. Huey Lewis And The News – The Power Of Love
3. James Brown – Living In America
4. Kenny Loggins – Footloose
5. Robert Palmer – Addicted To Love
6. Billy Ocean – When the Going Gets Tough, the Tough Get Going
7. The Contours – Do You Love Me
8. Starship – Nothing's Gonna Stop Us Now
9. Frankie Goes To Hollywood – Relax
10. Bananarama – Cruel Summer
11. John Parr – St Elmo's Fire
12. Robert Tepper – No Easy Way Out
13. The Psychedelic Furs – Pretty In Pink
14. Katrina & The Waves – Walking On Sunshine
15. DeBarge – Rhythm Of The Night
16. The Kids From "Fame" – Hi-Fidelity
17. The Pointer Sisters – Neutron Dance (from "Beverly Hills Cop")
18. Teena Marie – Lead Me On
19. The Blow Monkeys – It Doesn't Have to Be This Way
20. Carly Simon – Why
Disk: 3
1. The Righteous Brothers – You've Lost That Lovin' Feelin'
2. Bill Medley & Jennifer Warnes – (I've Had) The Time Of My Life
3. Irene Cara – Fame
4. Dolly Parton – 9 To 5
5. Deniece Williams – Let's Hear It For The Boy
6. Thompson Twins – In the Name of Love
7. Earth, Wind & Fire – Boogie Wonderland
8. Aretha Franklin – Think
9. James Brown – I Got You (I Feel Good)
10. New Kids On The Block – You Got It (The Right Stuff)
11. Luther Vandross – She's So Good to Me
12. Joe Cocker & Jennifer Warnes – Up Where We Belong (From "An Officer And A Gentleman" Soundtrack)
13. Patrick Swayze Feat. Wendy Fraser – She's Like The Wind
14. Dan Hartman – I Can Dream About You
15. Christopher Cross – Arthur's Theme (Best That You Can Do)
16. Echo And The Bunnymen – People Are Strange
17. Phil Phillips & The Twilights – Sea Of Love
18. Cab Calloway & His Orchestra – Minnie the Moocher
19. John Carpenter & Alan Howarth – Escape From New York (Main Title)
20. Tangerine Dream – Love On A Real Train
21. Peter Moore – Asteroid (Pearl & Dean Theme)