Die Ministry of Sound Anthems Classic Soul steht an, höchste Zeit einen Blick auf die Tracklist dieses Samplers zu werden. 60 Soul-Smasher der wichtigsten und stilprägendsten Künstler des Genres! Ministry Of Sounds aktuelle Ausgabe der genialen "Anthems"-Serie setzt die Messlatte erneut ein Stück höher!
"Anthems Classic Soul" ist die definitive Sammlung an Soul-Klassikern. Auf drei CDs vereinen sich die wichtigsten Protagonisten der Soul Music mit Songs von Marvin Gaye, Stevie Wonder, Aretha Franklin, Smokey Robinson, James Brown, Michael Jackson, Gladys Knight & The Pips, Otis Redding, Al Green, Barry White, Ben E King, Nina Simone, The Supremes, Billy Paul, Booker T & The MGs, Eddie Floyd, Spinners, Marlena Shaw, Sam & Dave, Carla Thomas, u.v.a.! Keep on Dancing!
Ihr seht also wieder einmal, dass es sich lohnt einen Blick auf die Sampler aus dem Hause Ministry of Sound zu werfen, auch wenn das Label in Deutschland nicht mehr so wirklich aktiv ist. Im Handel steht das gute Stück für euch ab dem 8. Juli 2016 breit.
Bis dahin könnt ihr euch natürlich mit einem Blick auf die Tracklist und dem passenden Cover einen ersten Eindruck verschaffen, damit ihr wisst was euch hier erwartet. Sollte euch eben diese Tracklist überzeugen können, ist das erwerben der Ministry of Sound Anthems Classic Soul absolut Pflicht.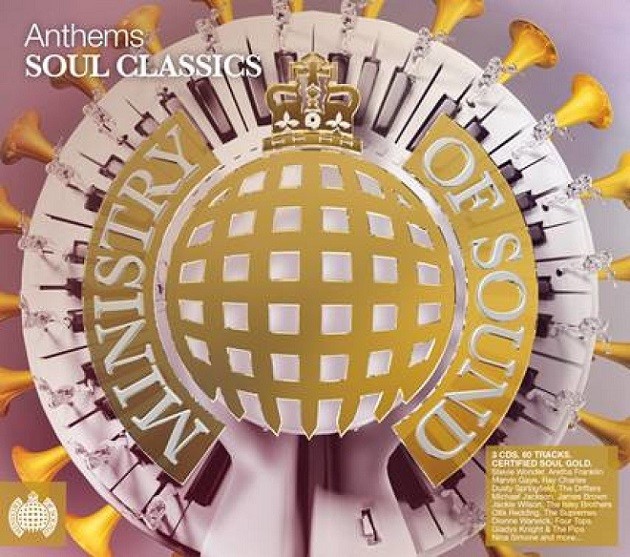 Disk: 1
1. Marvin Gaye – Heard It Through The Grapevine – Heard It Through The Grapevine
2. Stevie Wonder – Sign Sealed Delivered – Sign Sealed Delivered
3. Aretha Franklin – I Say A Little Prayer – I Say A Little Prayer
4. Dusty Springfield – Son Of A Preacher Man – Son Of A Preacher Man
5. James Brown – Papa's Got A Brand New Bag – Papa's Got A Brand New Bag
6. Charles Wright – Express Yourself – Express Yourself
7. Bobby Hebb – Sunny – Sunny
8. Nina Simone – Here Comes the Sun – Here Comes the Sun
9. Marlena Shaw – California Soul – California Soul
10. Arthur Connely – Sweet Soul Music – Sweet Soul Music
11. Tammi Terrell & Marvin Gaye – Aint No Mountain High Enough – Aint No Mountain High Enough
12. Four Tops – I Can't Help Myself (Sugar Pie) – I Can't Help Myself (Sugar Pie)
13. The Supremes – You Just Keep Me Hanging On – You Just Keep Me Hanging On
14. Smokey Robinson & The Miracles – Tracks Of My Tears – Tracks Of My Tears
15. The Isley Brothers – This Old Heart Of Mine – This Old Heart Of Mine
16. The Temptations – My Girl – My Girl
17. Mary Wells – My Guy – My Guy
18. Martha Reeves & The Vandells – Dancing In The Street – Dancing In The Street
19. Sam & Dave – Soul Man – Soul Man
20. Wilson Pickett – Mustang Sally – Mustang Sally
Disk: 2
1. Michael Jackson – Ben – Ben
2. Otis Reading – Sitting On The Dock Of The Bay – Sitting On The Dock Of The Bay
3. Jackson Five – Who's Loving You – Who's Loving You
4. James Brown – The Boss – The Boss
5. Aretha Franklin – Respect – Respect
6. Erma Franklin – Take Another Piece Of My Heart – Take Another Piece Of My Heart
7. Four Tops – Reach Out – Reach Out
8. Jackie Wilson – I Get The Sweetest Feeling – I Get The Sweetest Feeling
9. Eddie Floyd – Knock On Wood – Knock On Wood
10. Randy Crawford – Street Life – Summer Breeze
11. The Isley Brothers – Summer Breeze – Street Life
12. Gladys Knight – Midnight Train to Georgia – Midnight Train to Georgia
13. Booker T & The MGs – Green Onions – Green Onions
14. Wilson Pickett – In The Midnight Hour – In The Midnight Hour
15. Young Rascals – Groovin' – Groovin'
16. Sam & Dave – Hold On Im Coming – Hold On Im Coming
17. Freda Payne – Band Of Gold – Band Of Gold
18. Carla Thomas – Baby – Baby
19. The Bar-Keys – Soul Finger – Keys
20. Don Convoy – See Saw – See Saw
Disk: 3
1. Stevie Wonder – For Once In My Life – For Once In My Life
2. Jackson Five – I'll Be There – I'll Be There
3. Ray Charles – I've Got A Woman – I've Got A Woman
4. Aretha Franklin – Til You Come Back To Me – Til You Come Back To Me
5. Otis Reading – Try a Little Tenderness – Try a Little Tenderness
6. Ben E King – Stand By Me – Stand By Me
7. The Drifters – Under The Boardwalk – Under The Boardwalk
8. Solumon Burke – Cry To Me – Cry To Me
9. Jimmy Ruffin – What Becomes of the Broken Hearted – What Becomes of the Broken Hearted
10. Percy Sledge – When A Man Loves A Woman – When A Man Loves A Woman
11. Dionne Warwick – Walk On By – Walk On By
12. Roberta Flack – First Time Ever I Saw Your Face – First Time Ever I Saw Your Face
13. Billy Paul – Me & Mrs Jones – Me & Mrs Jones
14. Tammi Terrell & Marvin Gaye – You're All I Need To Get By – You're All I Need To Get By
15. Spinners – Could It Be I'm Falling In Love – Could It Be I'm Falling In Love
16. Billy Ocean – Love Really Hurts Without You – Love Really Hurts Without You
17. Bill Withers – Lovely Day – Lovely Day
18. Barry White – Cant Get Enough Of Your Love Baby – Cant Get Enough Of Your Love Baby
19. Bloodstone – Natural High – Natural High
20. William Bell – A Tribute To The King – A Tribute To The King