Die Ministry of Sound Chilled Electronic 80s entführt euch mit ihrer Tracklist in eine musikalische Zeitreise der 80er Jahre. Mit den Zahlreichen 90er Partys ist das Ende der Zeitreisen noch längst nicht erreicht, denn immer mehr 80s Partys werden ausgerufen und begeistern tausende Partymenschen.
Oft sind die Besucher dieser Partys, nicht wie man es vermuten würde, weit über 30 oder gar 40 Jahre, sondern oft Anfang / Mitte 20, die mit diesen Partys einmal eine musikalische Abwechselung suchen, zu den typischen House Music und Black Music Mix der großen Diskotheken in Deutschland.
Mit der CD Ministry of Sound Chilled Electronic 80s könnt ihr euch schon einmal musikalisch auf diese Partys einstimmen, denn hier gibt es reichlich Top Tracks der 80er Jahre, da dürfte kaum ein Wunsch offen bleiben.
Auf den Markt ist das gute Stück auch schon, denn der Release war bereits am 3. Juni 2016, so könnt ihr euch diesen Sampler bereit bei dem Händler eures Vertrauens kaufen. Wir haben an dieser Stelle wie immer die Tracklist und das passende Cover für euch am Start, damit ihr wisst was euch hier erwartet.
Gerne hätten wir euch an dieser Stelle auch den MiniMix zur Ministry of Sound Chilled Electronic 80s präsentiert, leider ist dieser jedoch bei Youtube in Deutschland wieder einmal gesperrt.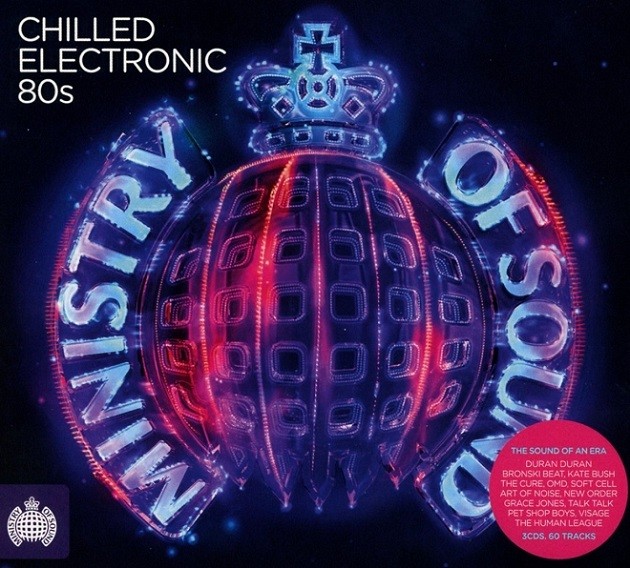 Disk: 1
1. Black – Wonderful Life – Wonderful Life
2. Pet Shop Boys – Love Comes Quickly – Love Comes Quickly
3. Soft Cell – Say Hello Wave Goodbye – Say Hello Wave Goodbye
4. OMD – Souvenir – Souvenir
5. Bronski Beat – Smalltown Boy – Smalltown Boy
6. Icehouse – Hey Little Girl – Hey Little Girl
7. Tears For Fears – Head Over Heels – Head Over Heels
8. Visage – Fade To Grey – Fade To Grey
9. China Crisis – Black Man Ray – Black Man Ray
10. The Stranglers – Strange Little Girl – Strange Little Girl
11. Gary Numan & Tubeway Army – Are Friends' Electric? – Are 'Friends' Electric?
12. Its Immaterial – Driving Away Fom Home – Driving Away Fom Home
13. Cocteau Twins – Pearly Dewdrop Drops – Pearly Dewdrop Drops
14. Cyndi Lauper – Time After Time – Time After Time
15. Kim Carnes – Betty Davis Eyes – Betty Davis Eyes
16. Kate Bush – Running Up That Hill – Running Up That Hill
17. The Blow Monkeys – Digging Your Scene – Digging Your Scene
18. The Style Council – You're The Best Thing – You're The Best Thing
19. The Cars – Drive – Drive
20. Vangelis – Love Theme from Blade Runner – Love Theme from Blade Runner
Disk: 2
1. David Bowie – This Is Not America – This Is Not America
2. Jan Hammer – Crockett's Theme – Crockett's Theme
3. Grace Jones – La Vie En Rose (single edit) – La Vie En Rose (single edit)
4. Roxy Music – Avalon – Avalon
5. Flash In The Pan – Waiting For A Train – Waiting For A Train
6. Yazoo – Nobody's Diary – Nobody's Diary
7. Howard Jones – What Is Love? – What Is Love?
8. Fine Young Cannibals – I'm Not The Man I Used To Be – I'm Not The Man I Used To Be
9. Ultravox – Vienna – Vienna
10. Art Of Noise – Moments In Love – Moments In Love
11. Alison Moyet – All Cried Out – All Cried Out
12. Alphaville – Big In Japan – Big In Japan
13. Double – Captian Of Her Heart – Captian Of Her Heart
14. Scritti Politti – The Word Girl – The Word Girl
15. Pretenders – I Go To Sleep – I Go To Sleep
16. Billy Idol – Eyes Without A Face – Eyes Without A Face
17. Yello – Of Course I'm Lying – Of Course I'm Lying
18. Giorgio Moroder – The Chase – The Chase
19. Japan – Ghosts – Ghosts
20. Dream Academy – Life In A Northern Town – Life In A Northern Town
Disk: 3
1. The Cure – Lullaby – Lullaby
2. Talk Talk – Life's What You Make It – Life's What You Make It
3. The Human League – Human – Human
4. Duran Duran – Save A Prayer – Save A Prayer
5. The Thompson Twins – Hold Me Now – Hold Me Now
6. The Passions – I'm In Love With a German Film Star – I'm In Love With a German Film Star
7. A Flock Of Seagulls – Wishing (If I Had A Photograph Of You) – Wishing (If I Had A Photograph Of You)
8. Prefab Sprout – When Love Breaks Down – When Love Breaks Down
9. Heaven 17 – Come Live With Me – Come Live With Me
10. Dusty Springfield/ Pet Shop Boys – Nothing Has Been Proved – Nothing Has Been Proved
11. Boy George – The Crying Game – The Crying Game
12. Spandau Ballet – True – True
13. Talking Heads – This Must Be The Place (Live Version) – This Must Be The Place (Live Version)
14. Electronic – Getting Away With It – Getting Away With It
15. New Order – Regret – Regret
16. Bryan Ferry – Slave To Love – Slave To Love
17. A-Ha – Hunting High and Low – Ha
18. Erasure – Blue Savannah – Blue Savannah
19. Tangerine Dream – Love On A Real Train – Love On A Real Train
20. Frankie Goes To Hollywood – Power Of Love – Power Of Love