Aufgepasst, die Ministry of Sound Chilled House Session 7 rückt näher und die Tracklist ist wieder einmal gigantisch. Das britische Label gehört nicht zu den Labels, die eine Ausgabe nach der anderen auf den Markt schmeissen, sobald ein Konzept funktioniert, sondern dort bleibt man der Linie treu.
Das wird wohl auch der Grund sein, warum die Scheiben von Ministry of Sound soviel Erfolg haben, gerade die Chilled House Session greift auf eine mächtige Fanbase zurück. Sie gehört übrigens auch zu den nur noch wenigen Compilations, von Ministry of Sound, die auch in Deutschland noch unheimlich beliebt sind.
Wenn wir uns mal die Tracklist der Ministry of Sound Chilled House Session 7 anschauen, finden wir wieder einmal einen gesunden Mix aus bekannten Tracks aus den aktuellen House & Dance Charts und den frischen unverbrauchten Tracks die derzeit oft noch nahezu unbekannt erscheinen.
Bis zum Release am 12. Februar 2016 dauert es zwar noch ein paar Tage, das hält uns jedoch nicht davon ab, euch bereits jetzt die Tracklist und das passende Cover zu bieten. Wie immer bei CDs von Ministry of Sound, empfehlen wir euch natürlich auch bei der Chilled House Session 7, diese Online zu erwerben.
Wenn euch also die Tracklist überzeugen kann, heißt es schnell Amazon oder euren Shop des vertrauens aufgerufen und die Ministry of Sound Chilled House Session 7 vorbestellt.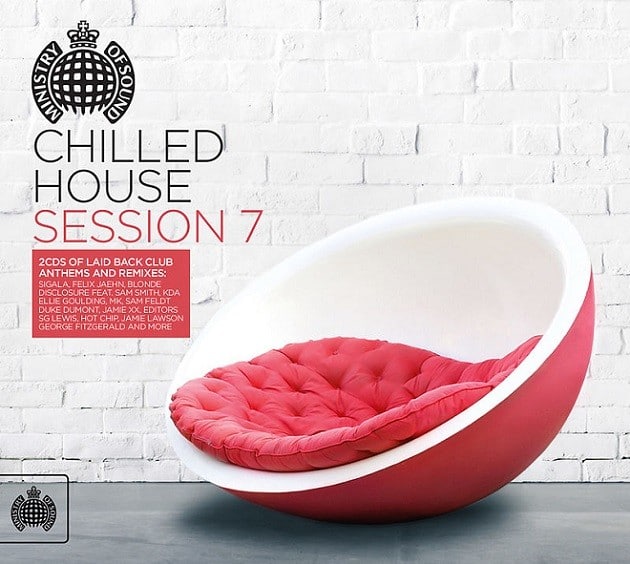 Disk: 1
1. Sigala Feat. Bryn Christopher – Sweet Lovin' House Robot Remix
2. Lost Frequencies Feat. Janieck Devy – Reality
3. Felix Jaehn Feat. Polina – Book Of Love
4. Ellie Goulding – On My Mind MK Remix
5. Dimitri Vega & Like Mike Feat. Ne-Yo – Higher Place
6. Blonde Feat. Karen Harding – Feel Good (It's Alright) Ferdinand Weber, Fabich Remix
7. Maverick Sabre – Come Fly Away Kant Remix
8. Jamie Lawson – Wasn't Expecting That Zwette Remix
9. KANT – Nightcall
10. Hayden James – Something About You Charles Webster Club Mix
11. Hot Chip – Huarache Lights Soulwax Remix
12. SG Lewis Feat. JP Cooper – Shivers Honne Remix
13. Freischwimmer – California Dreamin
14. Feder Feat. Lyse – Goodbye
15. Aaron Smith Feat. Luvli – Dancin' Krono Extended Remix
16. Lovebirds Feat. Stee Downes – Want You In My Soul Summer In London Edit
17. On June Feat. Tesity – The Devil's Tears Sam Feldt Edit
18. Kidnap Kid – Fall Tim Green Remix
19. Noel Gallagher's High Flying Birds – The Right Stuff Psychemagik Remix
20. Bob Moses – Like It Or Not
Disk: 2
1. Disclosure Feat. Sam Smith – Omen Jonas Rathsman Remix
2. Duke Dumont – Melt
3. Sigala – Easy Love Miguel Campbell Remix
4. Jamie xx Feat. Romy – Loud Places
5. Editors – Our Love Solomun Remix
6. KDA – Rumble DJ Sneak Remix
7. Julio Bashmore Feat. Sam Dew – Holding On
8. Andhim – Boy Boy Boy Joris Voorn Remix
9. Mat.Joe – Make A Living
10. Tensnake – Holding Back (My Love) Tiger & Woods Remix
11. Dele Sosimi Afrobeat Orchestra – Too Much Information Laolu Remix
12. Claptone – The Only Thing
13. Whilk & Misky – Clap Your Hands Solomun Remix
14. AKASE – Rust Midland Remix
15. Dense & Pika – Colt George FitzGerald Remix
16. Frankey & Sandrino – Acamar
17. Edu Imbernon Feat. Archivist – Fixing Fires Maya Jane Coles Remix
18. Kiasmos – Looped
19. Recondite – Nifty
20. Martin Kohlstedt – ELL Christian Löffler Rework