Mit der neuen Ministry of Sound Chilled Reggae und ihrer grandiosen Tracklist, holt das britische Label ein Thema aus dem Keller, welches schon einmal mit gleichem Namen beackert wurde. Damals traft die Compilation eher auf Kritik, da die Tracklist zu Komerz-lastig gewesen sei.
Wir sehen das etwas anders, denn wer heutzutage noch CDs verkaufen will, darf sich leider nicht in irgendwelchen Szenen verstecken, sondern muss massen tauglich sein. So findet man auf der Ministry of Sound Chilled Reggae eine gesunde Mischung aus unbekannteren Tracks aber auch unheimlich erfolgreiche Songs.
Gemeint sind da Songs von z.B. UB40, The Fugees, Big Mountain, Dawn Penn, the King of Reggae himself Bob Marley, Sean Paul , Capleton , Jimmy Cliff, Beres Hammond und wirklich unheimlich viele mehr. Ihr seht also, wir haben an dieser Stelle, alles andere als übertrieben.
Im Handel steht die Ministry of Sound Chilled Reggae für euch ab dem 9. September 2016 und bis dahin könnt ihr euch schon einmal die Tracklist und das passende Cover der Compilation anschauen, damit ihr euch schon vor dem Kauf einen ersten Eindruck von dem guten Stück machen könnt.
Wie immer, könnt ihr natürlich auch die Ministry of Sound Chilled Reggae bereits bei Amazon und anderen Shops vorbestellen, so habt ihr sie bereits zum Release Tag in den Händen.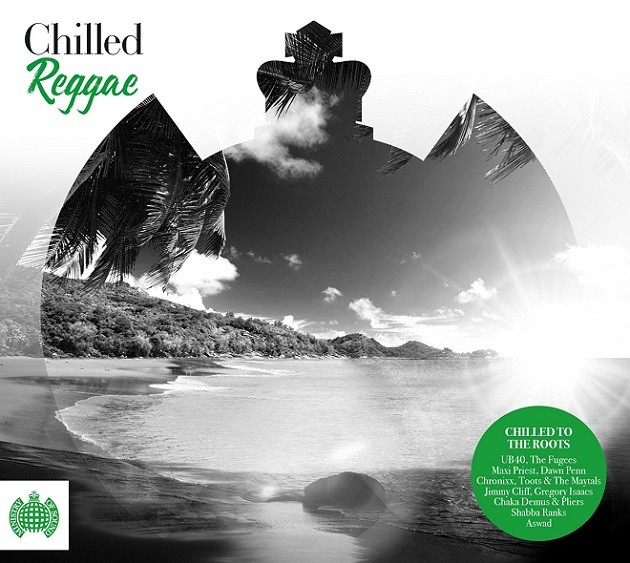 Disk: 1
1. Could You Be Loved (Bob Marley & The Wailers)
2. Red Red Wine (UB40)
3. No Woman No Cry (The Fugees)
4. I Can See Clearly Now (Jimmy Cliff)
5. Don't Worry Be Happy (Bobby McFerrin)
6. I Love Your Way (Big Mountain)
7. Wild World (Maxi Priest)
8. Silly Games (Janet Kay)
9. I'm Still In Love With You (Sean Paul)
10. Don't Turn Around (Aswad)
11. Money In My Pocket (Dennis Brown)
12. Pressure Drop (Toots & The Maytals)
13. Rudy, A Message to You (Dandy Livingston)
14. Liquidator (Harry J All Stars)
15. Double Barrel (Dave & Ansel Collins)
16. Can't Satifsy Her (I Wayne)
17. Rockaway (Beres Hammond)
18. To The Foundation (Dennis Brown)
19. Going Home (Bob Andy)
Disk: 2
1. You Don't Love Me No No No (Dawn Penn)
2. Night Nurse (Gregory Isaacs)
3. Murderer (Barrington Levy)
4. Mr Loverman (Shabba Ranks)
5. Uptown Top Ranking (Althea & Donna)
6. Israelites (Desmond Dekker)
7. Substitute Lover (Half Pint)
8. Stir It Up (Johnny Nash)
9. 54-46 Was My Number (Toots & The Maytals)
10. Bam Bam (Sister Nancy)
11. My Jamaican Guy (Grace Jones)
12. Police & Thieves (Junior Murvin)
13. Klu Klux Klan (Steel Pulse)
14. Wet Dream (Max Romeo)
15. Return of Django (The Upsetters)
16. Police & Helicopters (John Holt)
17. Who Knows (Protoje Feat Chronixx)
18. Youth Dem Cold (Richie Spice)
19. That Day Will Come (Capleton)
20. Kingdom Of Zion (Alborosie)
21. They Gonna Talk (Beres Hammon)
Disk: 3
1. Can't Help Falling In Love With You (UB40)
2. She's Royal (Tarrus Riley)
3. Close To You (Maxi Priest)
4. Good Thing Going (Aswad)
5. Searching (China Black)
6. The Harder They Come (Jimmy Cliff)
7. Everything I Own (Ken Boothe)
8. You're Wondering Now (Amy Winehouse)
9. She Don't Love Nobody (Chaka Demus & Pliers)
10. Too Experienced (Barrington Levy)
11. Skylarking (Horace Andy)
12. Beach In Hawaii (Ziggy Marley)
13. Down By The River (Morgan Heritage)
14. I Want To Wake Up With You (Boris Gardner)
15. Break Us Apart (Stephen Marley)
16. Show Me (Bruno Mars)
17. Angel (Shaggy)
18. Flex (Mad Cobra)
19. Footprints (TOK)
20. Milk & Honey (Hollie Cook)
21. Open Your Eyes (Gentlemans Dub Club)