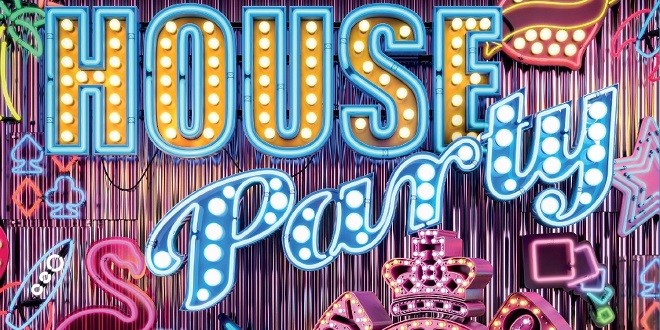 Wenn die Ministry of Sound – House Party wird die Szene hellhörig, denn diese Tracklist hat es in sich. Wer nun glaubt, hier wieder mit den üblichen Verdächtigen aus der EDM Szene zugeschmissen zu werden, der irrt hier aber gewaltig.
Hier werden euch die größten Hits aus den letzten 3 Dekaden der bereiche Disco, House und Club geboten. Wer also schon ein paar mehr Jahre auf dem Buckelt hat, wird wohl fast alle Lieder kennen, die jüngeren werden sicherlich ab und an überrascht werden dürfen über so manchen Track.
Mit dabei sind unter anderem Tracks von Chic, Lionel Richie, The Jackson 5, Kool & The Gang, Eric Prydz, Haddaway, Kiesza, Mousse T, Sister Sledge, Blondie, Donna Summer, Sam Smith, Crystal Waters, Anita Ward, David Zowie, Sigala, Rufus & Chaka Khan, Womack & Womack, Avicii, Rozalla, Basement Jaxx, Patrice Rushen, Indeep, Jocelyn Brown und vielen mehr.
Der Release der Ministry of Sound – House Party rückt immer näher und so ist es höchste Zeit, dass ihr euch einen ersten Eindruck von dieser Compilation verschafft. Dazu haben wir euch wie immer die Tracklist und das passende Cover eingebunden.
Wenn euch die CD Ministry of Sound – House Party überzeugen kann, solltet ihr sie direkt bei Amazon vorbestellen, denn in Deutschland wird sie im Handel nur schwer zu bekommen sein.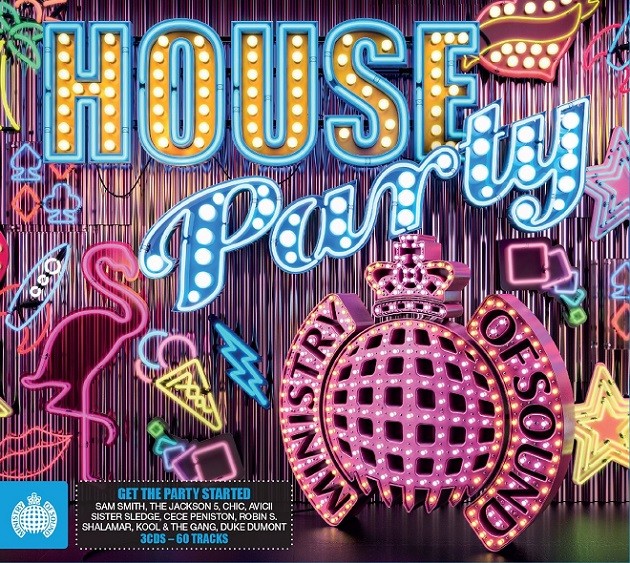 Disk: 1
1. Chic Le Freak – Le Freak
2. Livin' Joy Dreamer Radio Edit – Dreamer (Radio Edit)
3. Sister Sledge He's The Greatest Dancer Single Version – He's The Greatest Dancer (Single Version)
4. The Shapeshifters Lola's Theme – Lola's Theme
5. Storm Queen Look Right Through MK Vocal Edit – Look Right Through (MK Vocal Edit)
6. Rosie Gaines Closer Than Close Mentor Original Mix – Closer Than Close (Mentor Original Mix)
7. Robin S. Show Me Love – Show Me Love
8. Gorgon City Feat. MNEK Ready For Your Love – Ready For Your Love
9. The Ones Flawless – Flawless
10. Shalamar A Night To Remember Radio Edit – A Night To Remember (Radio Edit)
11. Crystal Waters Gypsy Woman (La Da Dee La Da Da) – Gypsy Woman (La Da Dee La Da Da)
12. Bobby Brown Two Can Play That Game K Klassik Radio Mix – Two Can Play That Game (K Klassik Radio Mix)
13. Ce Ce Peniston Finally 7″ Choice Mix – Finally (7″ Choice Mix)
14. Kool & The Gang Get Down On It Single Version – Get Down On It (Single Version)
15. Eric Prydz Call On Me Radio Edit – Call On Me (Radio Edit)
16. Freemasons Feat. Amanda Wilson Love On My Mind – Love On My Mind
17. Studio B I See Girls (Crazy) Tom Neville Radio Edit – I See Girls (Crazy) (Tom Neville Radio Edit)
18. Duck Sauce Barbara Streisand – Barbara Streisand
19. Swedish House Mafia Feat. John Martin Don't You Worry Child Radio Edit – Don't You Worry Child (Radio Edit) 20. DJ Fresh Feat. Rita Ora
20. DJ Fresh Feat. Rita Ora Hot Right Now Radio Edit
Disk: 2
1. Duke Dumont Won't Look Back – Won't Look Back
2. Black Box Ride On Time – Ride On Time
3. The Whispers And The Beat Goes On – And The Beat Goes On
4. Haddaway What Is Love? Original Mix – What Is Love? (Original Mix)
5. The Original I Luv U Baby Dancing Divaz (1995) Club Mix – I Luv U Baby (Dancing Divaz (1995) Club Mix)
6. Womack & Womack Teardrops 7″ Edit – Teardrops (7″ Edit)
7. Strike U Sure Do – U Sure Do
8. Indeep Last Night A DJ Saved My Life Radio Edit – Last Night A DJ Saved My Life (Radio Edit)
9. The Supermen Lovers Starlight – Starlight
10. Mantronix Feat. Wondress Got To Have Your Love Radio Edit – Got To Have Your Love (Radio Edit)
11. Kiesza Hideaway – Hideaway
12. Armand Van Helden Feat. Tara McDonald My My My – My My My
13. Anita Ward Ring My Bell Radio Edit – Ring My Bell (Radio Edit)
14. Michael Gray The Weekend Radio Edit – The Weekend (Radio Edit)
15. Philip George Wish You Were Mine Radio Edit – Wish You Were Mine (Radio Edit)
16. Mousse T. Vs Hot n Juicy Horny '98 Original Mix – Horny '98 (Original Mix)
17. The Fatback Band I Found Lovin' – I Found Lovin'
18. David Zowie House Every Weekend Radio Edit – House Every Weekend (Radio Edit)
19. Room 5 Feat. Oliver Cheatham Make Luv Radio Version – Make Luv (Radio Version)
20. Gloria Gaynor I Will Survive Single Version – I Will Survive (Single Version)
Disk: 3
1. Years & Years King – King
2. Sigala Easy Love Radio Edit – Easy Love (Radio Edit)
3. Sam Smith Money On My Mind MK Remix – Money On My Mind (MK Remix)
4. Tim Deluxe Feat. Sam Obernik It Just Won't Do Original Mix – It Just Won't Do (Original Mix)
5. KDA Feat. Tinie Tempah & Katy B Turn The Music Louder (Rumble) Radio Edit – Turn The Music Louder (Rumble) (Radio Edit)
6. Nightcrawlers Push The Feeling On (The Dub Of Doom) Short – Push The Feeling On (The Dub Of Doom) (Short)
7. Avicii Wake Me Up Radio Edit – Wake Me Up (Radio Edit)
8. Madison Avenue Don't Call Me Baby Original 2000 Mix Radio Edit – Don't Call Me Baby (Original 2000 Mix Radio Edit)
9. Patrice Rushen Forget Me Nots – Forget Me Nots
10. Basement Jaxx Red Alert Jaxx Radio Mix – Red Alert (Jaxx Radio Mix)
11. Jocelyn Brown Somebody Else s Guy Radio Edit – Somebody Else's Guy (Radio Edit)
12. Rufus & Chaka Khan Ain't Nobody Album Version – Ain't Nobody (Album Version)
13. Booty Luv Boogie 2Nite – Boogie 2Nite
14. N-Trance Set You Free Original Edit – Trance
15. Rozalla Everybody's Free (To Feel Good) Single Version – Everybody's Free (To Feel Good) (Single Version)
16. Gala Freed From Desire Radio Edit – Freed From Desire (Radio Edit)
17. Shakedown At Night Original – At Night (Original)
18. Shalamar I Can Make You Feel Good – I Can Make You Feel Good
19. Tom Novy Feat. Michael Marshall Your Body – Your Body
20. The Jackson 5 I Want You Back Single Version – I Want You Back (Single Version)